TREK TO DOUBLE DECKER LIVING ROOT BRIDGE
TREK TO THE DOUBLE DECKER LIVING ROOT BRIDGE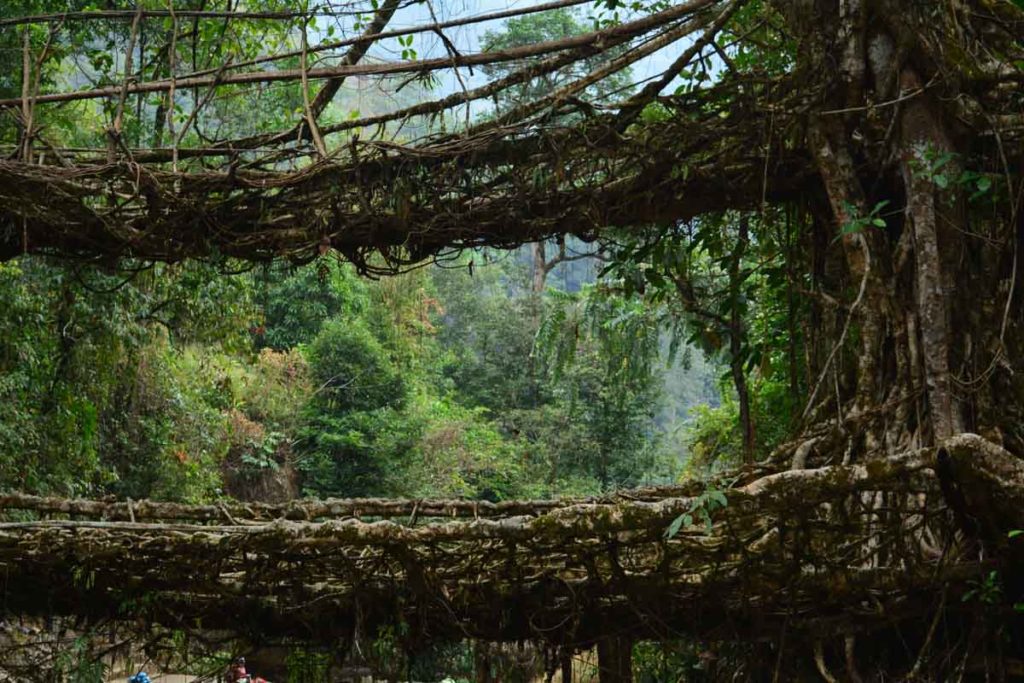 The first thought that crossed our mind when we were planning a trip to Meghalaya was undoubtedly the double decker living root bridge. A bio-engineering marvel of the Khashi tribe, it is one of its kinds and is only found in Meghalaya.
What are living root bridges?
Cherrapunjee is one of the wettest places in the world. To overcome the hurdle of crossing rivers and streams, the khashi tribe came up with an indigenous idea of using roots of rubber trees (Ficus Elastica) as building blocks to build bridges across these rivers and streams. They use the aerial roots of rubber trees along with hollowed betel nut trunks, braided together, to guide them to grow in a proper direction. The beetel nut trunk serves as a template and prevents the thin roots of rubber tree from fanning out. The roots grow in the guided direction; braid with each other in a predetermined manner, and merge with the ground on the other side of the river or stream.
Living root bridges are a perfect example of amalgamation between nature and human effort. They say, living root bridges are not built but grown! The root bridges range from 50 to 100 feet, take almost around fifteen years to become functional. The roots are extremely strong and can take the weight of 30-40 people at a time. Some of the bridges are over 500 years old. The bridges are alive and still growing and gain strength over time.
The adrenaline rush
I must admit, I was a bit skeptical about the trek. Having read about the trek, 3 km, and 3500 steps one way to reach the bridge, my legs were already wobbly!
Let's get started
Just at the start, people sell sticks for the trek. The 20 Rs investment is a good one and really helpful along the trek. We didn't hire a guide and just followed the path. It is advisable to start the trek early in the morning.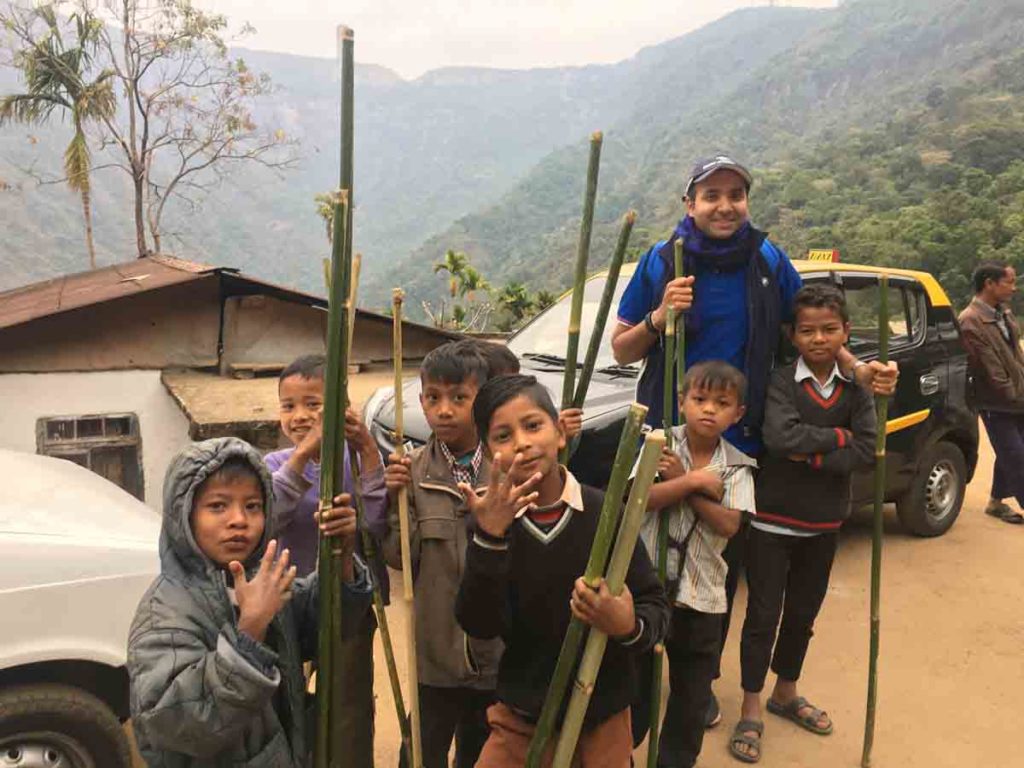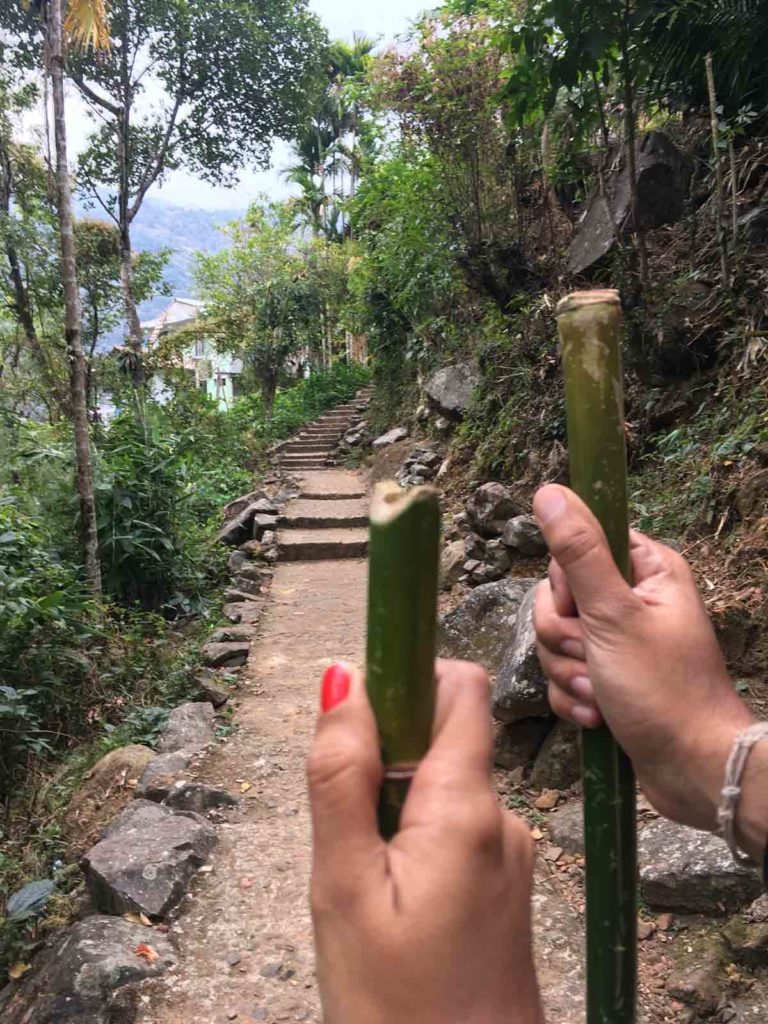 A journey of thousand miles began with a single step
  It takes 3000 steps to reach the bridge, but let that not deter you. It can be done, at a well-maintained pace. The trick is not to put a lot of pressure on your knees.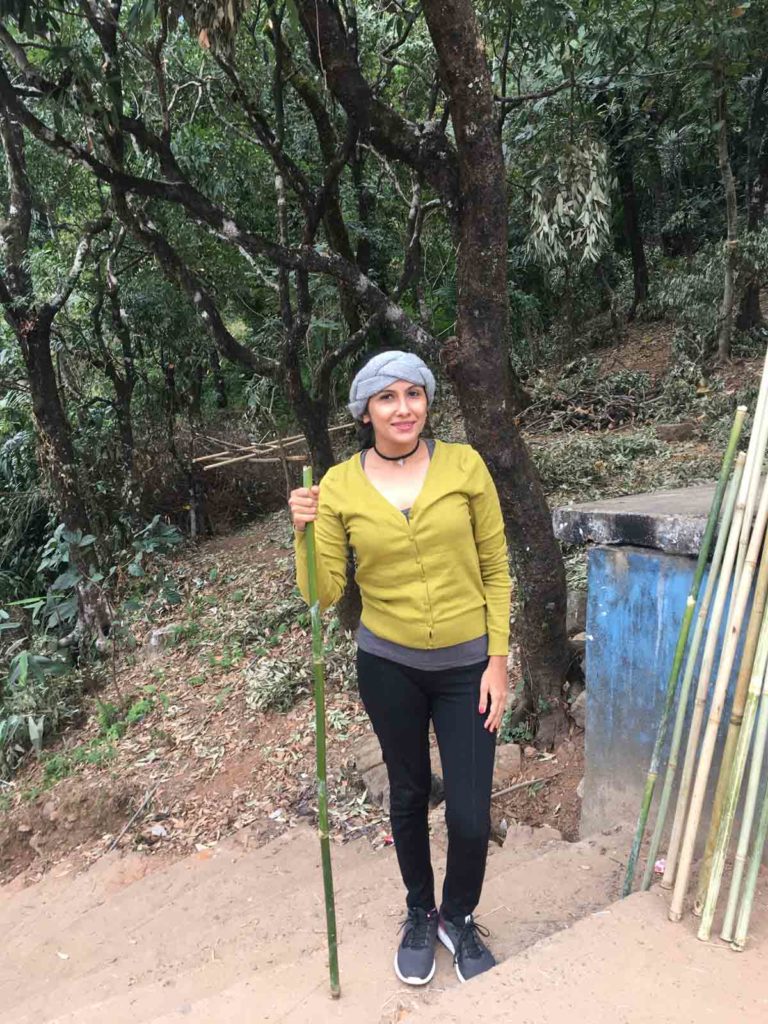 All geared up!
The trek can be divided into three parts-
KNEE BREAKERS
The first part of the trek has steep vertical descending steps with railings. When we started the trek all I could see was endless trails of steps with dense vegetation. As I was descending down, I felt that the steps kept increasing! After around 45 minutes of huffing and puffing (which felt like an eternity), we reached Nongthymmai village. There was a small shack selling water, juice and some snacks. We used the washroom which was clean. After giving some rest to our shaky legs, we resumed our trek.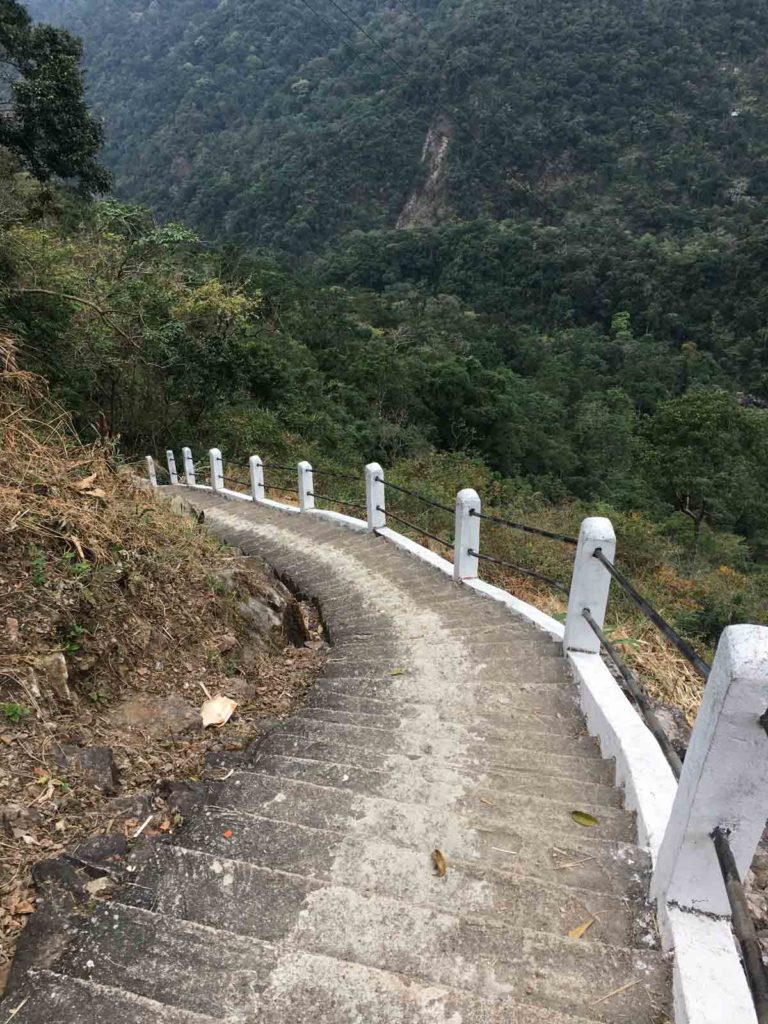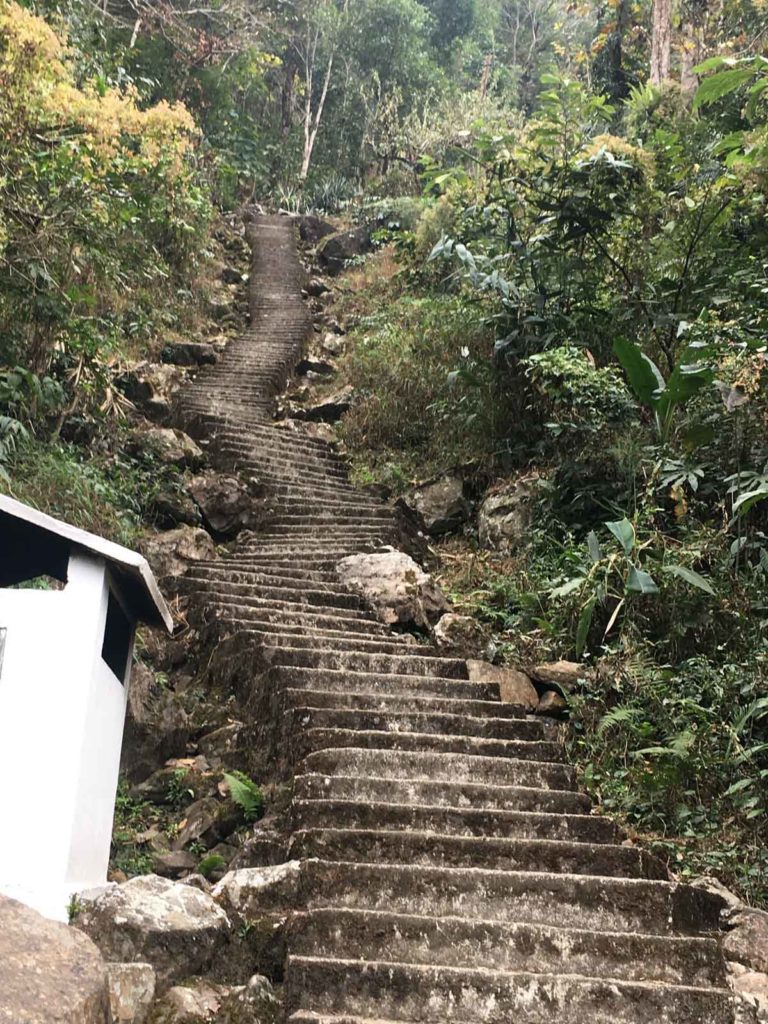 Endless steps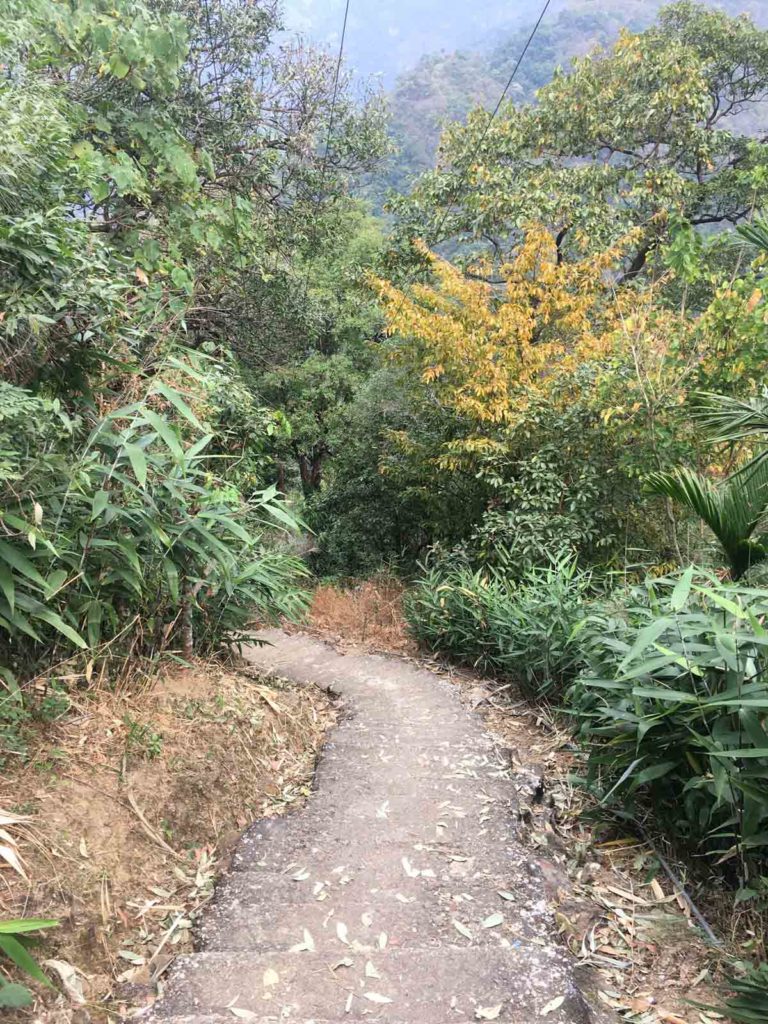 And some more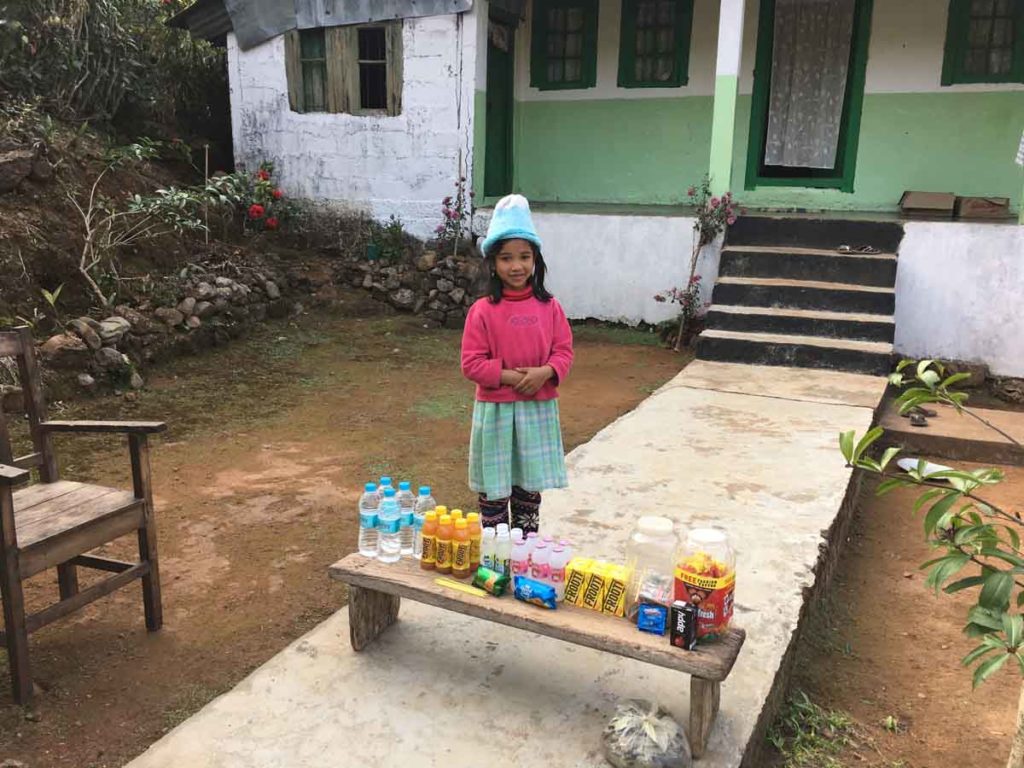 Break time and chit chatting with this little munchkin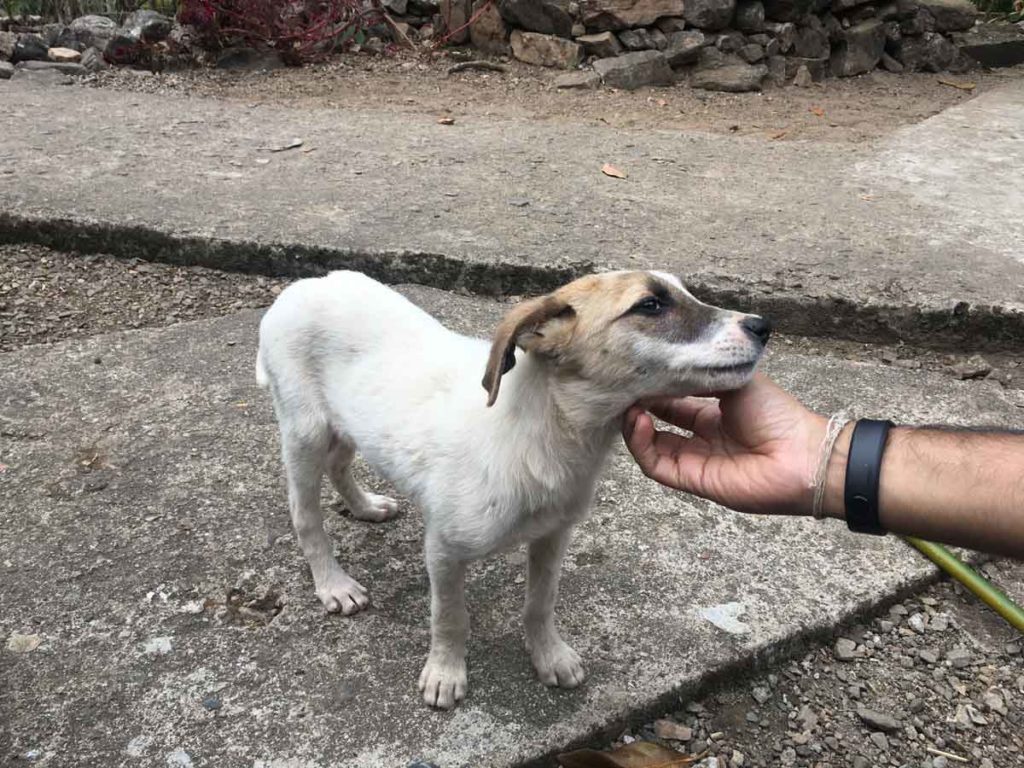 Viv and his love for dogs!
The up and down trek is a routine affair for the locals and we saw happily hopping down the steps. We also saw many locals carry gunny bags of bay leaf and other essentials. Bay leaf grows in abundance in Meghalaya and is sold in many states of India.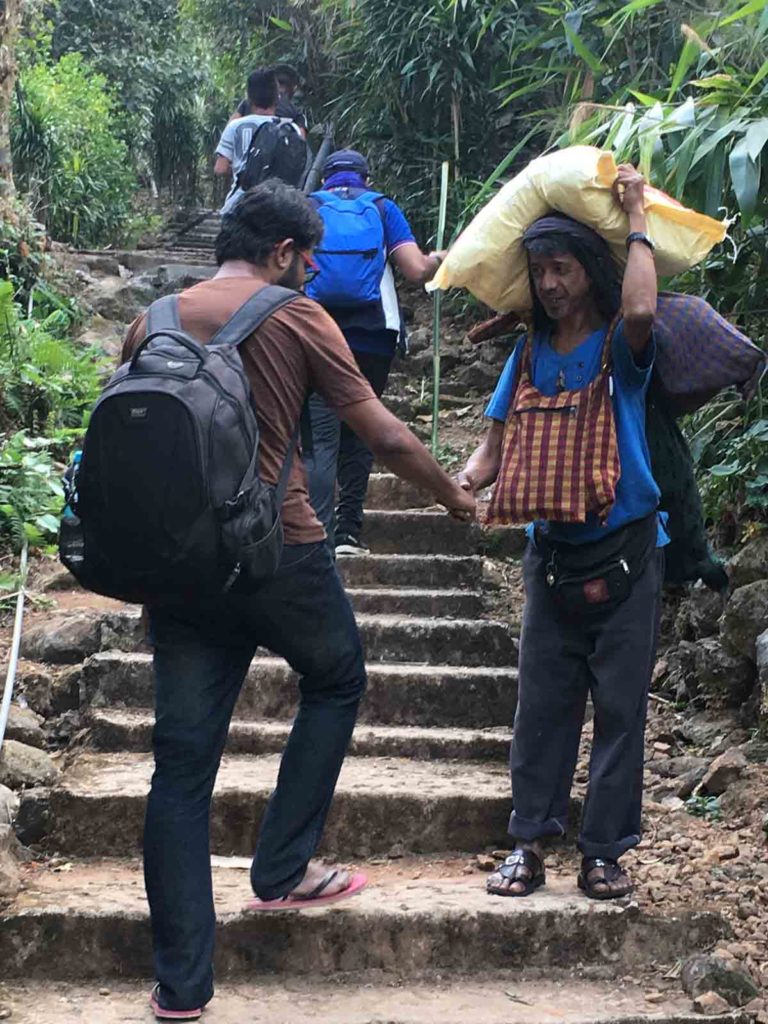 At this village, we also saw a board for the single decker living room bridge. Ritymmen is the longest single root living bridge. We decided to give this a miss as we had seen one before at Rawai village in Mawlynnong.
BRIDGING THE GAP
From this point, the steps were more gradual. Soon we came across two rickety rope bridges. The sight of these bridges made me jump with joy. Hanging bridges, clear blue sky above and a crystal clear blue natural pool below. Pristine. We saw a lot of people swimming and enjoying at the pools.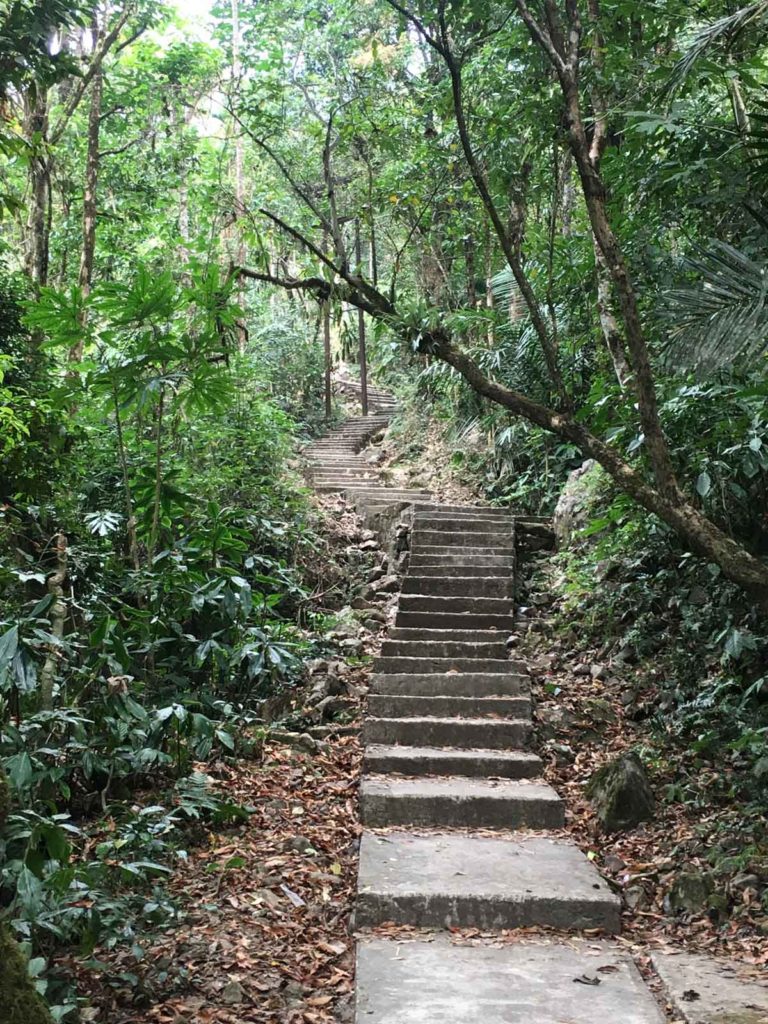 More gradual steps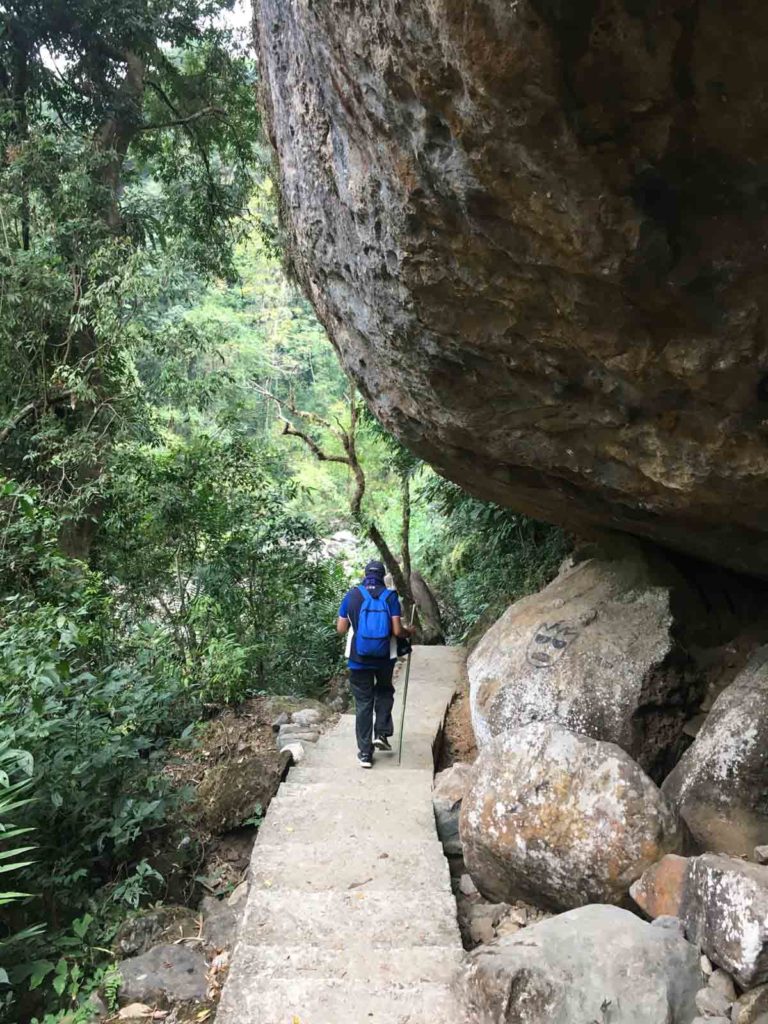 Blue backpack boy
Crossing the dangling rope bridge is an adventure in itself. Keeping our full concentration on our steps and not to be distracted by the beauty around was a difficult task.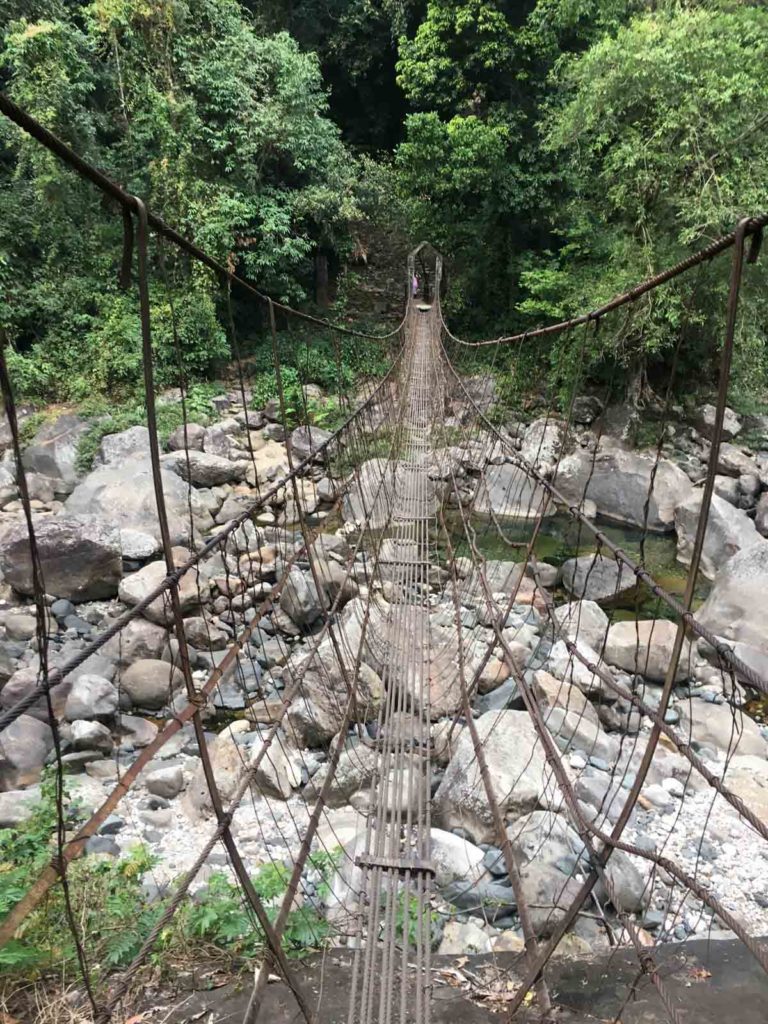 Hanging rope bridge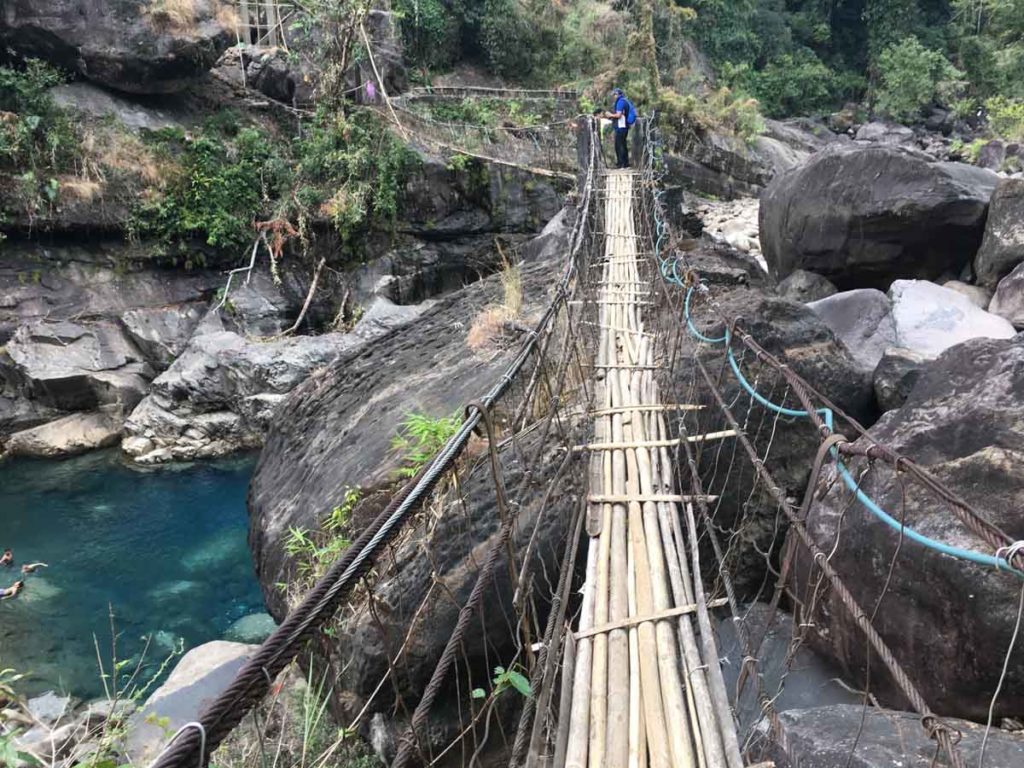 THE ROOTS ARE ALIVE!
We continued our trek and in another 10 minutes saw the board of Nongrait village. After paying the entry fee, we walked further and there it was, in all its beauty! The double decker living root bridge – it left us stunned and speechless!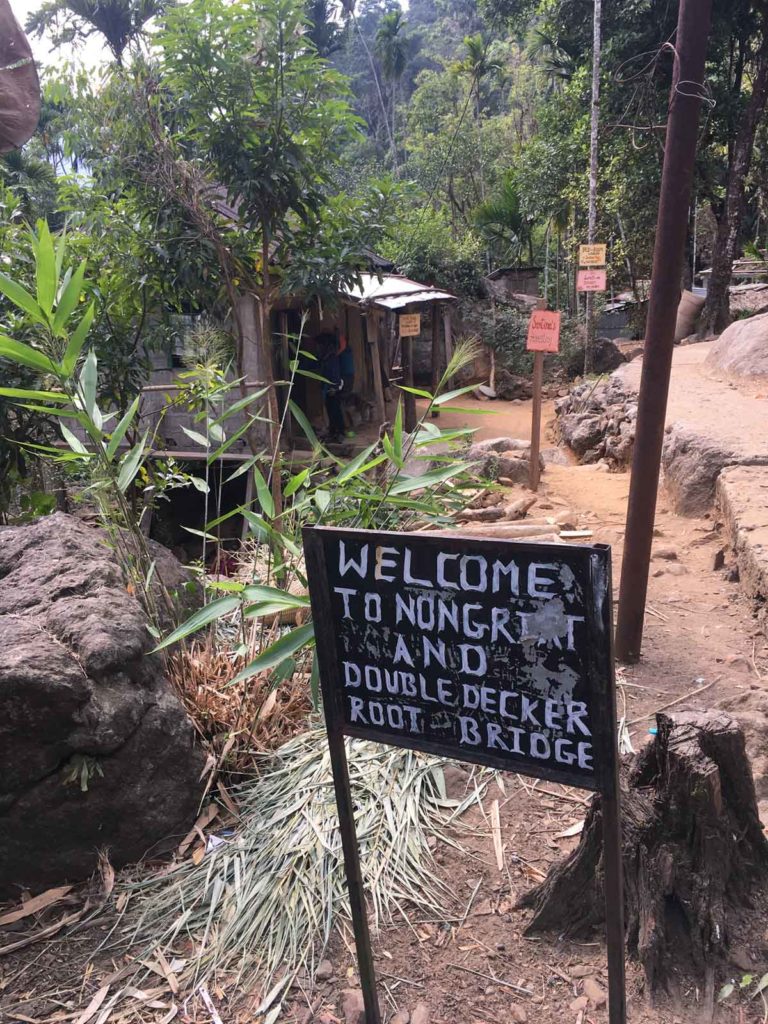 It took us a while, for the feeling to sink in, that we were looking at this bio-engineering marvel. Excited like kids, we walked on both levels of the bridge, admiring the sturdy roots. The locals are also building the third level, but that is for the purpose of tourism.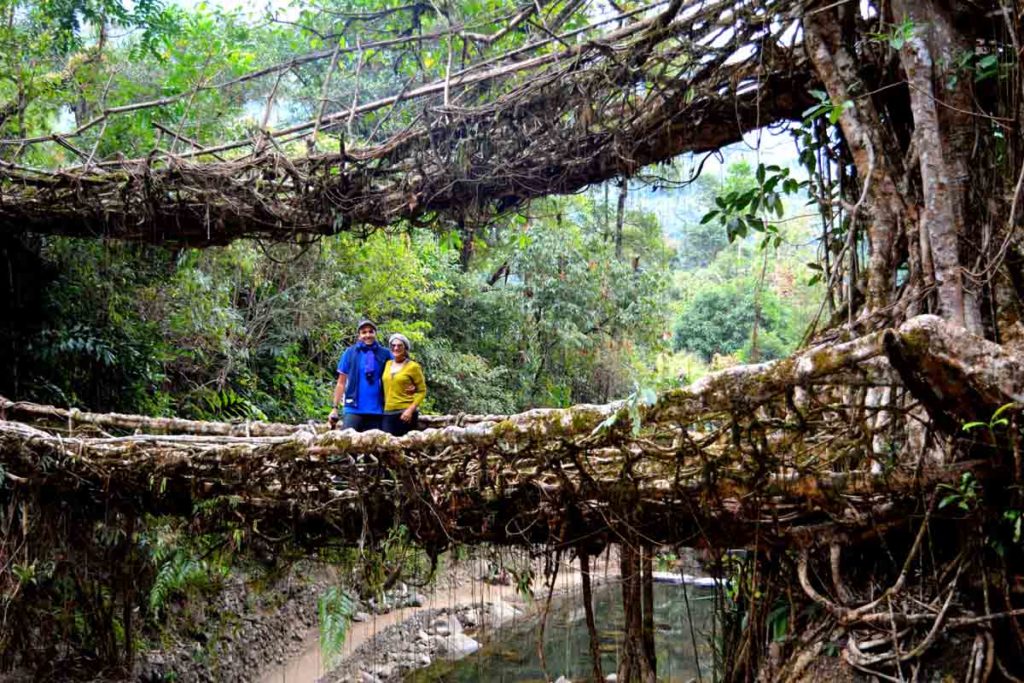 We dipped our feet in the icy cold water and were treated to some fish pedicure as well! Soon hunger pangs set in and we stopped at the only shack near the root bridge. This lady deserves a special mention, being the only shop she can charge a huge amount as seen at a lot of tourist places. But her charges were nominal and she served all the guests with a huge smile. We had a quick meal of maggi, biscuits, tea, and juice and commenced our journey back the village.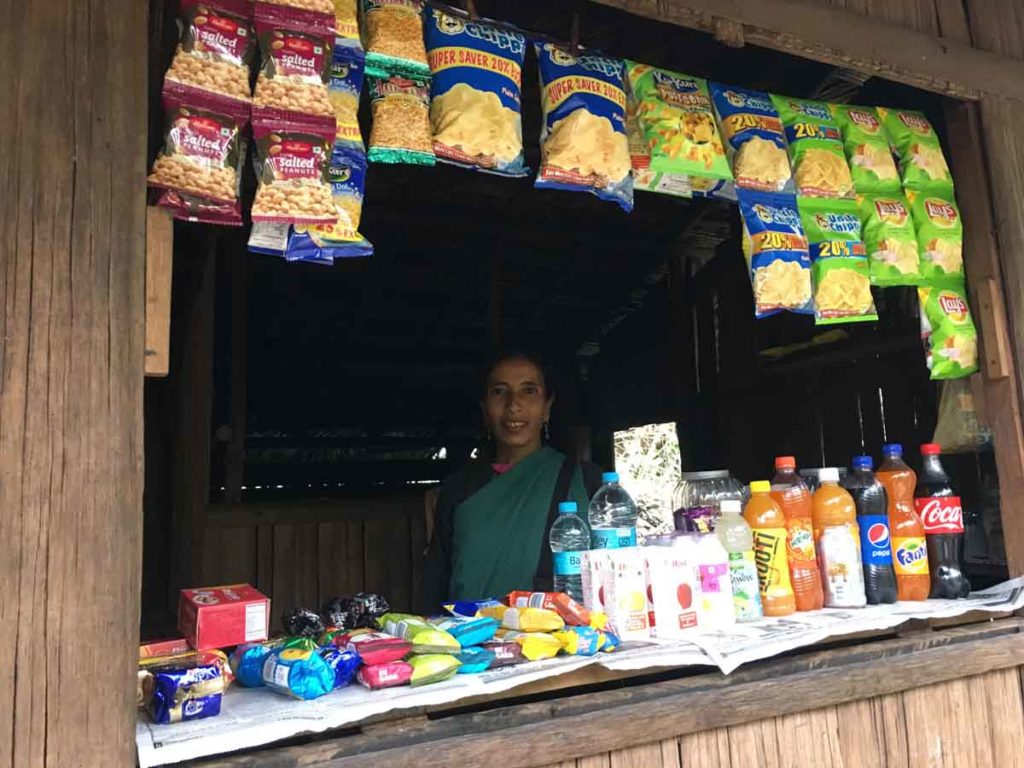 FIND HAPPINESS IN RAINBOW
An hour's trek from the living root bridge leads you to the rainbow waterfall. We didn't trek up to the falls, but we would highly recommend if you have the time.
On our way back we dipped out feet at the natural pools, admired the crystal clear blue water and the greenery. We also saw a lot of daring boys diving into the pools. We would advise caution before you try that!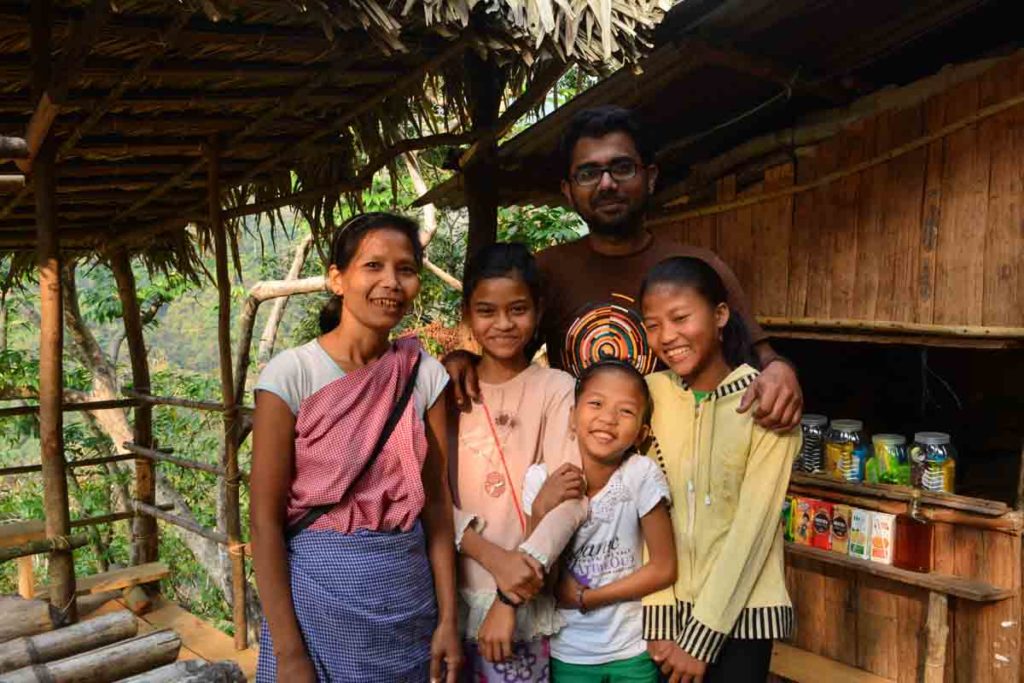 Meeting fellow travelers and locals and sharing stories!
Entry free-
Rs10- Adults
Rs 5- Children
Rs 20- Camera
Stay : There are not too many options to stay. The guest houses provide basic accommodation and food. But then it is an experience to stay with the locals and experience their life, which is tough, to say the least. Day trippers leave by 3-4pm, you then have the entire bridge to yourself, well almost!
Serene home stay (Run by Bryan and his family) Contact details: +91-9436739655,  +91-9615252655 Email:  byronnongbri@gmail.com
HOW TO GET THERE? Distance
Shillong to Cherrapunjee – 55 km
Cherrapunjee to Tyrna – 12 km
Tyrna to Nongrait -3 km
Public transport: Share-taxi: Take a share taxi (usually black and yellow Maruti 800) from Barra-Bazaar taxi stand in Shillong to Sohra. Take a private taxi from Sora to Tyrna Private Taxi: Taxies are available from Police Bazaar and they charge between Rs 1800 –Rs. 2500 per day. We hired a car for our entire stay in Meghalaya. Mr. Babu -9615683038. We highly recommend his services. It takes around 30 minutes to reach Tyrna village from cherrapunjee town. A lot of people do the trek as a part of a day trip from Shillong. It takes around two and a half hours to reach Tyrna from Shillong.
Tips
Pack light, it is difficult to climb with a lot of weight.
Wear light comfortable clothes. It can get hot and sweaty during the trek. Let your skin breathe.
If you're trekking during the monsoons, it is advisable that you carry an umbrella or raincoat.
There are a lot of natural pools where you can take a dip. Carry a change of clothes if you plan to swim.
Try reaching back to Tyrna village back before 5 pm. It gets dark very soon.
Wear a good pair of shoes with sufficient grip.
Protect yourself against the heat – good idea to use a cap and sunscreen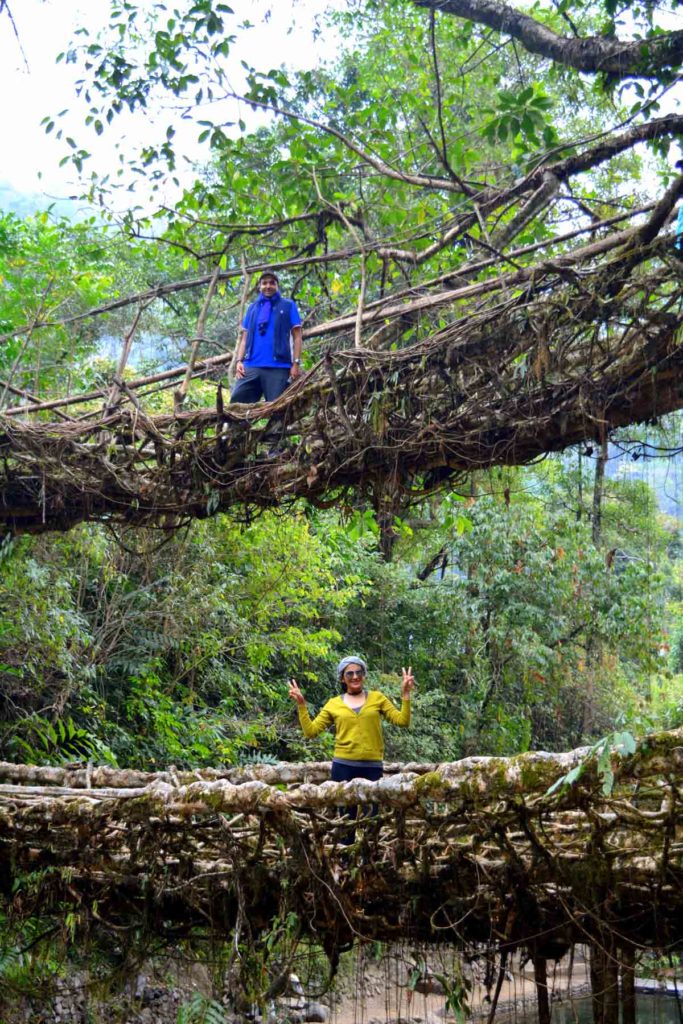 Happy travels!