ROAD TRIP THROUGH JORDAN
ROAD TRIP THROUGH JORDAN
Saaks exclaimed in Joy, 'We are going to Jordan' and my first thought was the beautiful black and gold color of the Royal Jordanian A-320 aircraft that I have seen so many times at Dubai International airport. Of course one cannot think about Jordan without imagining what weightlessness would feel like at the Dead Sea and the glory and splendor of Petra (one of the 7 wonders of the world). In a flash the tickets were done, yes we are going to Jordan. Come let us take you on a wonderful journey through the magnificent Kingdom of Jordan.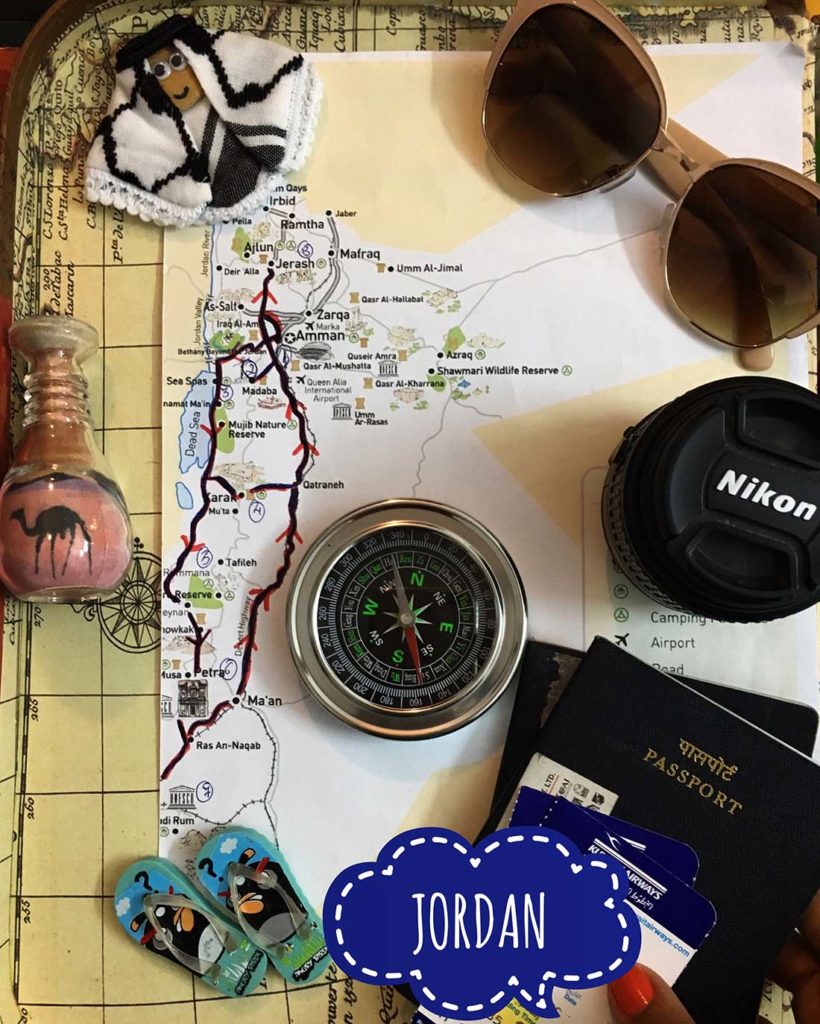 Almost every day, we saw a new landscape in Jordan. While Amman was more about a colorful modern city, Petra had  breathtaking grandeur and fabulous canynos. Wadi Rum gave me the illusion of being on Mars, and Dead Sea a feeling of weightlessness.
Here's our itinerary based on our experience. We had only six days to explore Jordan. We would strongly recommend spending more time. 8-10 days would be perfect to explore the country. Details about every destination will be covered in subsequent posts!
ITINERARY                        
Day 1
ARRIVAL AT AMMAN, HEAD TO DEAD Sea via MADABA
We landed at Queen Alia International Airport, Amman and after collecting our luggage proceeded to pick up our rental car. We had pre-booked a  Mitsubishi Lancer from Monte Carlo car rental. The representative was waiting for us at the airport. After all the formalities and purchase of a sim card, we headed for our much-awaited adventure.
Our first stop was Madaba, known for its Byzantine-era mosaics. The King's highway begins here. We were fascinated by the St George's Church, where the only surviving fragment of the famed Mosaic Map of the Holy Land is interred in the floor. The streets of Madaba have an old worls charm. We spent some time exploring the other sights of Madaba.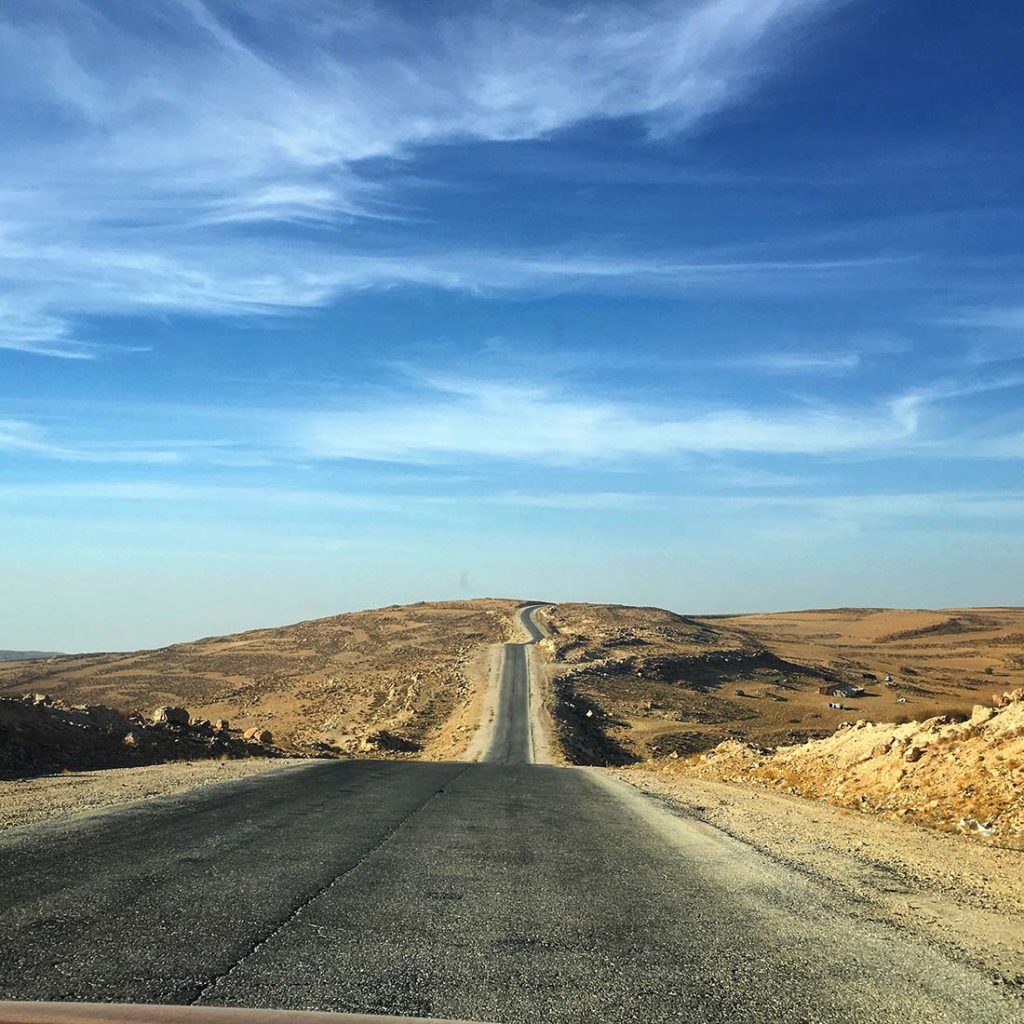 Eight kilometers west of town is Mount Nebo where, in the Old Testament, Moses saw the Promised Land from its peak. We admired that very same view, which stretches from the Dead Sea to Israel.
Meandering roads and quaint villages along the King's Highway made the drive scenic. The road dips along the ridge from where the Great Rift Valley cascades downwards to meet its bottom at the Dead Sea. The Dead Sea is the lowest point on the planet – 420m below sea level. It is deep enough that journeying along the road that winds down to the shore causes your ears to pop as they do on an aircraft during take-off and landing. It was almost sunset when we reached our hotel at the Dead Sea. Seeing the sun set while driving along the coast was surreal.
We spent the night at Movenpick Resort and spa
Day 2
FLOATING IN THE DEAD SEA
We spent quality time at the Dead Sea, slathering layers of dead sea mud all over, basking in the sun and letting it dry and feeling weightless while floating in the dead sea. It is a once in a lifetime kind of an experience. The story goes that Cleopatra used products from the area as part of her beauty regimen. The Dead Sea mud is supposed to be rich in minerals and has a lot of therapeutic properties.
The resort had multiple pools, and we spent some time relaxing by the poolside and sipping cocktails.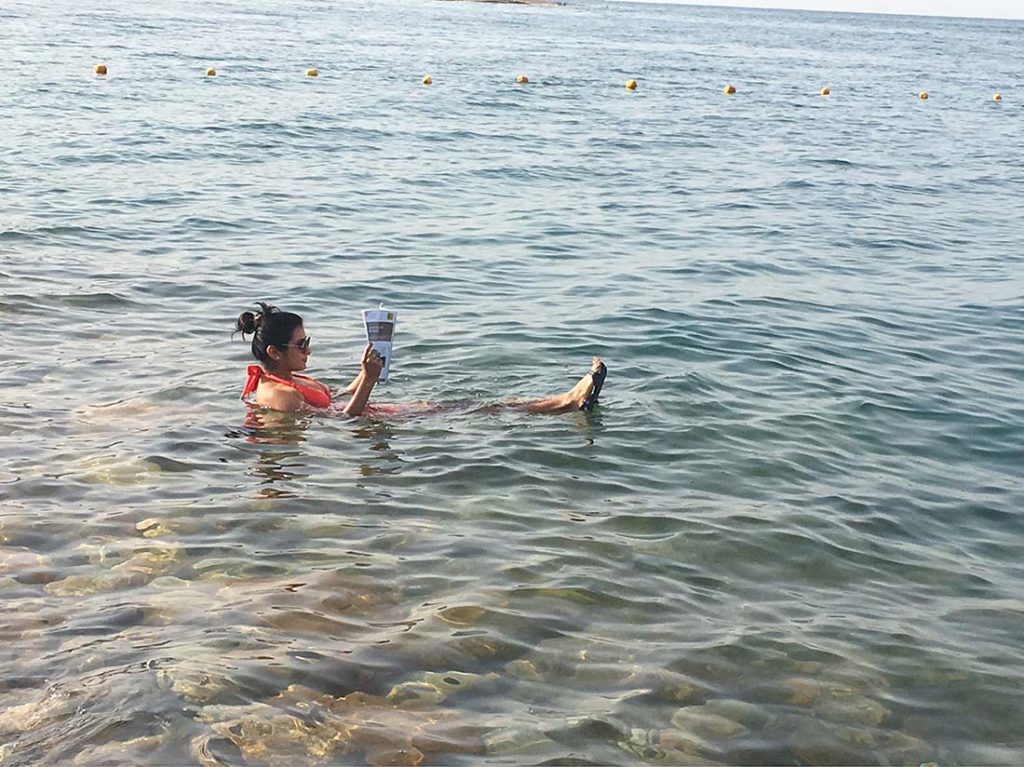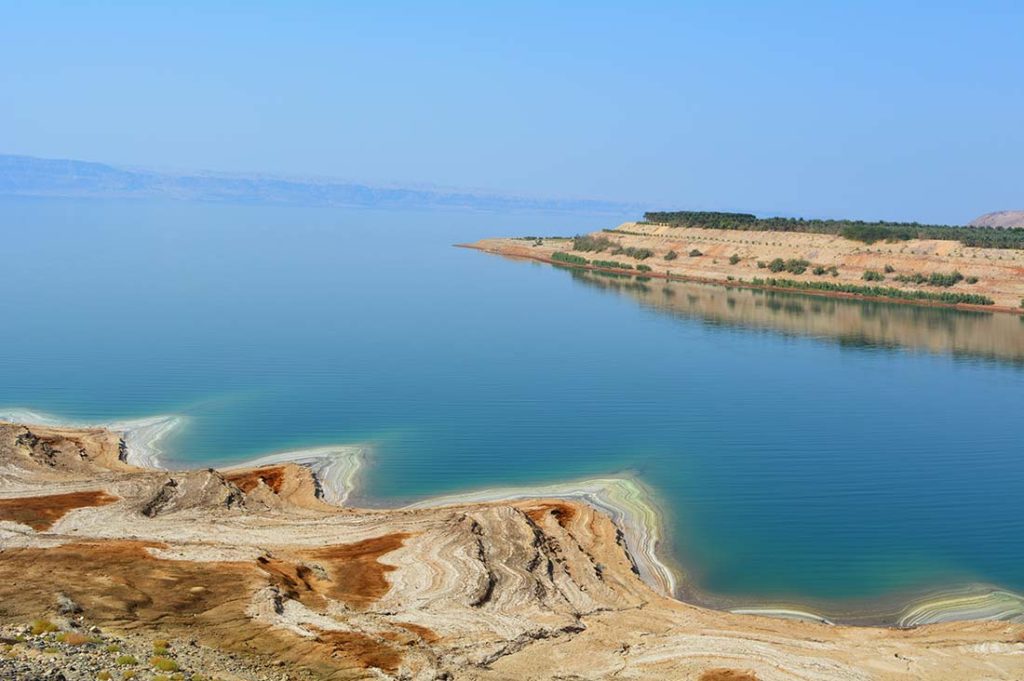 After an early lunch, we headed for our long drive to the Rum Village at Wadi Rum. It took us four hours to reach Wadi rum. We had pre-booked our stay at  Khaleed's camp. A staff member was waiting for us and we got on a 4×4 wheel jeep. It was sunset time and the drive to reach our campsite was gorgeous. Red sand, huge rock formations, a landscape of layered mountains and crumbling canyons on the backdrop of setting sun! Our camp site was secluded with no other camps in sight. We enjoyed the sunset from our sunset deck sipping some Bedouin tea.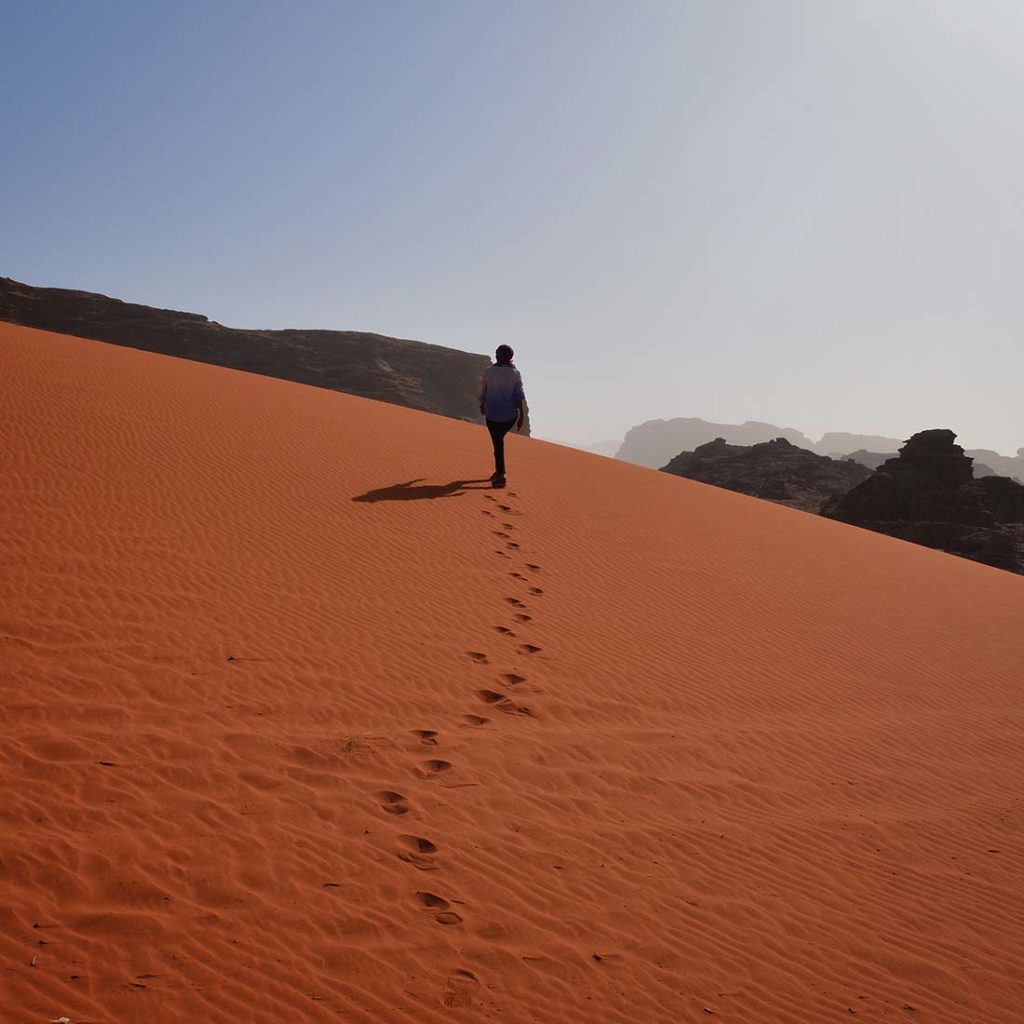 The camp site was divine. Beautiful black and white tents located meters away from each other. There was a separate common dining area, where we had a freshly prepared BBQ dinner, some bubbly apple flavored hookah and Bedouin 'whiskey' aka tea! No meal is complete without Bedouin tea!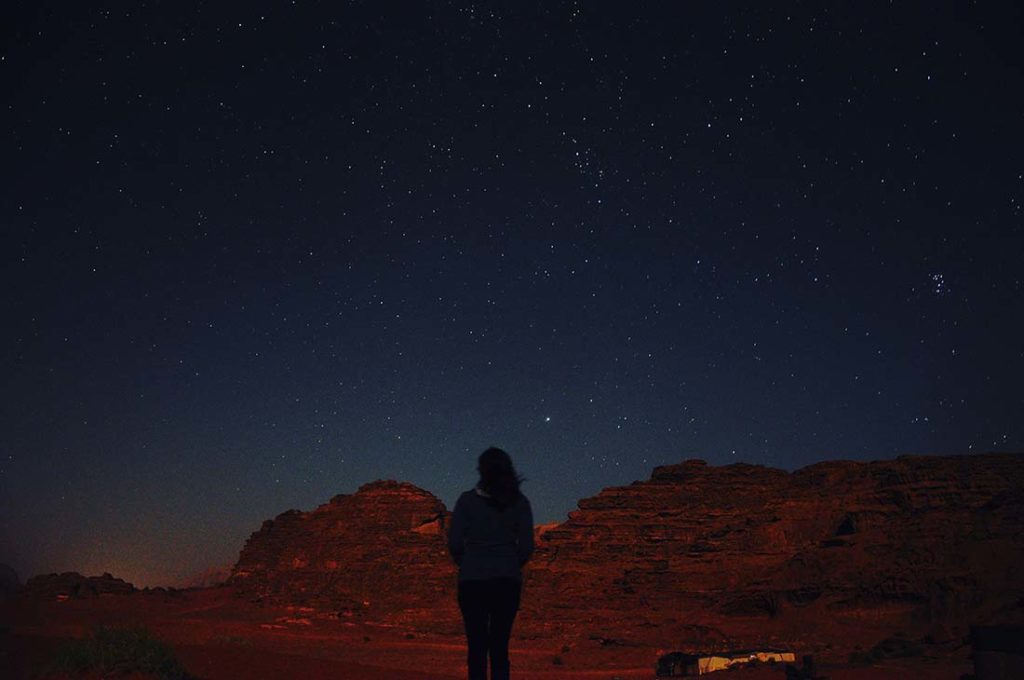 DAY 3
FOLLOWING LAWRENCE OF ARABIA'S FOOTSTEPS – WADI RUM
We woke up early and enjoyed walking around our campsite, climbing rocks and finding a perfect spot for our sunrise. After a good breakfast, we set to spent the entire day exploring the sights of Wadi Rum. Wadi Rum, also known as the Valley of the Moon, is massive – around 74,000 hectares of sandstone and granite rocks, in beautiful shades of red. The closest visual to MARS is wadi rum! We explored all day and head out in the early evening for our drive towards Petra.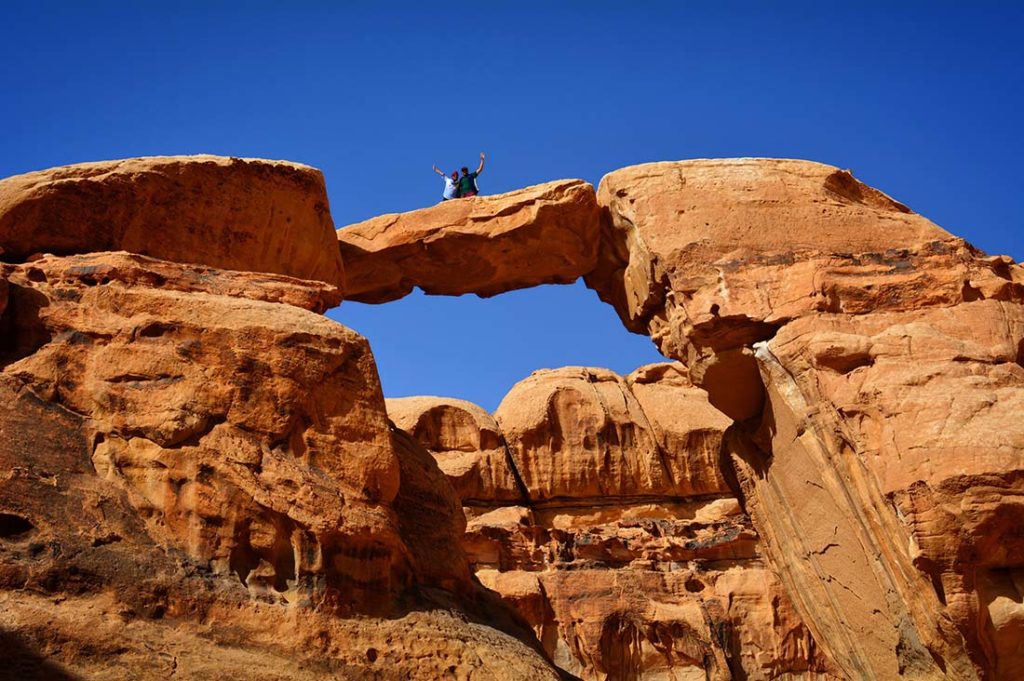 We reached Petra in two hours. Later in the evening, we walked to the treasury to watch Petra by night. The entire path to the treasury is lit by over 1,500 candles. Absolutely enchanting.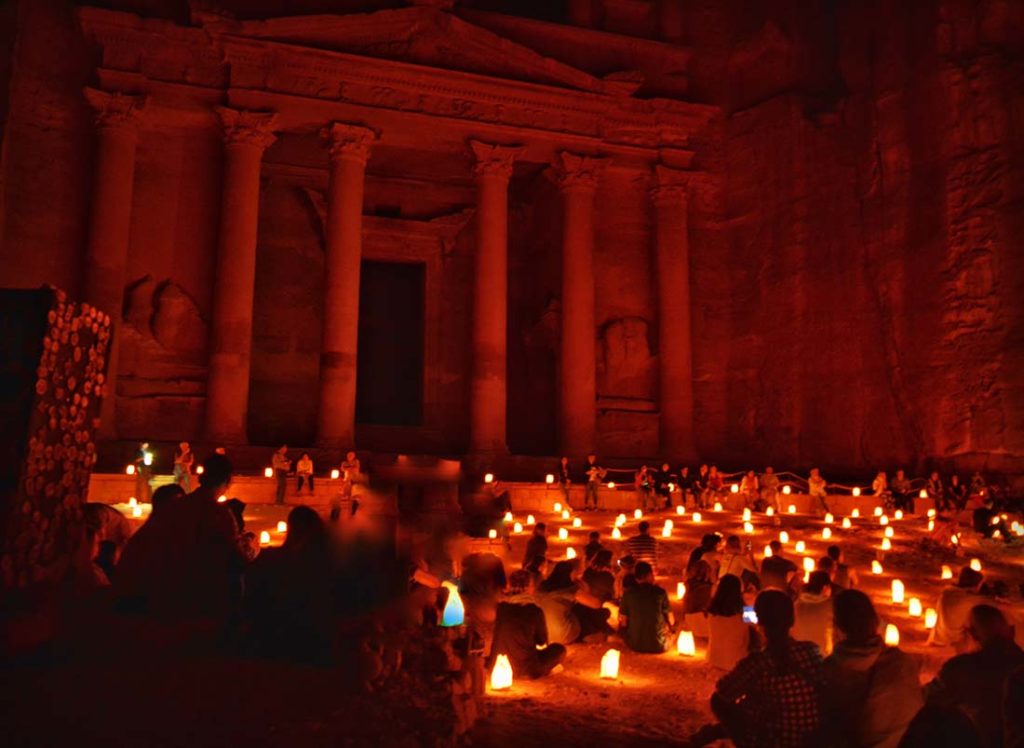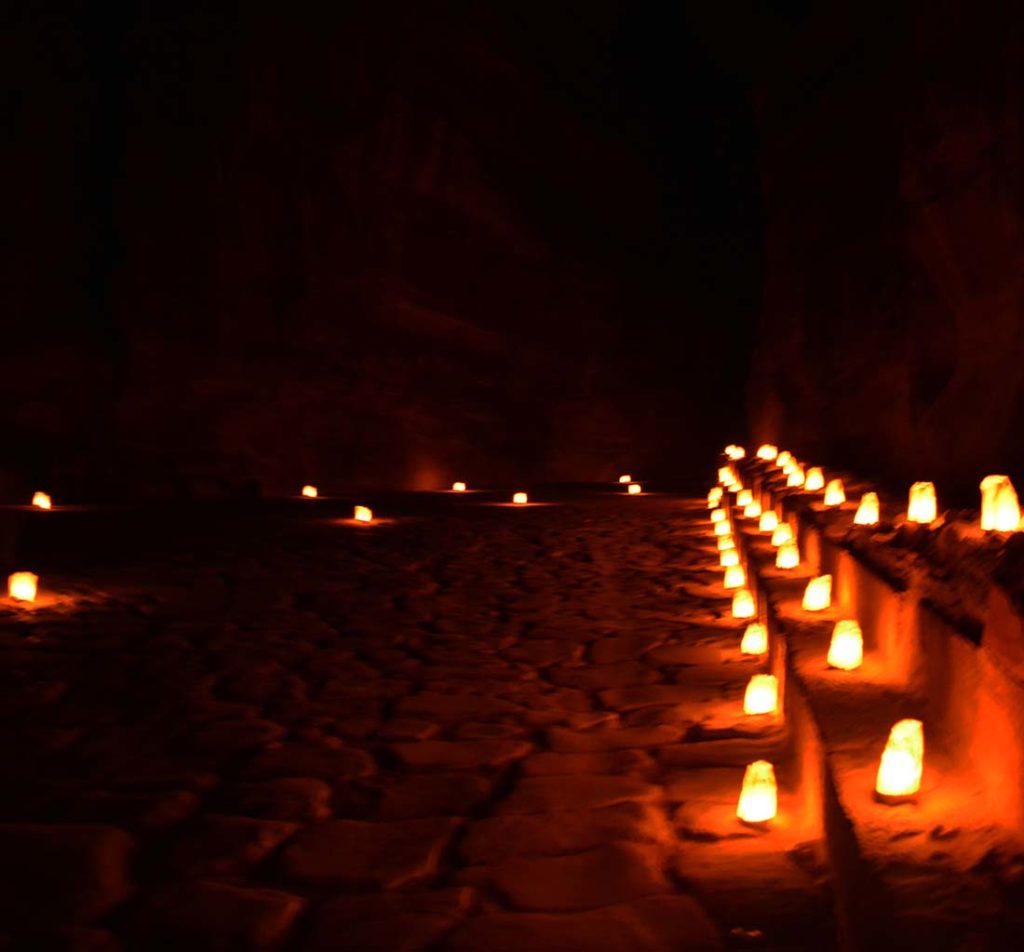 DAY 4
 THE LOST CITY OF PETRA, PETRA
We woke up early (to avoid the crowd and heat) and set to explore Petra on foot. It is next to impossible to visit all the sites and routes at Petra in one day. There are many trails and depending on the number of days and fitness level you can choose the trails. Petra does have transport options inside, like carriages pulled by horses, and sitting on donkeys, which we don't recommend of course. We trekked right up to the monastery which is a long trek up the mountain. We spent over 8 hours on foot exploring various sites at Petra.
You can ask your hotel to pack a picnic lunch. There are many options available inside Petra as well. After a long trek, we decided to spend the evening sipping some Jordanian wine!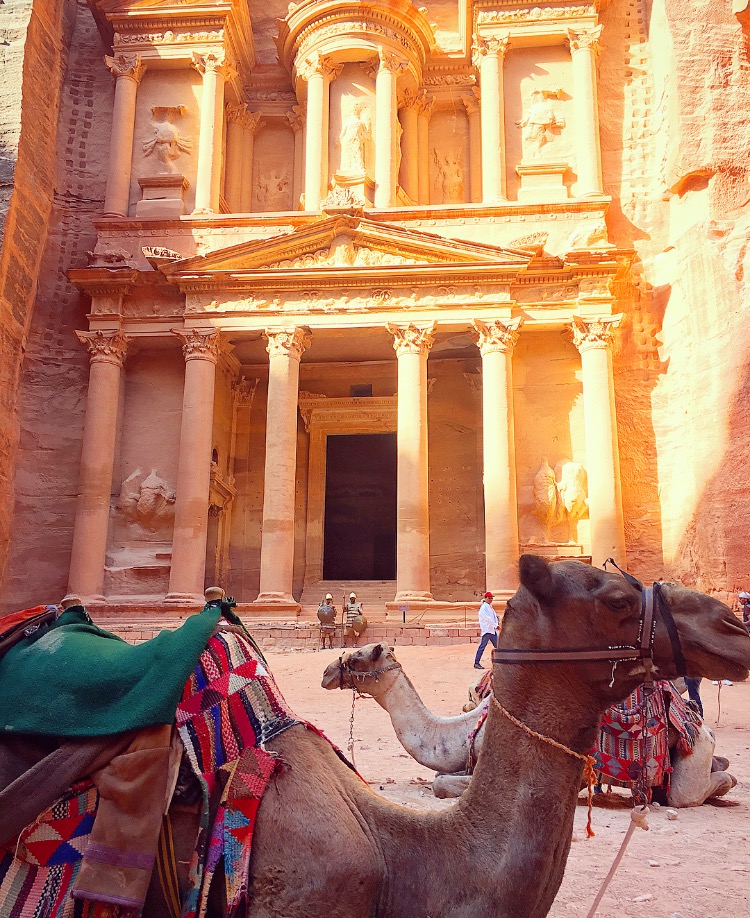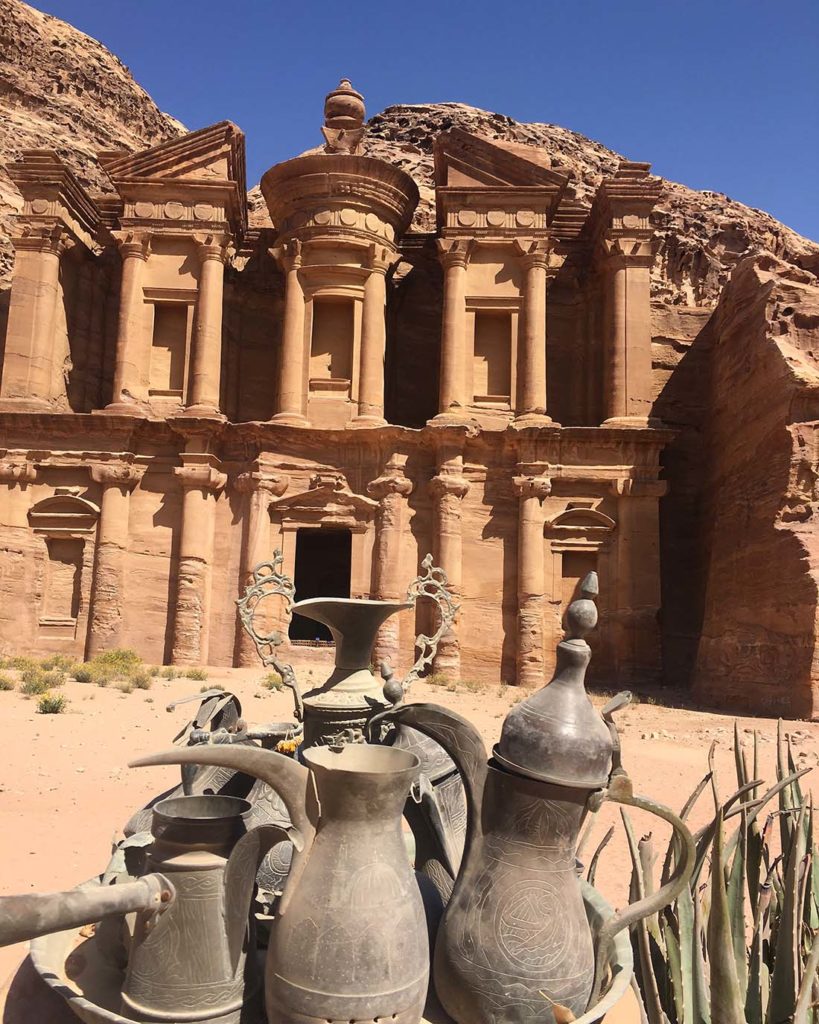 DAY 5
ROMAN RUINS OF JERASH & VIBRANT NIGHTLIFE OF AMMAN
A long drive to Jerash, which is in northern Jordan, towards the Syria border. The ancient roman city of Jerash has some of the best preserved roman ruins in the world. There is much to see here. We spent two hours exploring the magnificent ruins. We headed back to Amman for the night. Explored the city and its vibrant night life. The Rainbow street is so full of life!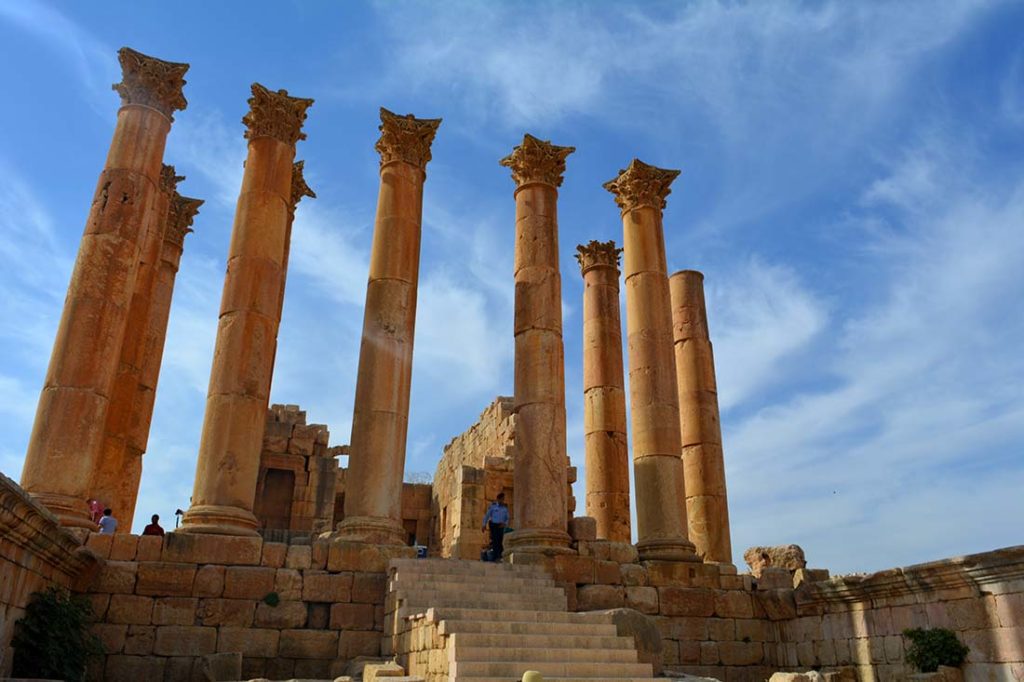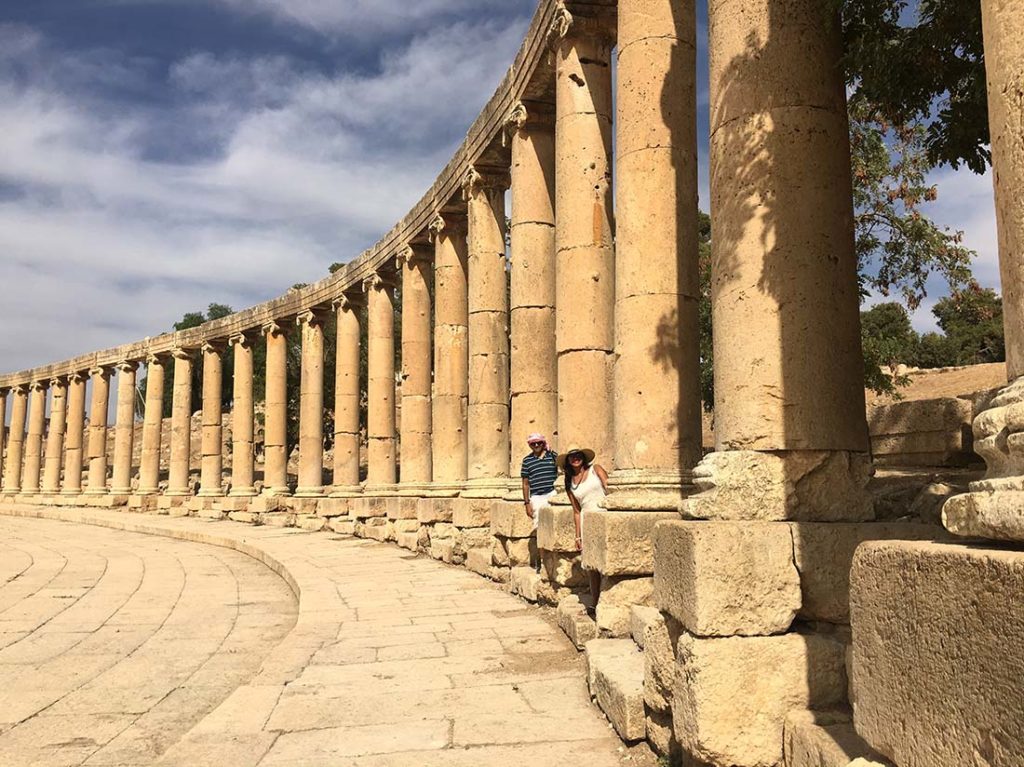 DAY 6
EXPLORING  AMMAN
On our last day, we drove around Amman. People usually skip Amman. Amman has much to offer from the Amman citadel, Roman amphitheater to the magnificent Royal Automobile museum. We explored the museum in detail before heading to the airport for our flight back home.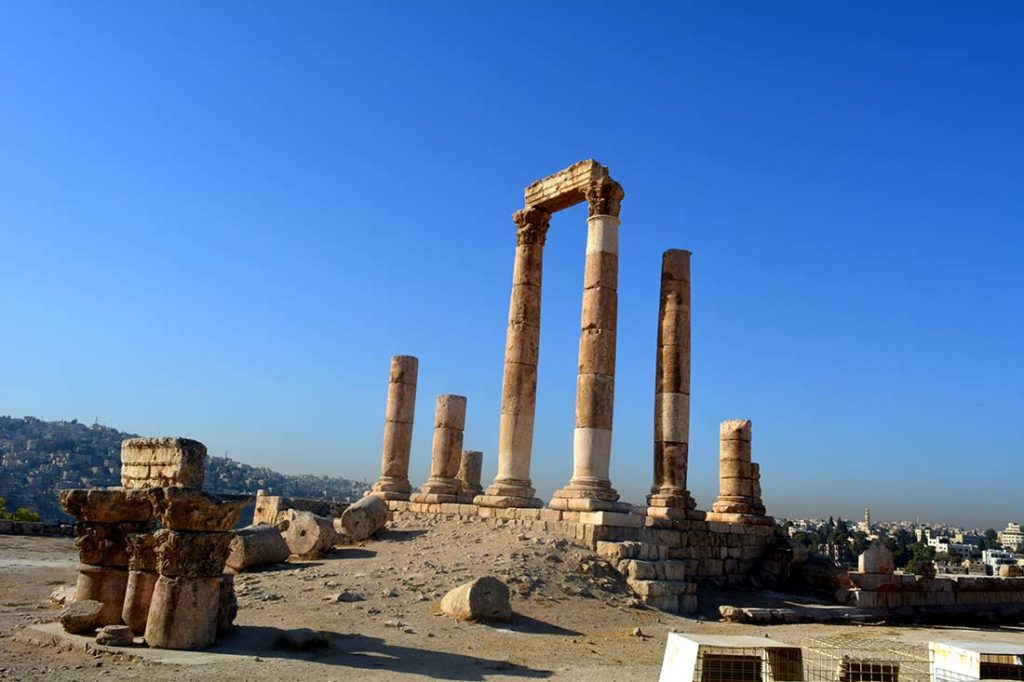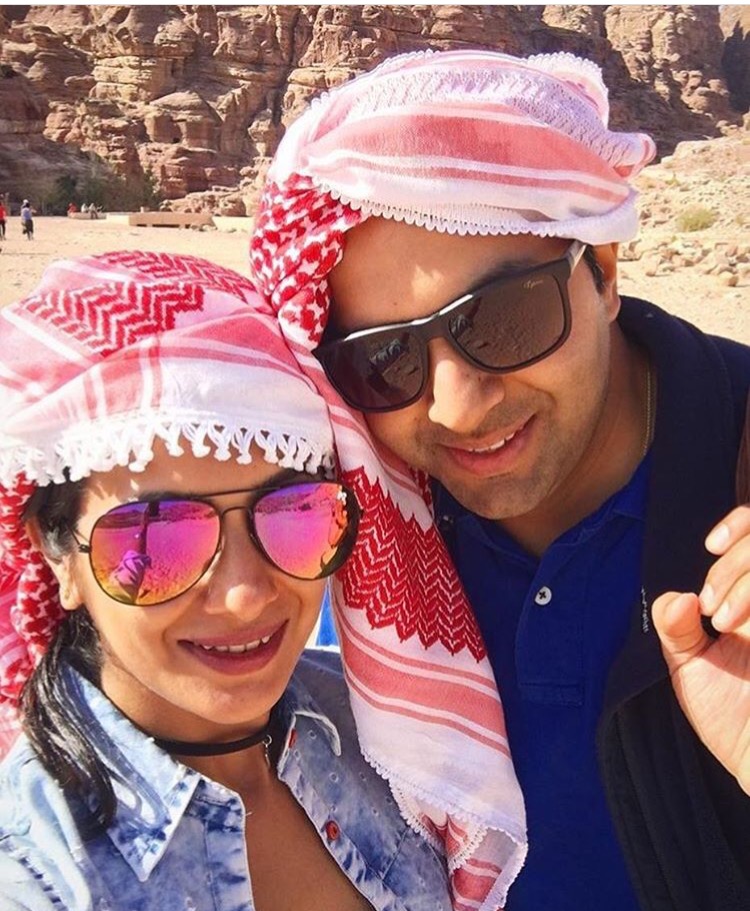 COST ( 1 JOD = 94.5 INR)
| | | |
| --- | --- | --- |
|   | COST (JOD) | TOTAL |
| Car Rental (with insurance and petrol cost) | 130 + 70 | 200 |
| Jordan Pass | 70 JOD per person x 2 | 140 |
| Camping at wadi rum(stay,food and jeep tour) | 55 JOD per person x 2 | 110 |
| Rocky Mountain hotel Petra, 2 nights | 27 JOD x2 | 54 |
| Amman Pasha hotel, 1 night | 26 JOD | 26 |
| Movenpick  Dead sea Spa & hotel, 1 night | 85 JOD | 85 |
| Petra by night | 17 JOD per person x 2 | 34 |
| Food and drinks | 170 | 170 |
| Misc | 20 | 20 |
| TOTAL | | 839 |
TIPS FOR YOUR JORDAN TRIP
I would STRONGLY RECOMMEND that you buy Jordan Pass before you land in JORDAN. It waives off your visa free and covers all major attractions including Petra.
It is extremely safe to travel in Jordan, so don't carry the extra baggage of stress! The people of Jordan are very warm and helpful.
There is no particular dress code. You can wear dresses and western clothes. Make sure that you are covered when you visit a mosque or any religious place.
You can cut down on the cost by taking public transport. The public transport between Amman and petra is good. But you don't have any direct buses available for Dead Sea and wadi rum. Taxies are very expensive.
JETT is the public bus service of Jordan Trips schedule
The hotel's around Dead sea are all luxury hotels, if you don't want to spend so much, you can easily do it as a day trip from Amman or stay at Madaba.
Carry a lot of sunscreen protection, scarves, and caps. The sun is really strong.
Carry a torch if you are camping in the desert.
Buy a SIM CARD at the airport with data pack. We bought Zain sim card. Google maps were very accurate and we didn't spend on any other GPS device.
Copy of Jordan road trip itinerary