KANCHIPURAM – QUINTESSENTIAL TEMPLE TOWN OF TAMILNADU
KANCHIPURAM – TALES OF TEMPLES, HERITAGE AND HANDLOOM
Kanchipuram or Kanchi is ancient temple town on the banks of the Vegavathy River in Tamil Nadu. The name is derived from "Kanjiyur", which means "place surrounded by Kanji trees. The history of this town dates back to the 2nd century and was ruled by the Chola and Pallava dynasties.
I had read about Sapta puri or the seven holy cities of India have powers to give you nirvana. They are Ayodhya, Mathura, Haridwar, Varanasi, Kanchipuram, Ujjain and Dwarka. Having already visited Ayodhya, Haridwar, Varanasi, it was time to visit Kanchipuram.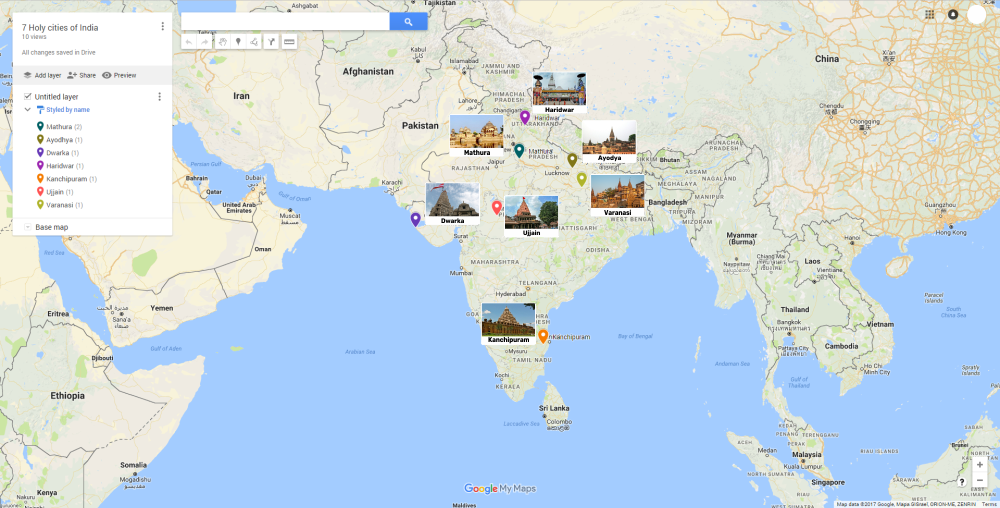 Kanchipuram would ideally require 2- 3 days to visit the temples and surrounding areas. But, if you are short of time then we have a guide to help you.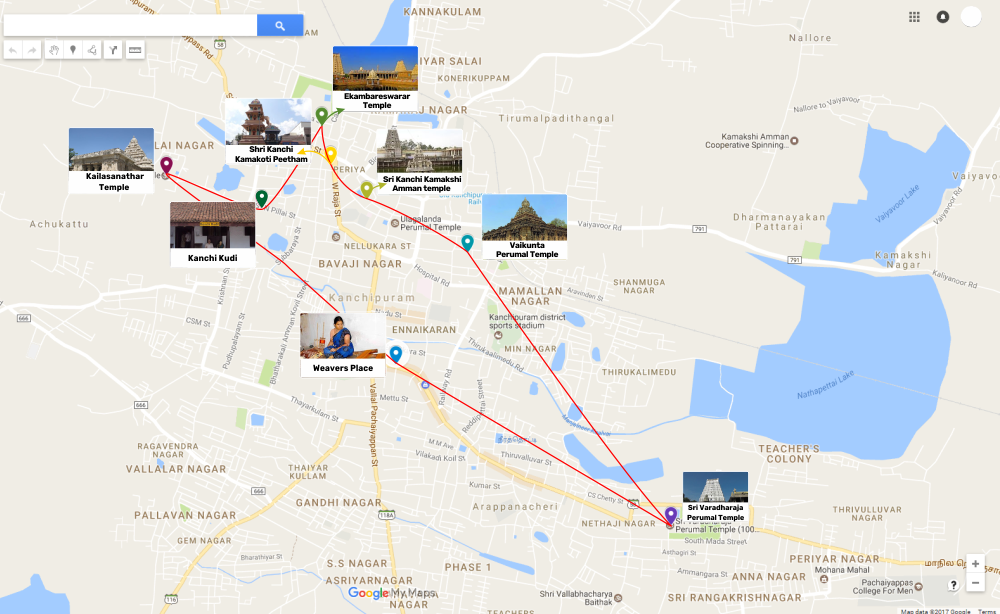 Temple trails
Start the day early and cover the temples. Most of the temples open early around 6:30 am and close in the afternoon by 12 pm -3:30 pm. They re-open in the evening from 3:30 pm -8 pm. It is also the best time to escape the heat.
Kanchipuram has more than 126 temples. I have listed few of the main temples that you can cover in a day-
1. Kamakshi Amman Temple
"Ka" means Goddess Saraswati  "Ma" means Goddess Lakshmi, "Akshi" means eye. This temple is dedicated to Goddess Lakshmi and Saraswati is one of India's most powerful places of female deity worship.10-day Brahmotsavam, Navrathri and full moon day pooja celebrations are the important festivals at the temple. The temple complex is beautifully made out of rocks and it is extremely clean and well maintained. No cameras allowed in the inner sanctum.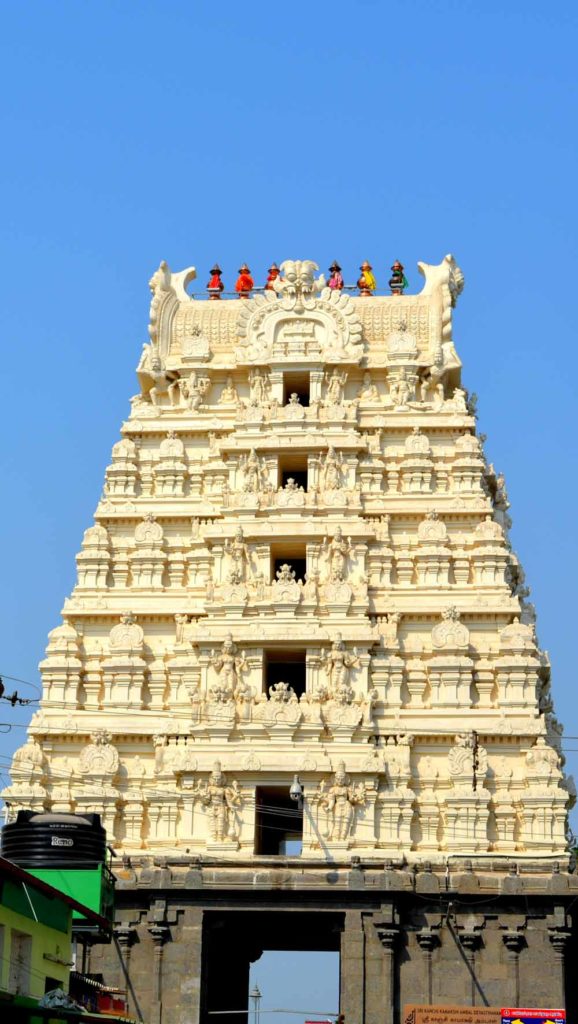 Temple Gopuram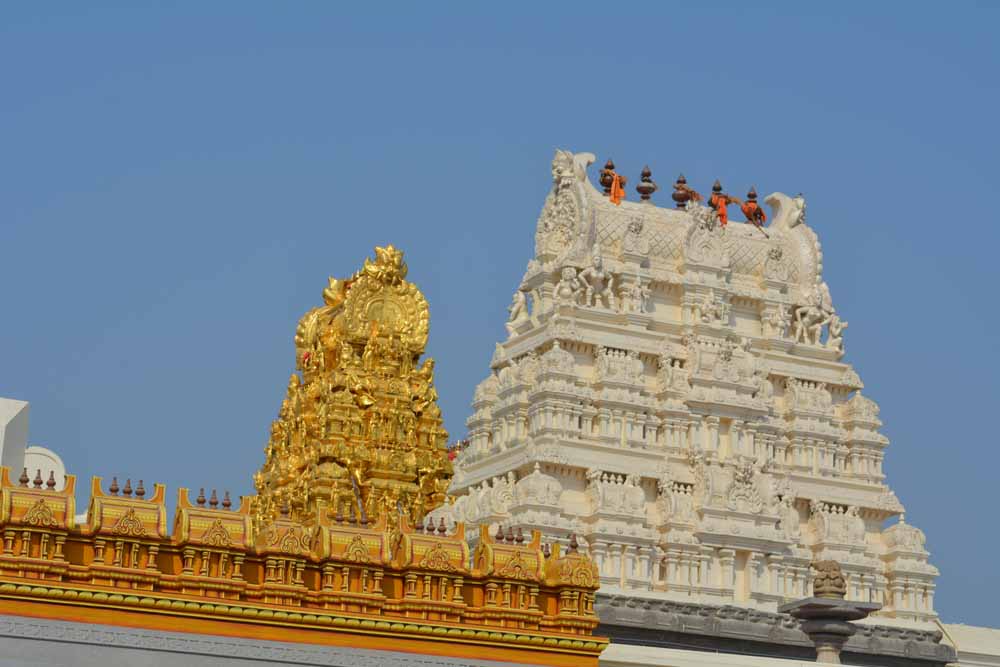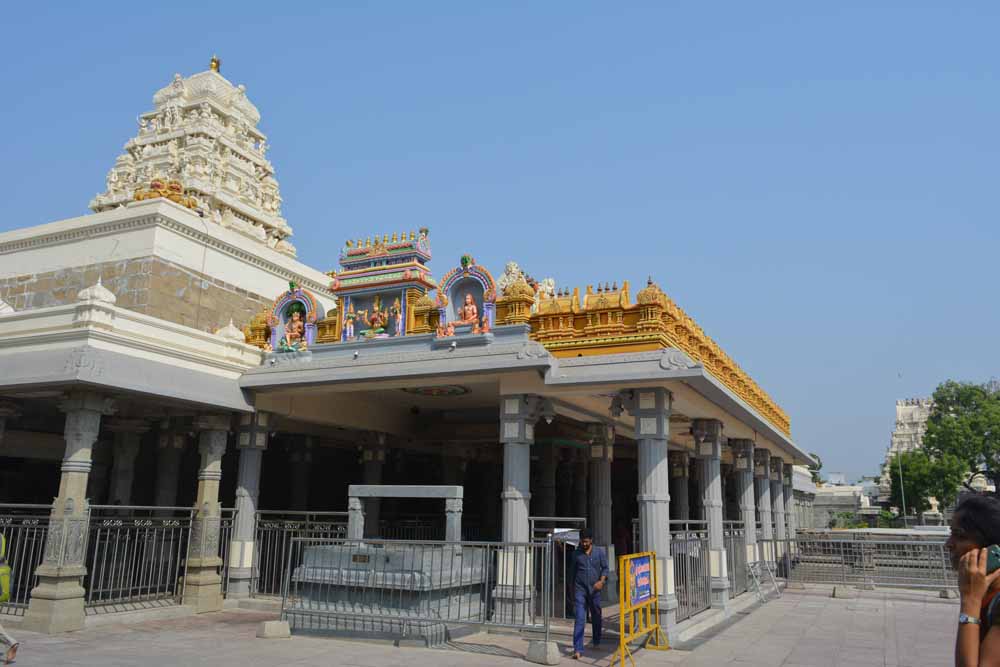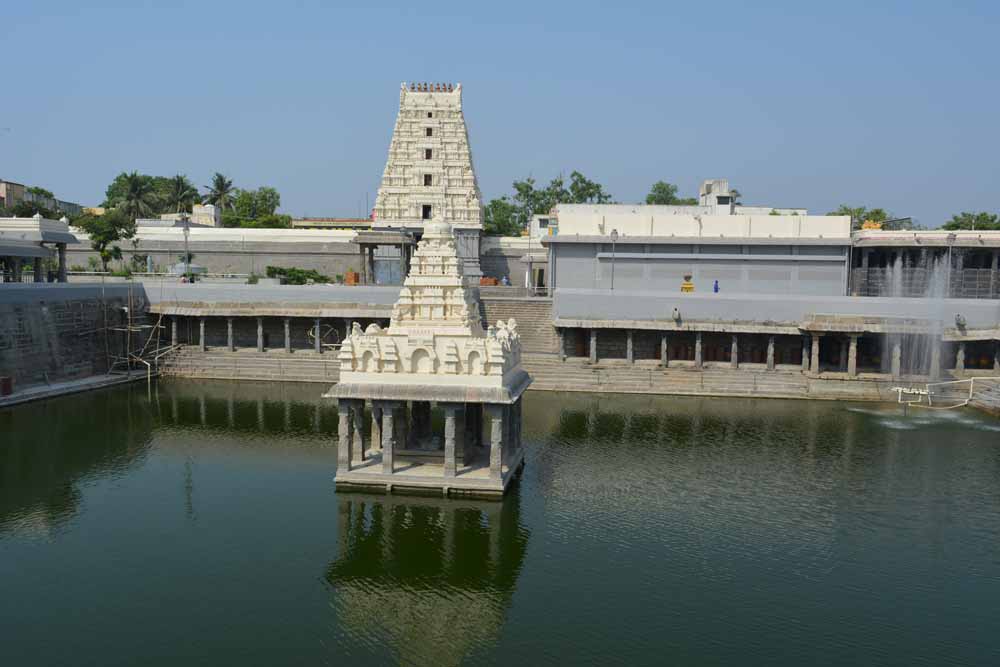 Temple pond
2. Kailashnathar Temple – The Lord of Cosmic Mountain
It is the oldest temple in Kanchipuram and is dedicated to Lord Shiva. Interestingly, it was built in the 8th century by Pallava king Narasimhavarman II, who also built the Shore Temple at Mahabalipuram. The temple has intricate carving and is built in  Dravidian architecture. It also has a 16 sided Shivalinga. It's said that a secret tunnel, built by the kings, was used as an escape route & is still visible.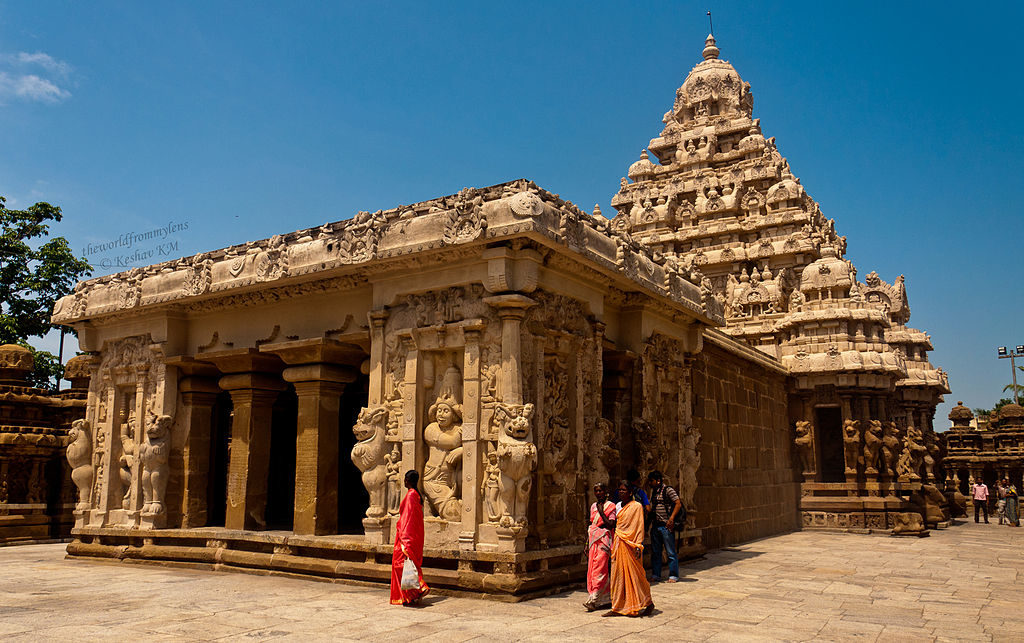 PC: Wikipedia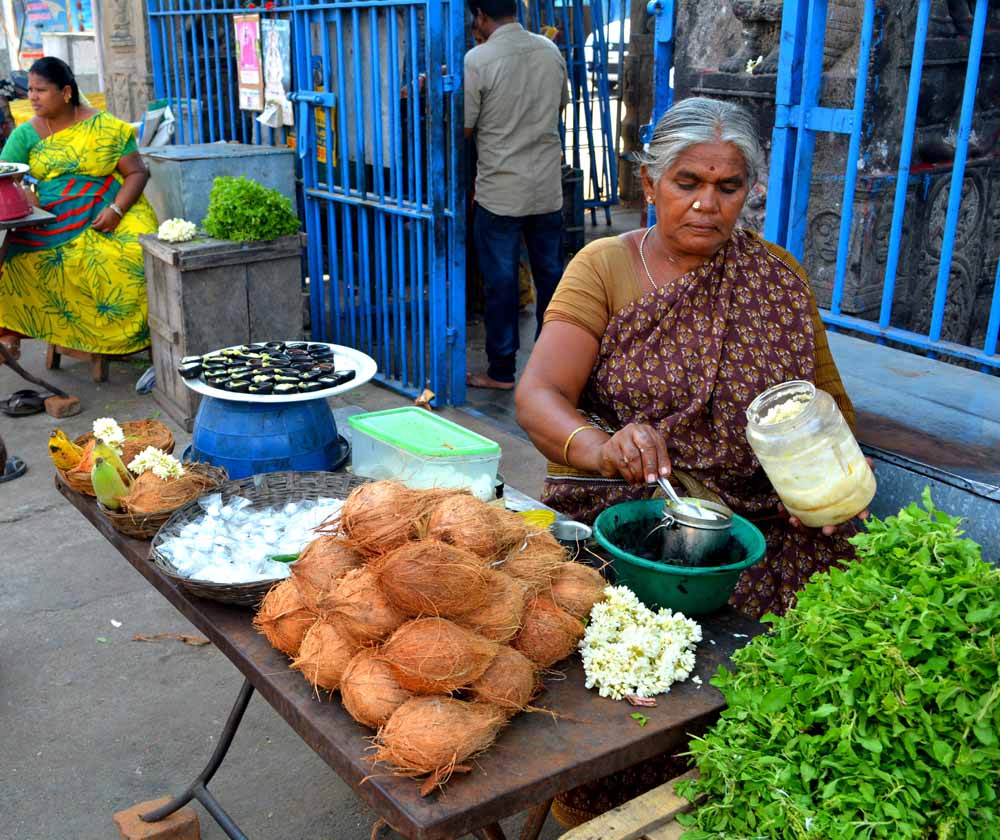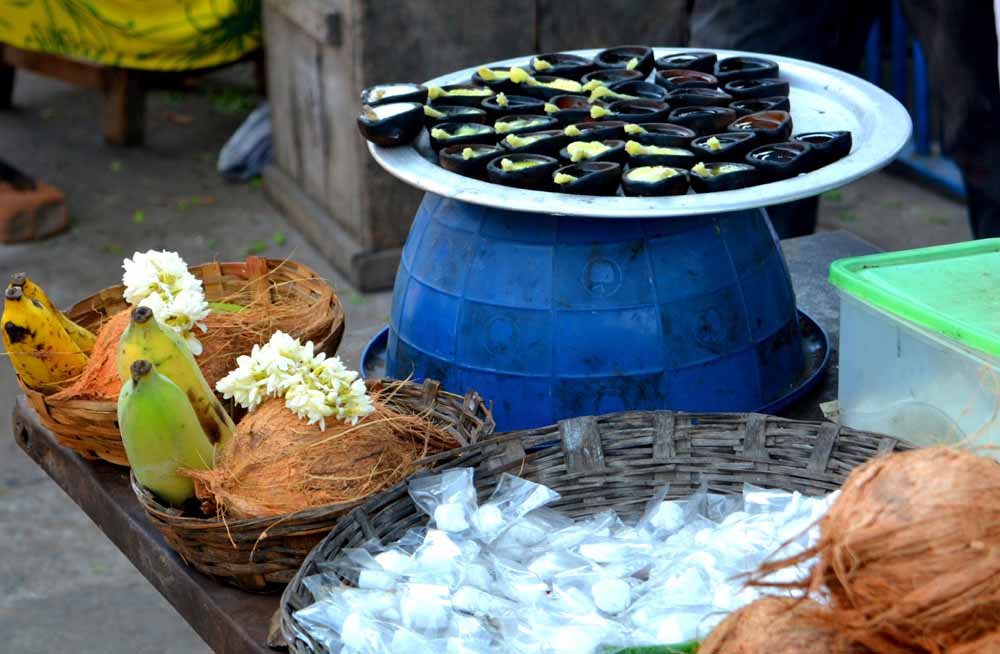 Ekambareshwara Temple
This temple complex is enormous and is spread over 25 acres, the main doors of the temple beautifully carved on wood. This temple is also dedicated to Lord Shiva representing various elements of earth, such as air, earth, and space.
In the temple courtyard stands a sacred mango tree said to be 3500 years old. According to legend, the goddess Kamakshi worshiped Shiva under a mango tree before they got married.
The temple also comprises an intricately carved 1000-pillared hall and a 57 meters high Gopuram. Around 1008 Shivalingams adorn the inner walls of the temple.Photography is prohibited inside the Inner Sanctum.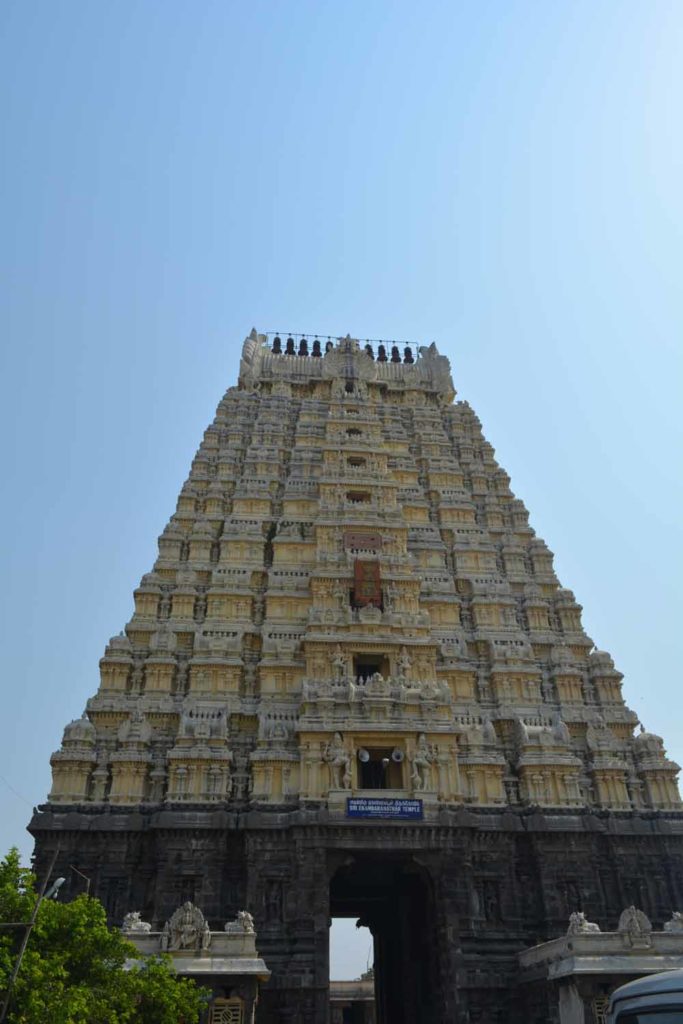 Temple Gopuram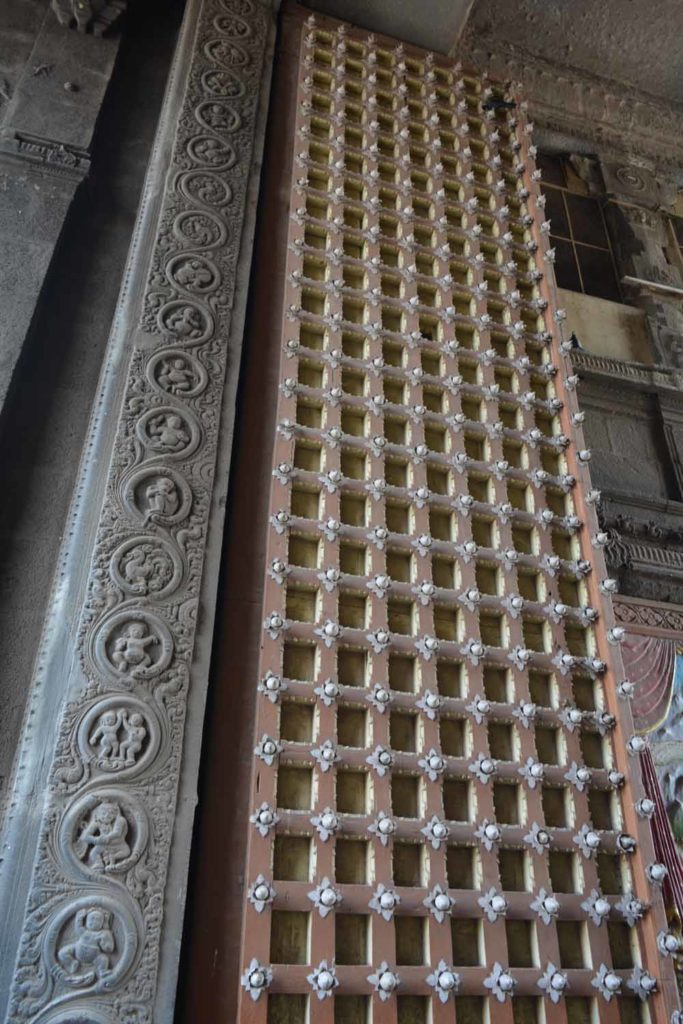 40 feet tall temple door – an anticultural grandeur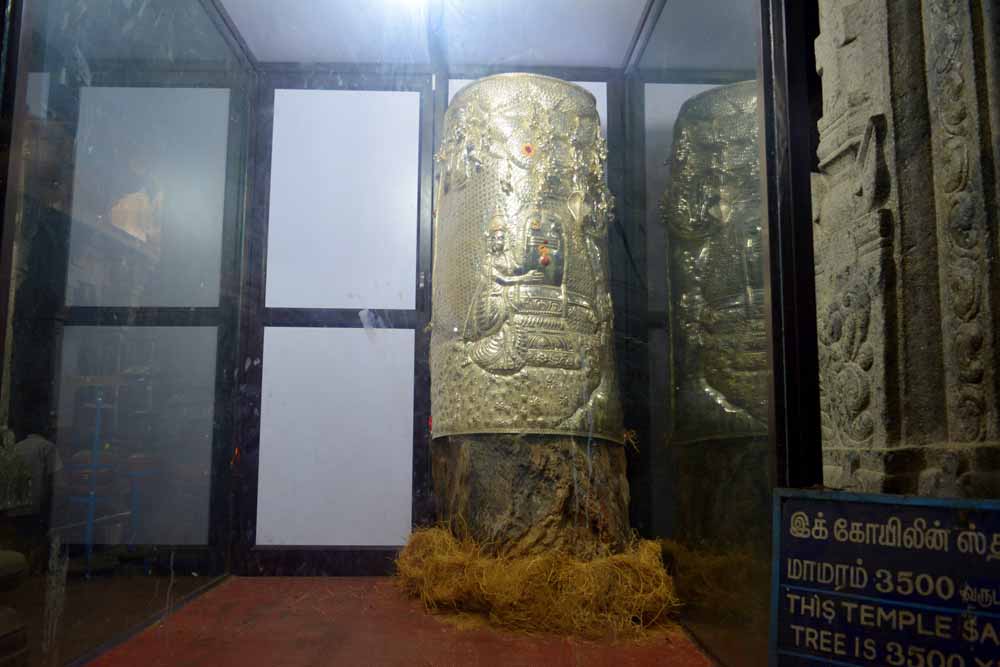 3500-year-old mango tree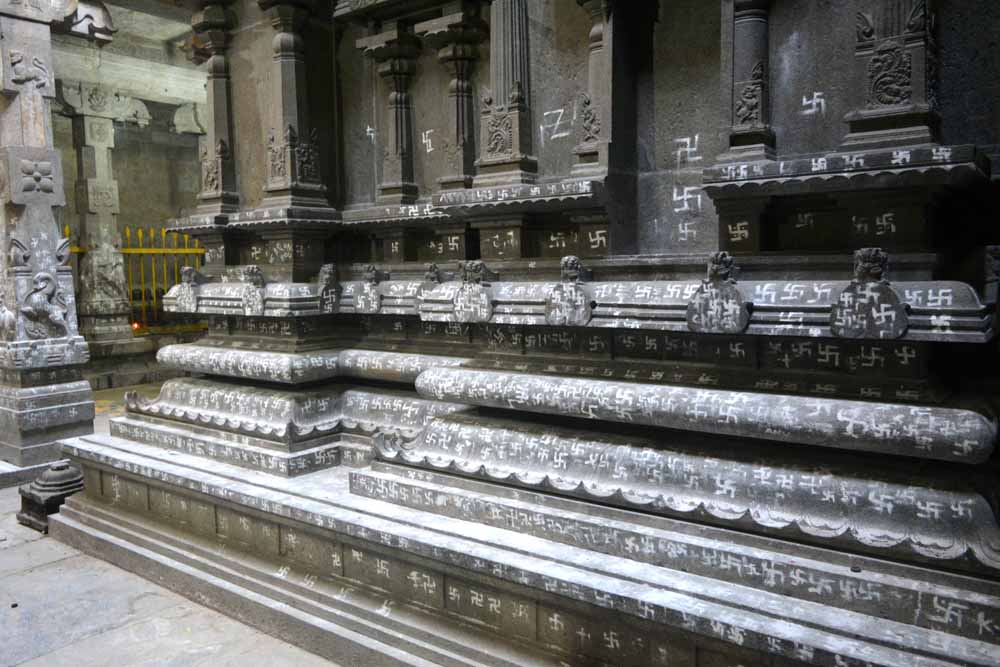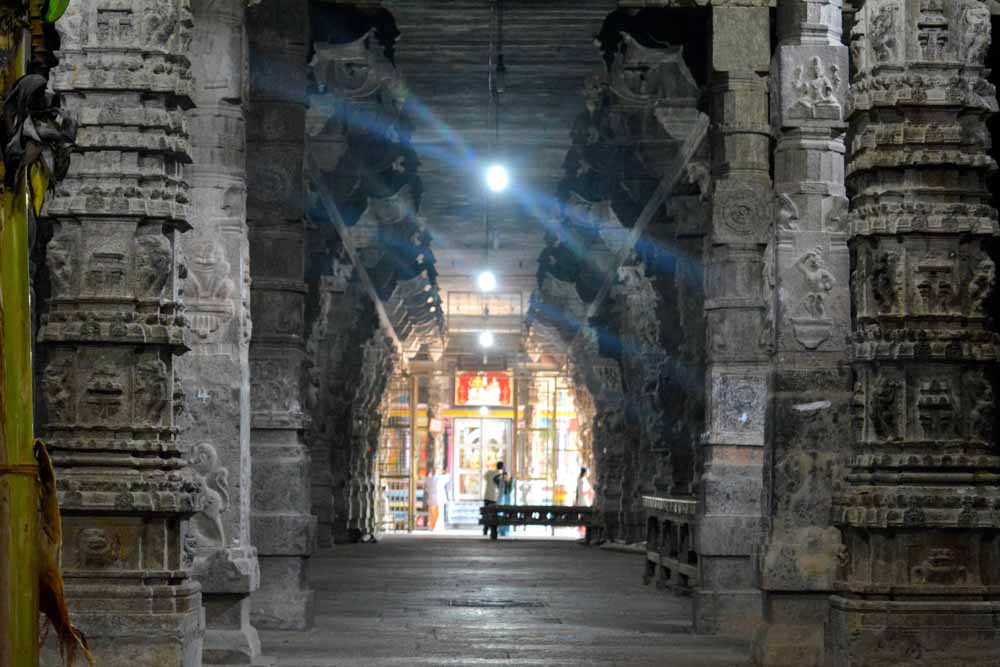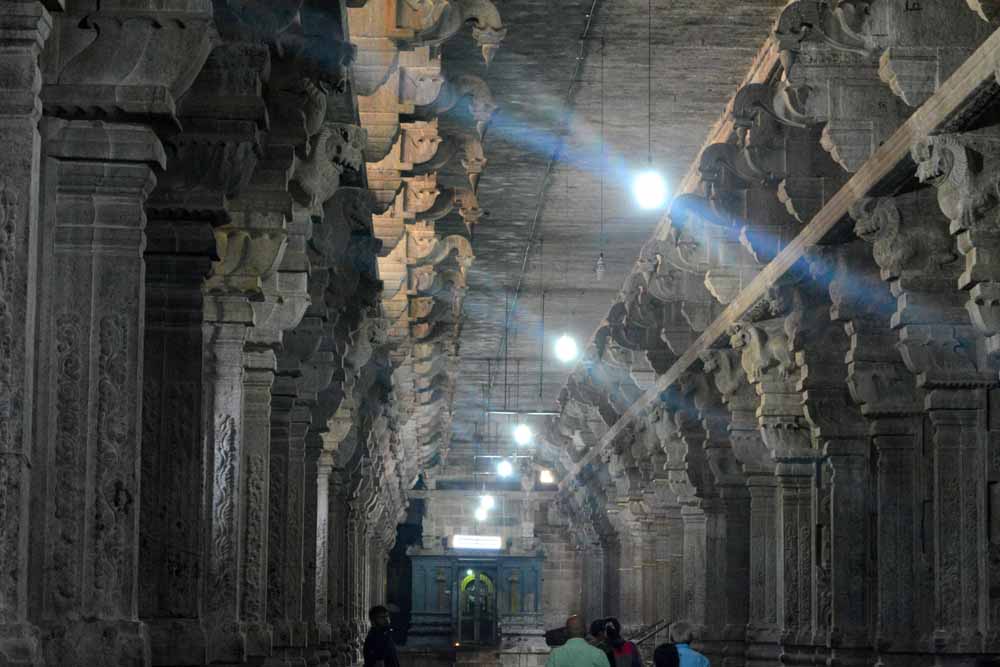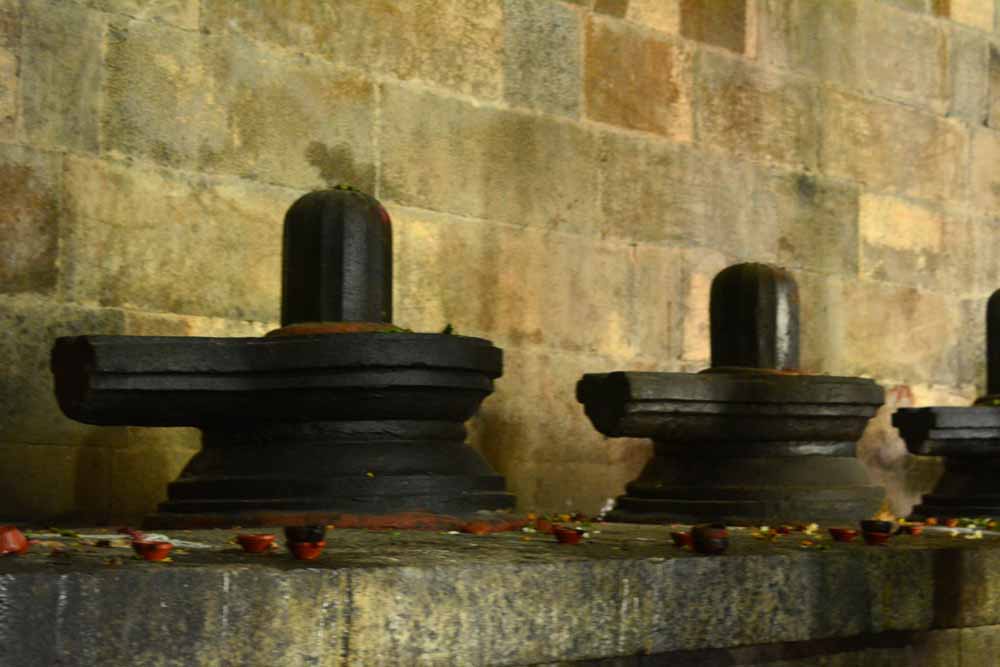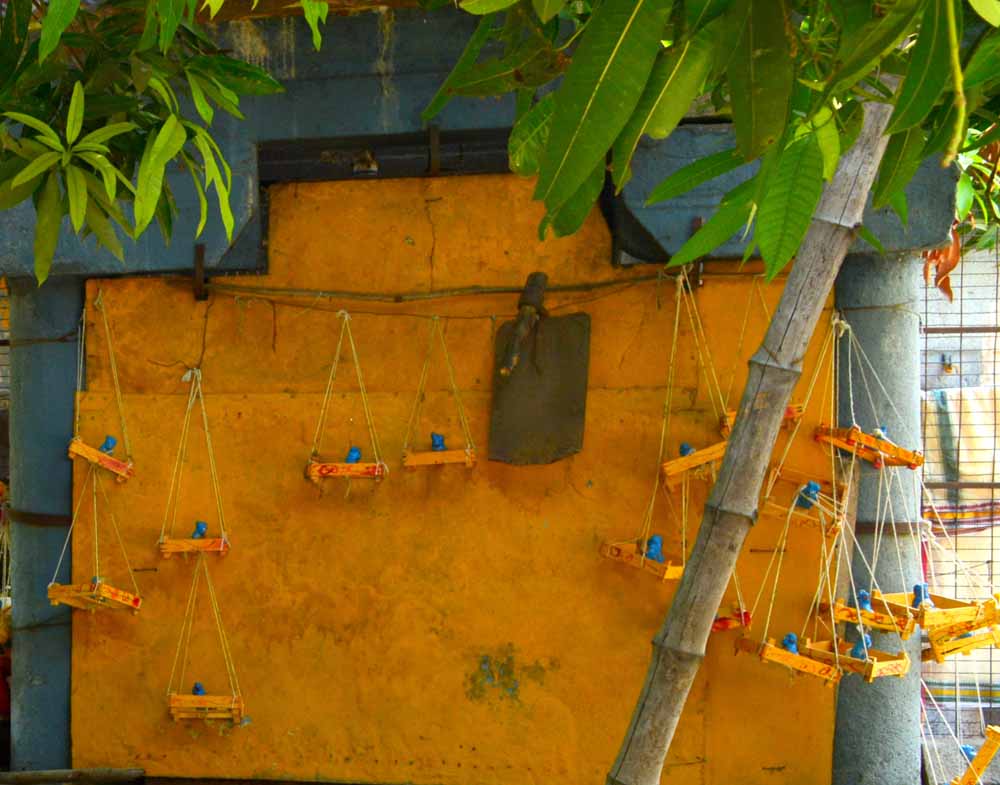 Couples tie swings and wish for kids
Vaikunta Perumal Temple
This 1200-year-old temple was built by the Pallava dynasty. This temple is dedicated to Lord Shiva. The main shrine has images of Vishnu and Garuda. ( Bird-like creature and  the mount of Lord Vishnu).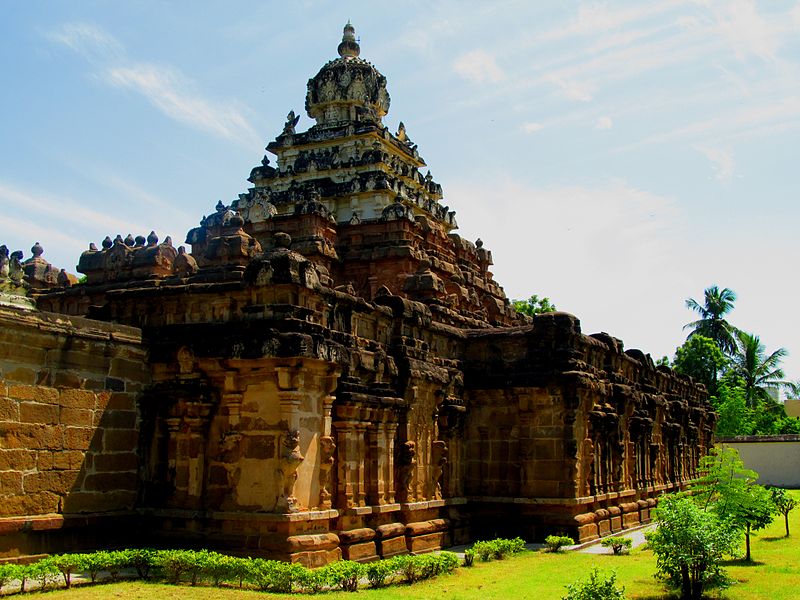 PC: Wikipedia
Trivia: Every 40 years the temple tank is drained, which reveals a wooden statue of Lord Vishnu. The prayers go on for 48 days. Next viewing: 2019
Vardaraja Perumal Temple
This temple is dedicated to Lord Vishnu.  The temple built by Chola dynasty has 16th-century '100-pillared' marriage hall. The pillars are carved with various motifs of animals and warriors.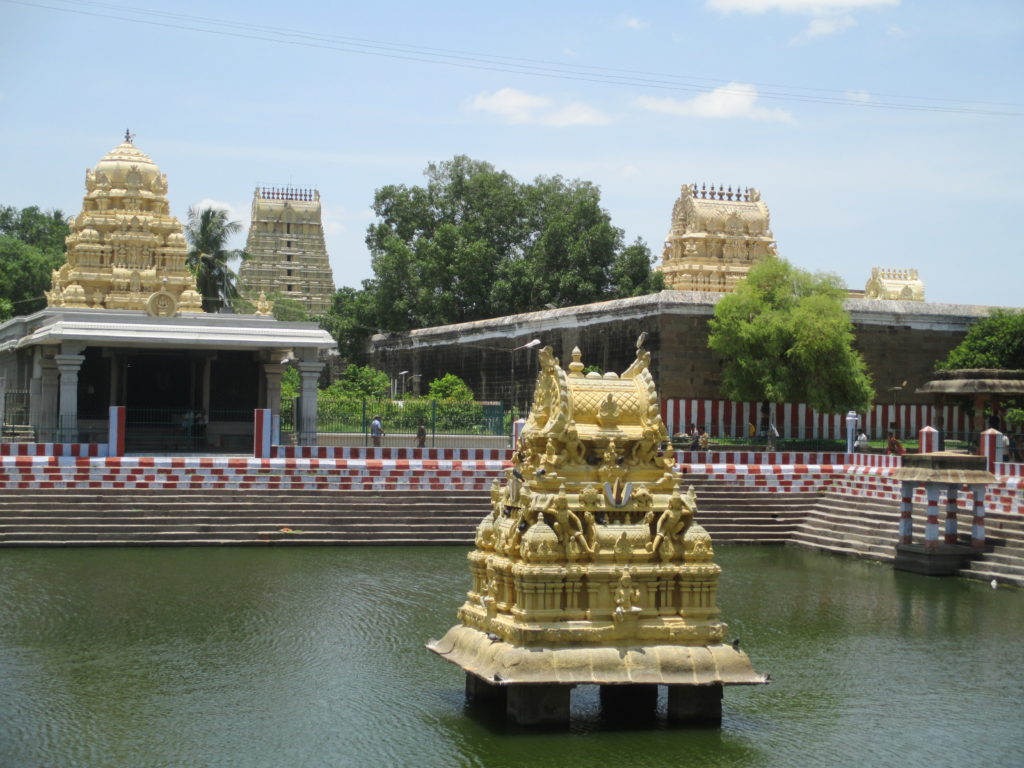 PC: Wikipedia
For a detailed list of temple festivals check the Tamil Nadu tourism site  http://www.tamilnadutourism.org/places/CitiesTowns/Kanchipuram2.aspx?catid=010106P08
Nine yards of South silk
When in Kanchipuram, you cannot miss out on the famous Kanchipuram silk sarees. In 2005, Kanchipuram Silk Saris received the Geographical Indication tag, the first product in India to carry this label.
Some trivia on silk sarees
Kanchi silk weavers are the descendants of Sage Markanda, the master weaver of Gods who is supposed to have woven tissue from lotus fiber.
Contains 50 % of silver, 5- 6 grams of gold & rest mulberry silk.
Weavers work mostly during the early hours of the morning and evening to avoid sweating onto the silk threads.
The border and pallu are woven separately and then woven with a contrasting color saree body also called as "korvai". This results in a zig zag joint, which symbolizes an authentic Kanchipuram saree.
Weavers take around 30 days to four months to complete one saree depending on the intricacy. A lot of detailing and care go into every saree. The cost of the saree is proportional to the amount of zari.
Silk sarees have various motifs in their weave which depict tales of South India.
The city has around 5000 families involved in weaving sarees.
Go on a silk trail to the weaver's village and discover the art of making silk sarees, right from the dyeing process to weaving.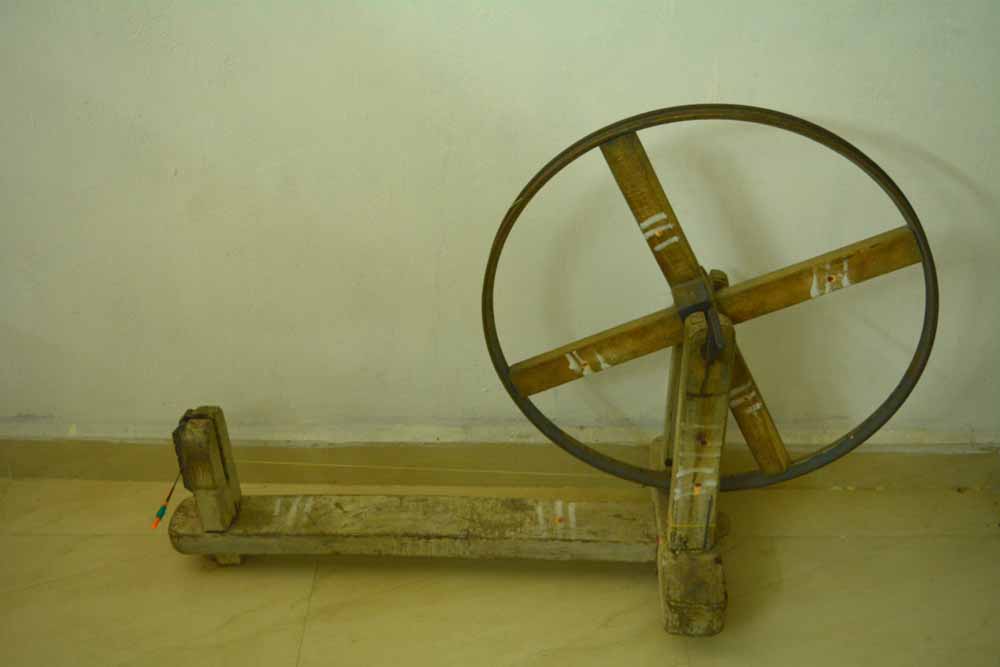 Spinning wheel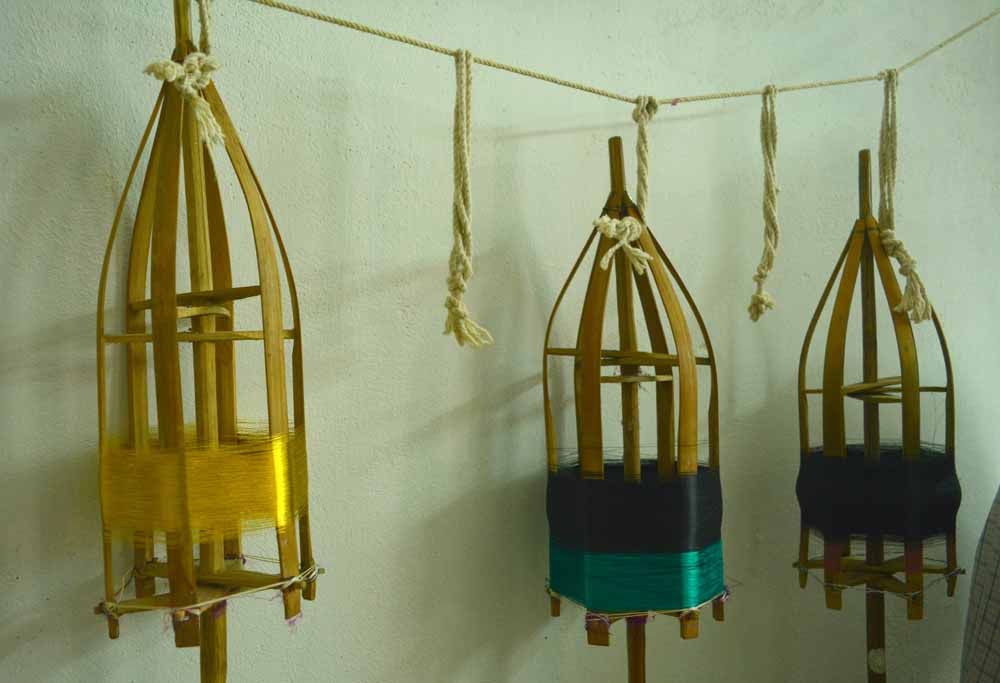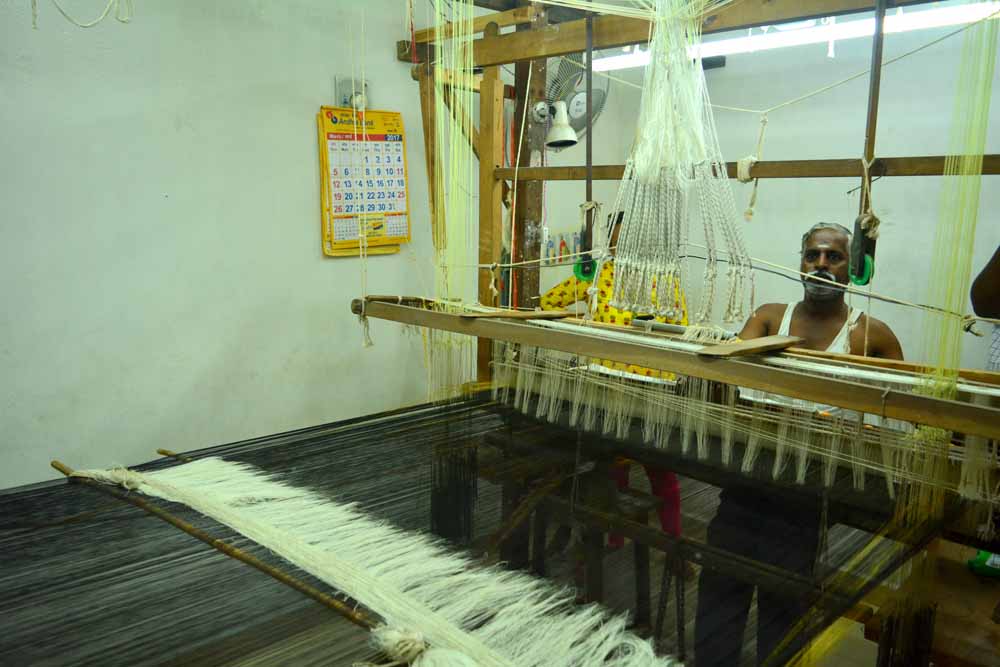 Weavers at work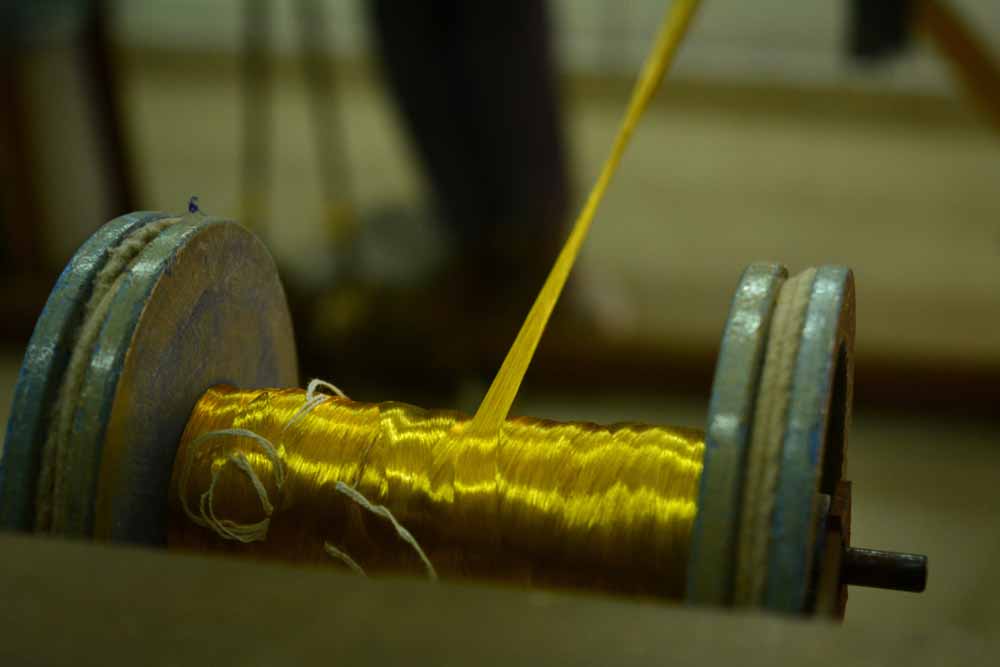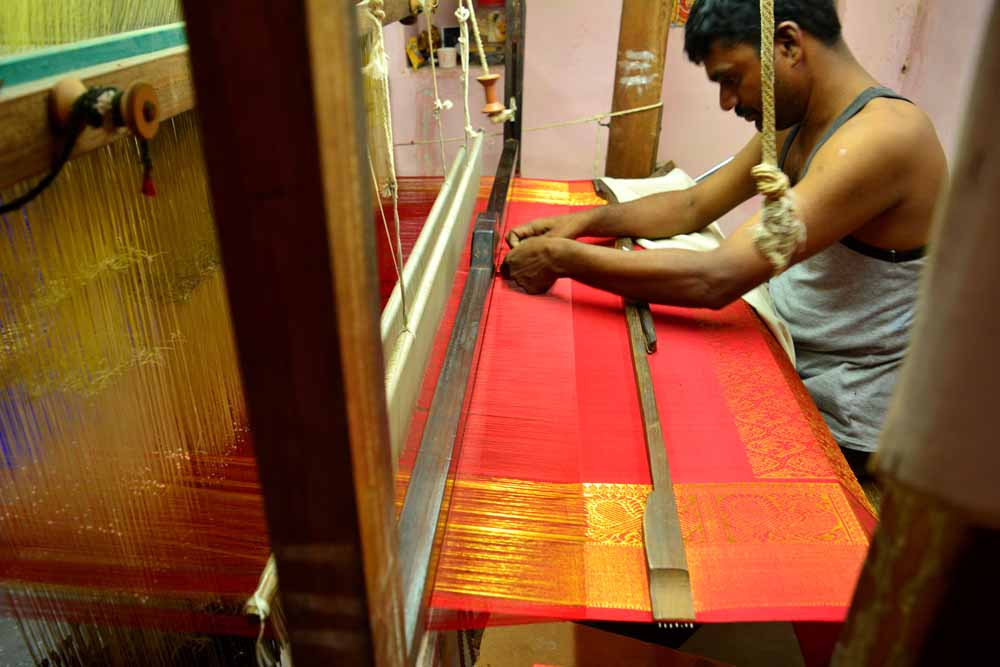 Kanchi Kudil- A  walk down the history lane
A well-preserved 90-year-old house turned into a museum. It offers a glimpse of the life at that period of time. It is located quite close to the famous Kailasanathar temple
To reach the 'Kanchi Kudil', the road opposite to the famous Ekambareeswarar Temple, and after a few meters, you can locate it next to a small temple on the left side of the road.
Entry fee-Rs 10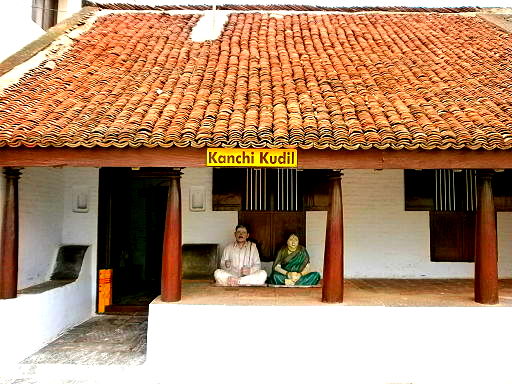 PC: Wikipedia
Where to stay?
Regency Kanchipuram by GRT Hotels
After all the temple trails and endless shopping of silk sarees, you would want to put your feet up and sink into a cozy room. Look no further and stay at Regency Kanchipuram. The Hotel is extremely well located in the bustling main street of Kancheepuram town in close proximity to the main attractions.The rooms are very well appointed with all modern amenities.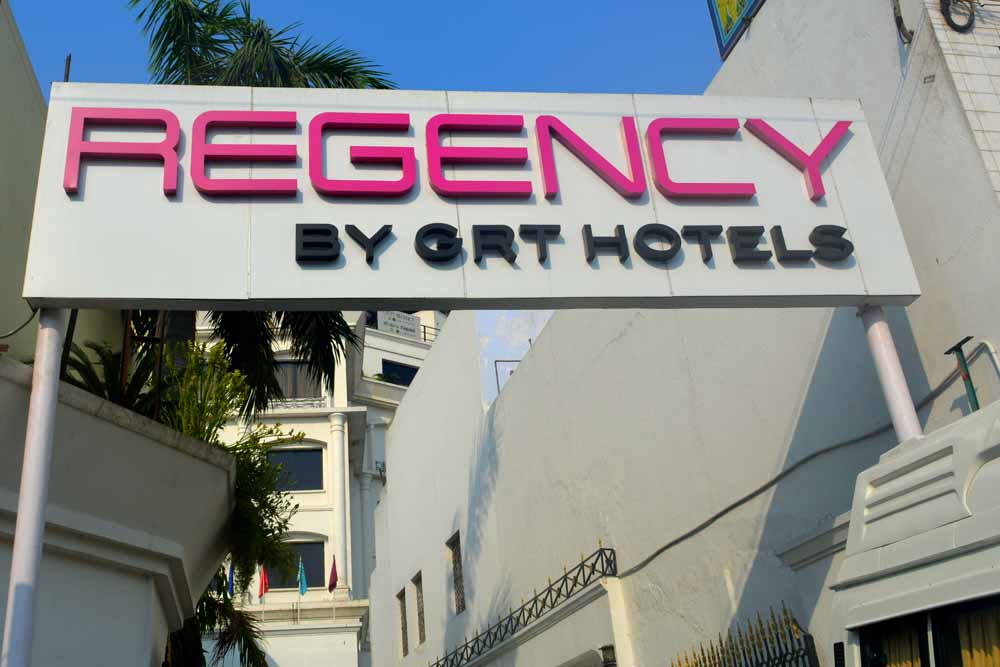 Regency by GRT hotels – Kanchipuram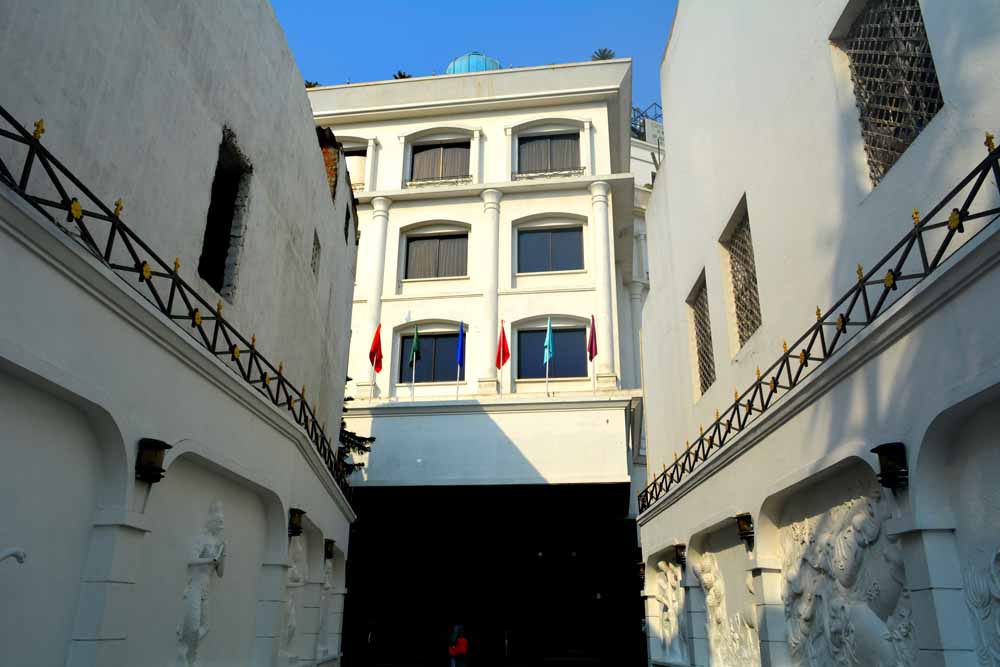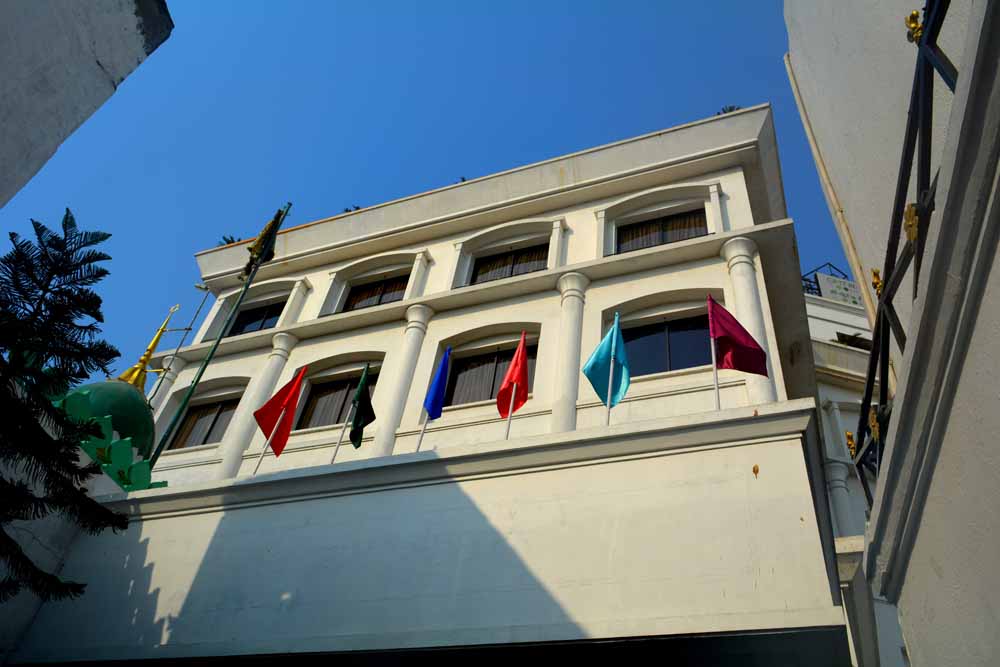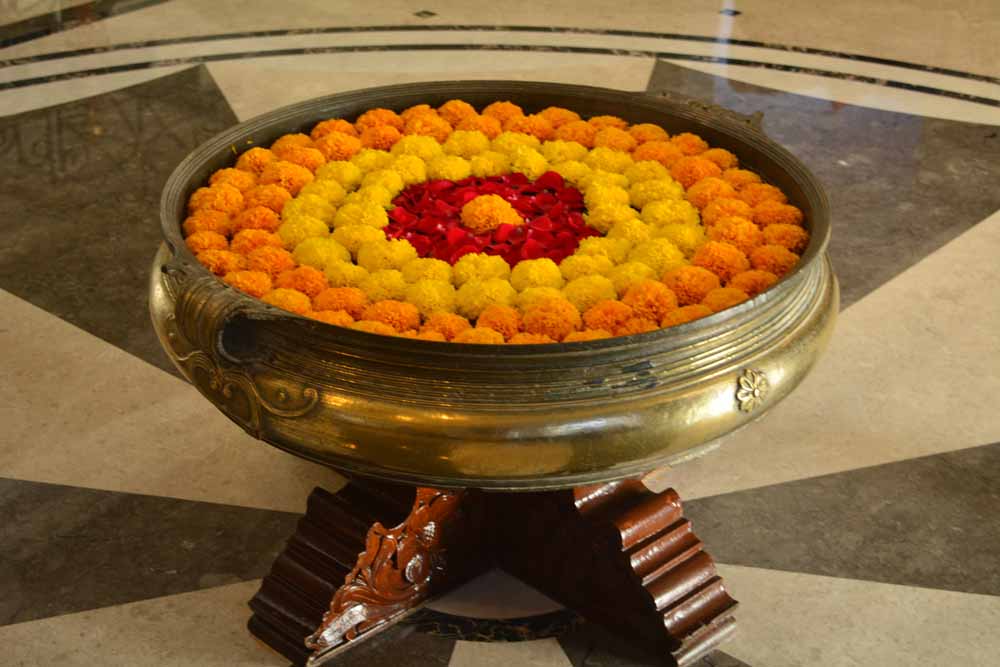 Traditional Urli with flowers at the Lobby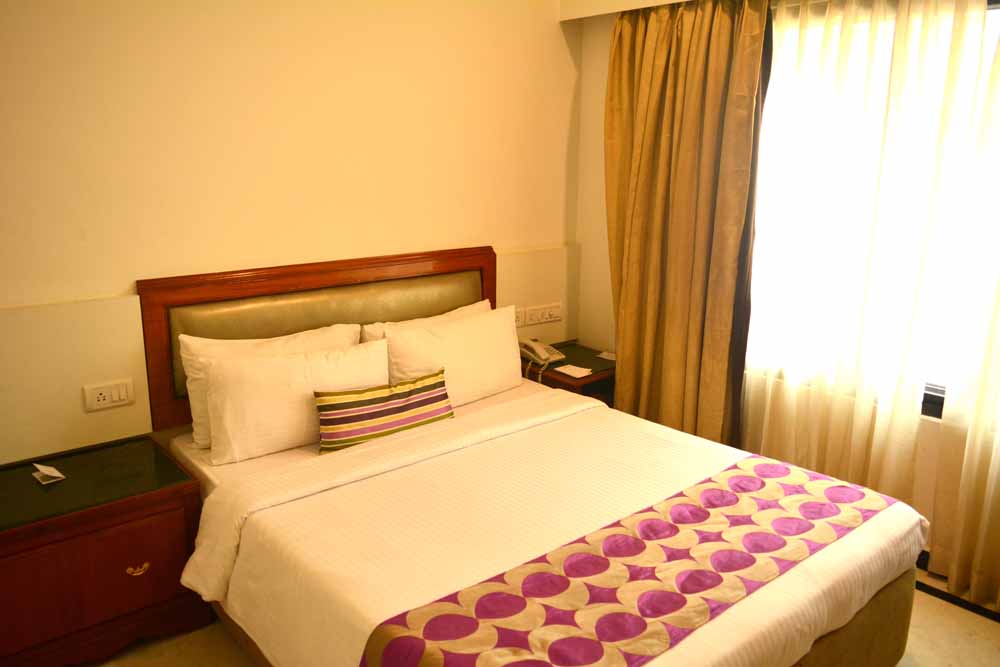 Well appointed cozy rooms
The multi cuisine restaurant Dakshin serves and eclectic combination of local flavors along with Chinese, Italian, and North Indian fare.
Local delicacies such as Tamarind rice and the Kothavarankai Kadlai were absolutely delicious.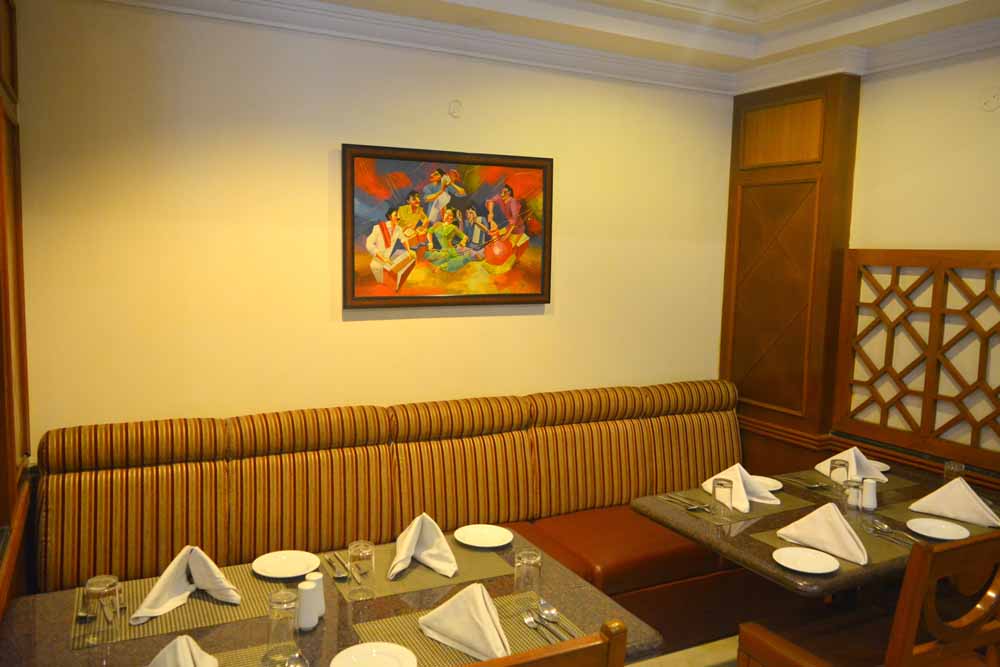 Dakshin -The multi- cuisine restaurant 

Huge buffet spread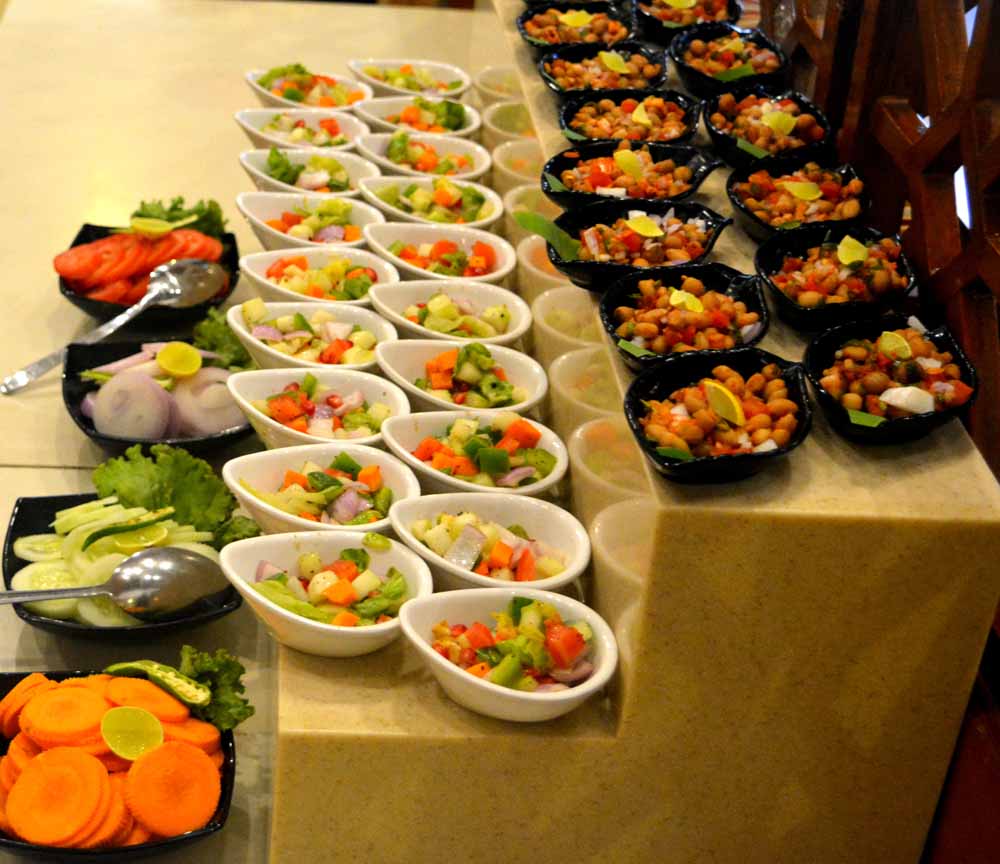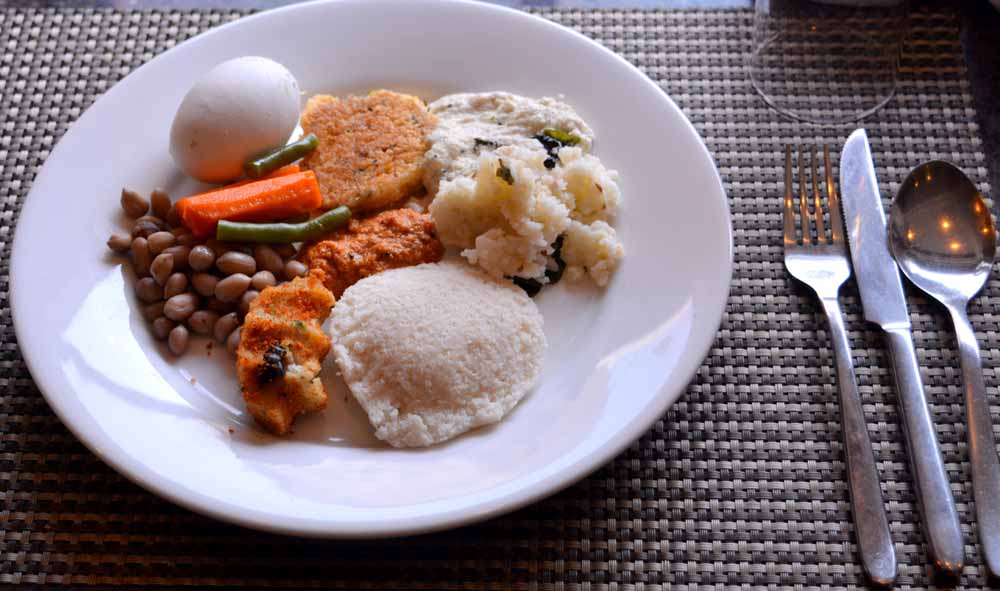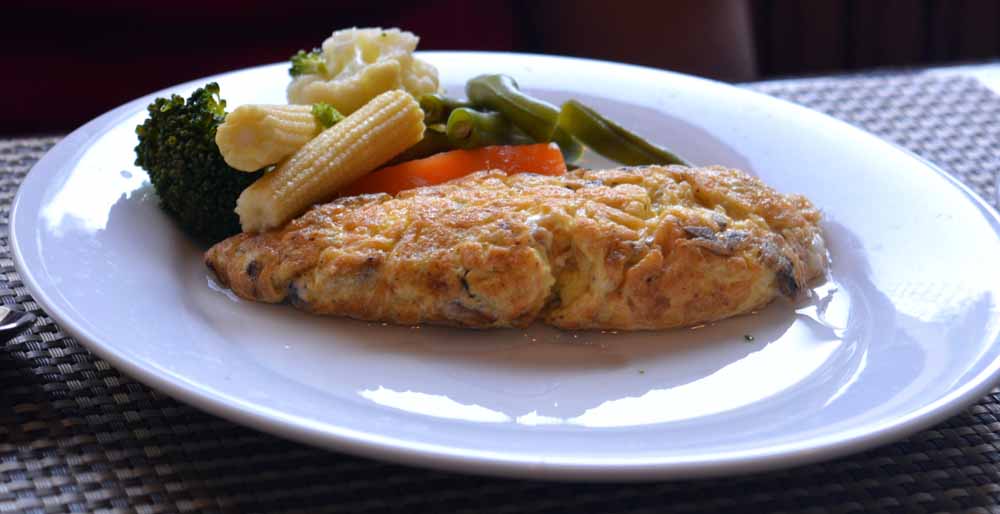 A hearty breakfast
To get a taste of local flavor
Kanchipuram idlis are no ordinary idilis. It is the offering made to God. So, it is made with utmost care and devotion.You can try these at Varadarajaperumal temple.The idilis are made in bamboo baskets and can measure a foot long! Yes, you heard that right. A foot long!!! Price – 250 per roll.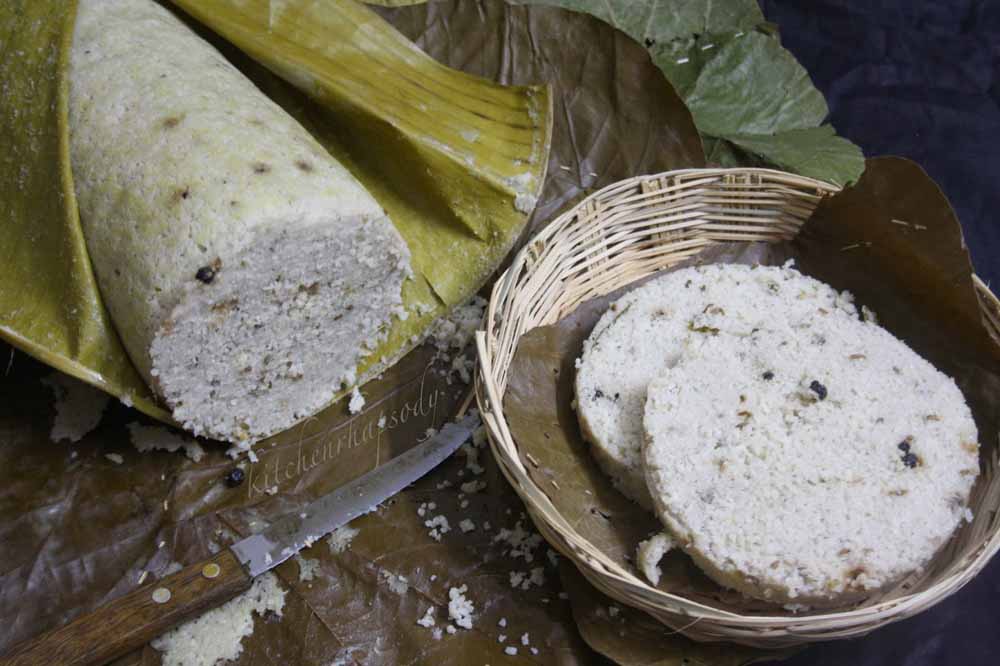 PC -kitchen rhapsody.
For a more detailed blog on kovil idily check this blog http://kitchenrhapsody.blogspot.in/2014/02/kanchipuram-koil-idly.html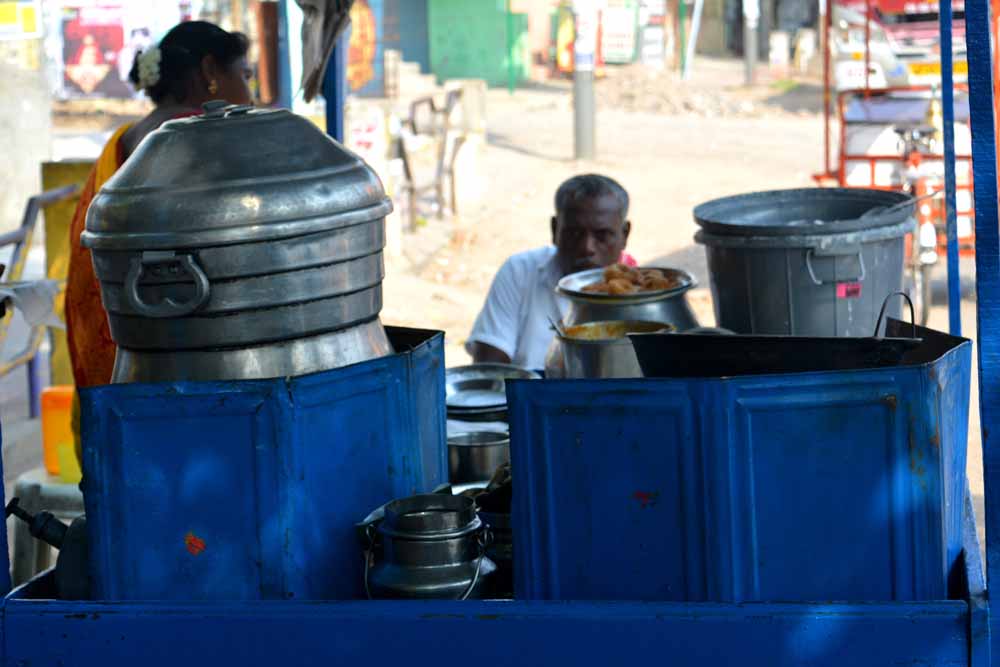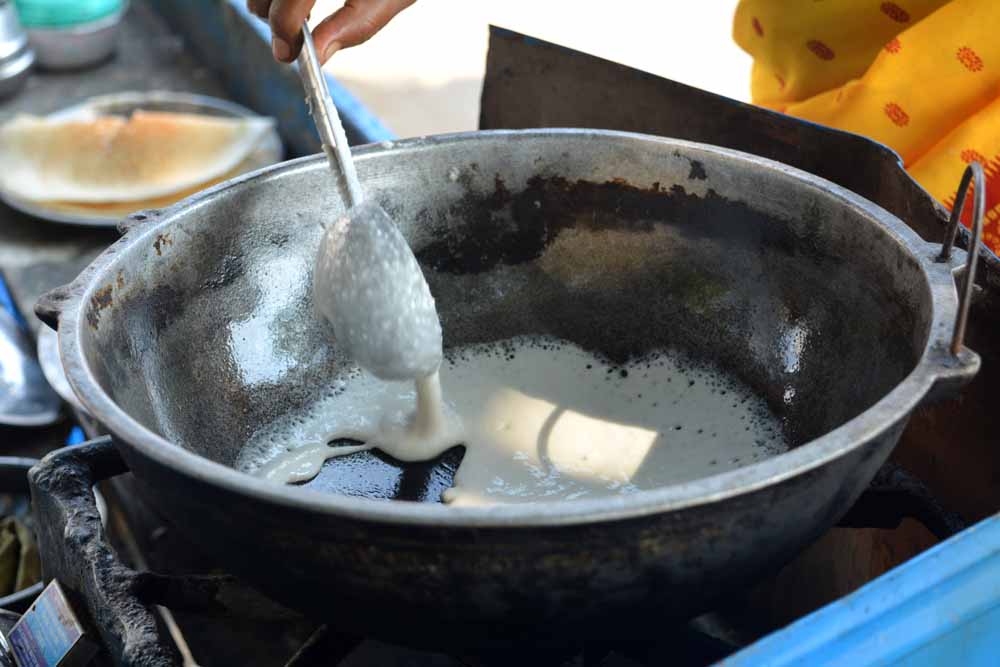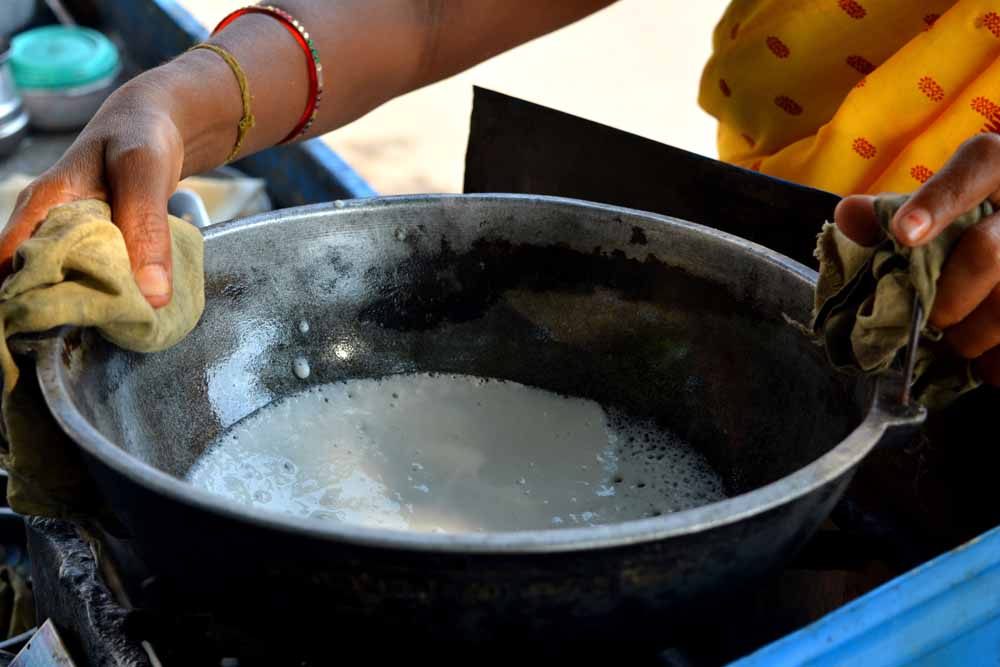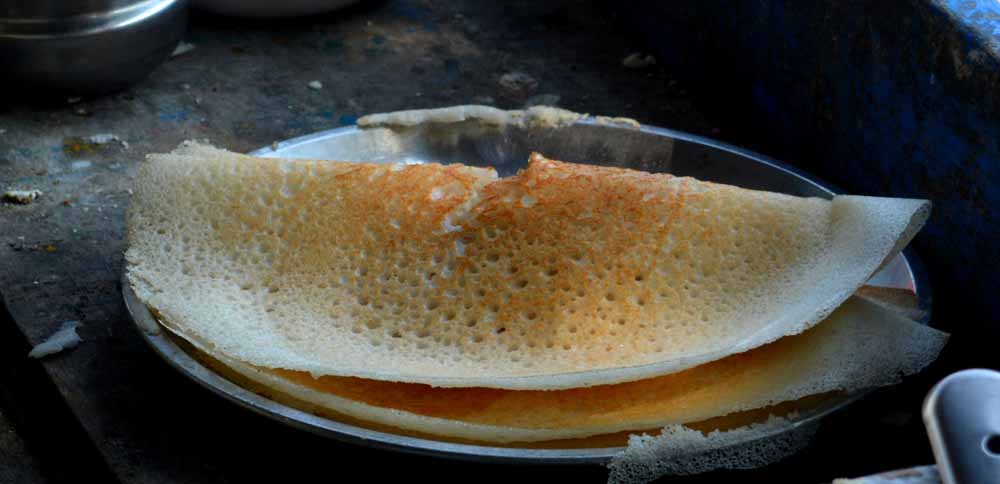 Street food – dosa and idili
Getting there
Kanchipuram is well accessed by rail and road.
By Air- Chennai is the nearest airport (70 km)
By Train- Kanchipuram junction is well connected to major stations.
By Bus- There are direct buses to Kanchipuram from Chennai and other cities in Tamil  Nadu.
When to go
October to February is an ideal time to visit.
We were invited by GRT hotels, however, the experience and opinions are our own.
To know more about the hotel and bookings, check their website, https://www.grthotels.com/kanchipuram