A GUIDE TO GANDIKOTA & BELUM CAVES
A GUIDE TO GANDIKOTA & BELUM CAVES

Temples, mosque, fort,  windmills and a grand canyon – all at one place! Doesn't it sound exciting? Let's take you on a journey and walk back in time!
Most of us have the Grand Canyon on our Bucket list. Don't we? What about visiting India's Grand Canyon? Facading natural landscapes on either side of the meandering pennar river with exemplary views on every turn, Gandikota is the Grand Canyon of India. Brick red rocks complement the canvassing sky like gradients complement a fresco and the calm flowing Pennar river 300 feet below give a beautiful contrast to the rocks. The place derives its name from the words "Gandi" and "Kota" which translates to red fort in Telugu.
I came across this place when I was at my usual hunt for places to visit near Chennai and i couldn't keep my eyes off the picture! I knew, i had to GO!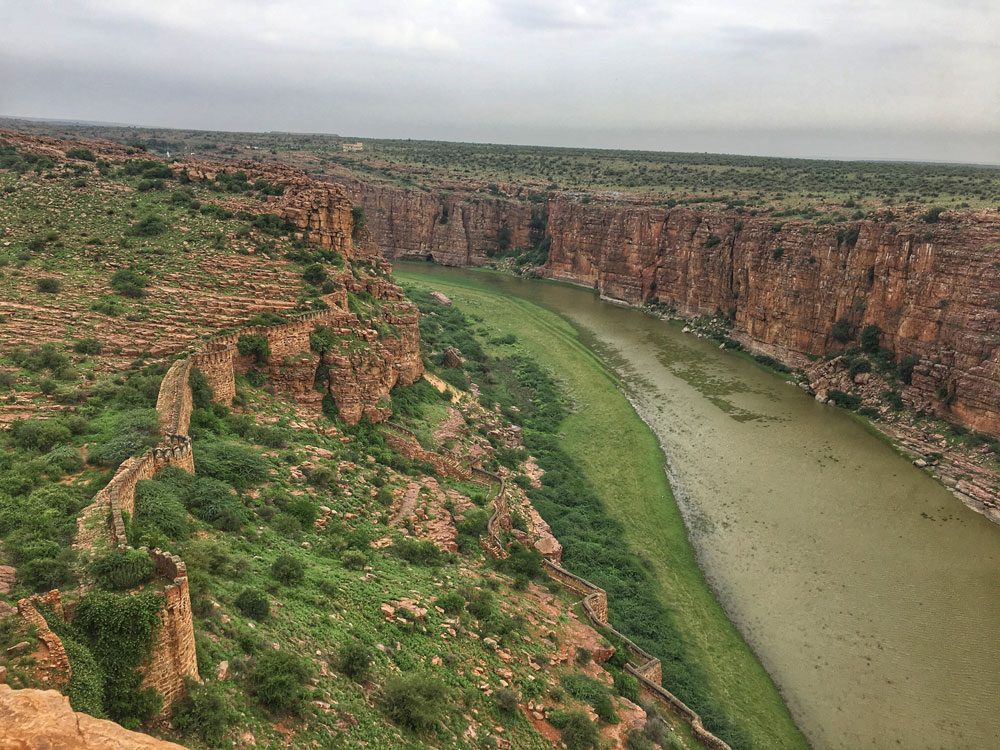 GEOGRAPHY LESSON
Gandikota, is a hidden gem tucked away in a small town of Andhra Pradesh on the banks of Pennar river. The Pennar River flows through a magnificent gorge, surrounded by fort walls on one side. The fort dates back to 16th century. From trekking up the boulders to exploring caves, mosques and temples, and watching the sky change colors during sunrise and sunset! It's unbelievable how our country has so much to offer!
HISTORY LESSON
The early part of the history of Gandikota referred in the Khaifivat of Gandikota begins in 12th century A.D. Gandikota has a diverse history,  from the bygone era of Kakakiya, Qutub Shahi, Vijanagara kingdoms.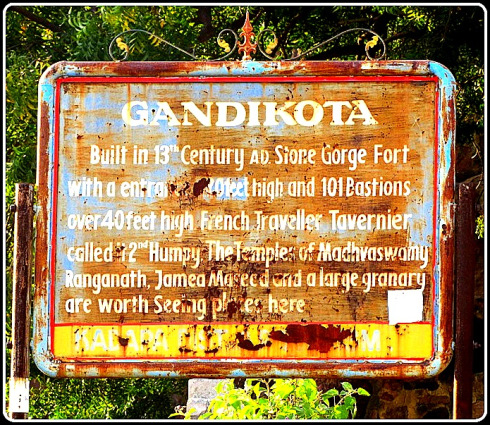 How to get there?
By Air
The nearest airport is Tirupati Airport – 220 km (4.5 hours) away
By road
The west way to reach this place would be to drive down.
Chennai – 375 km. around 8-9 hours drive.
Bangalore – 280km. Six hours drive
Hyderabad – 365 km. 8 hours drive.
By train
Gandikota has no train station. Look for trains passing through Jammalamadugu (18 km), muddanur (30 km) and Kadapa (77 km).
We took an overnight train from Chennai to Muddanur. From Muddanur we tried to look for a taxi, but in vain. Auto and buses seem to be the most common mode of transport to Gandikota (300 Rs)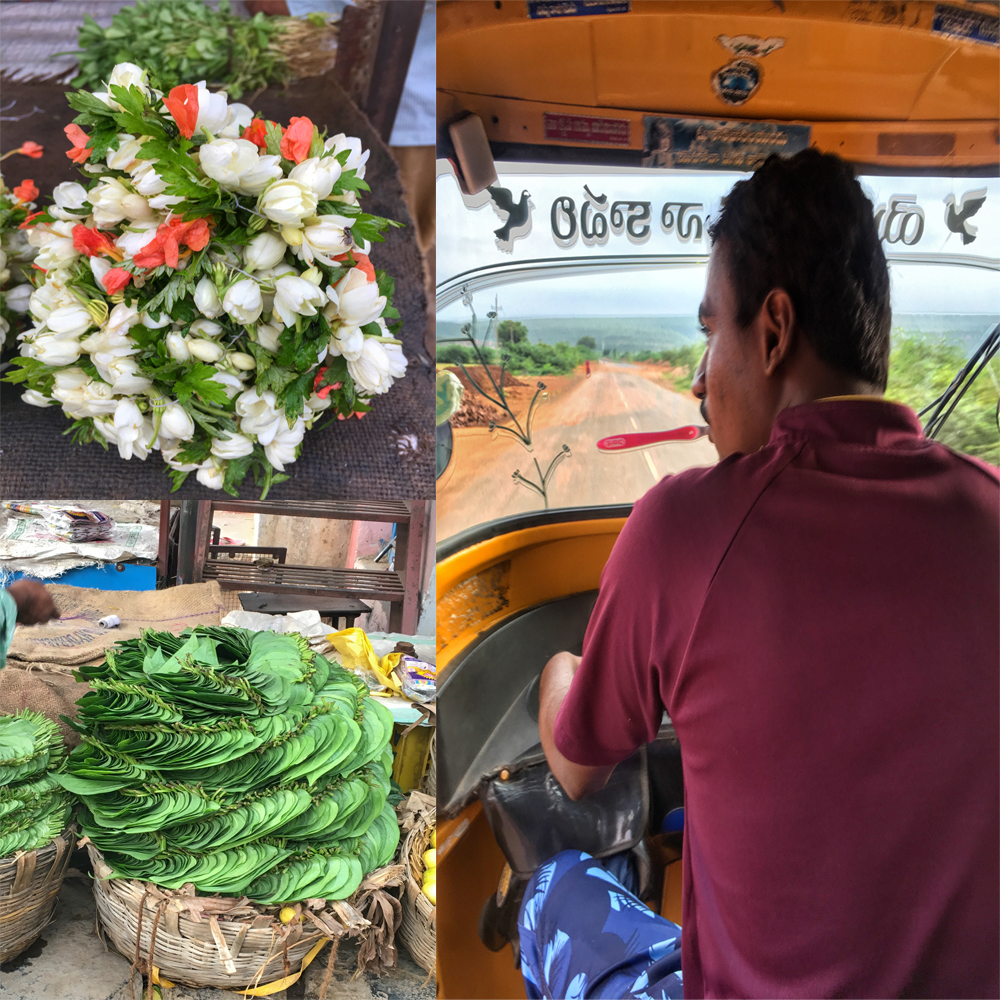 Our ride for the day… and that toothbrush was in his mouth for the entire joinery of one and half hours!!! 😉
Where to stay?
APTC Harita resorts
Gandikota has only one government run accommodation which provides AC rooms to dormitory. There are no hotels or restaurants in the vicinity. It is advisable to book your accommodation in advance.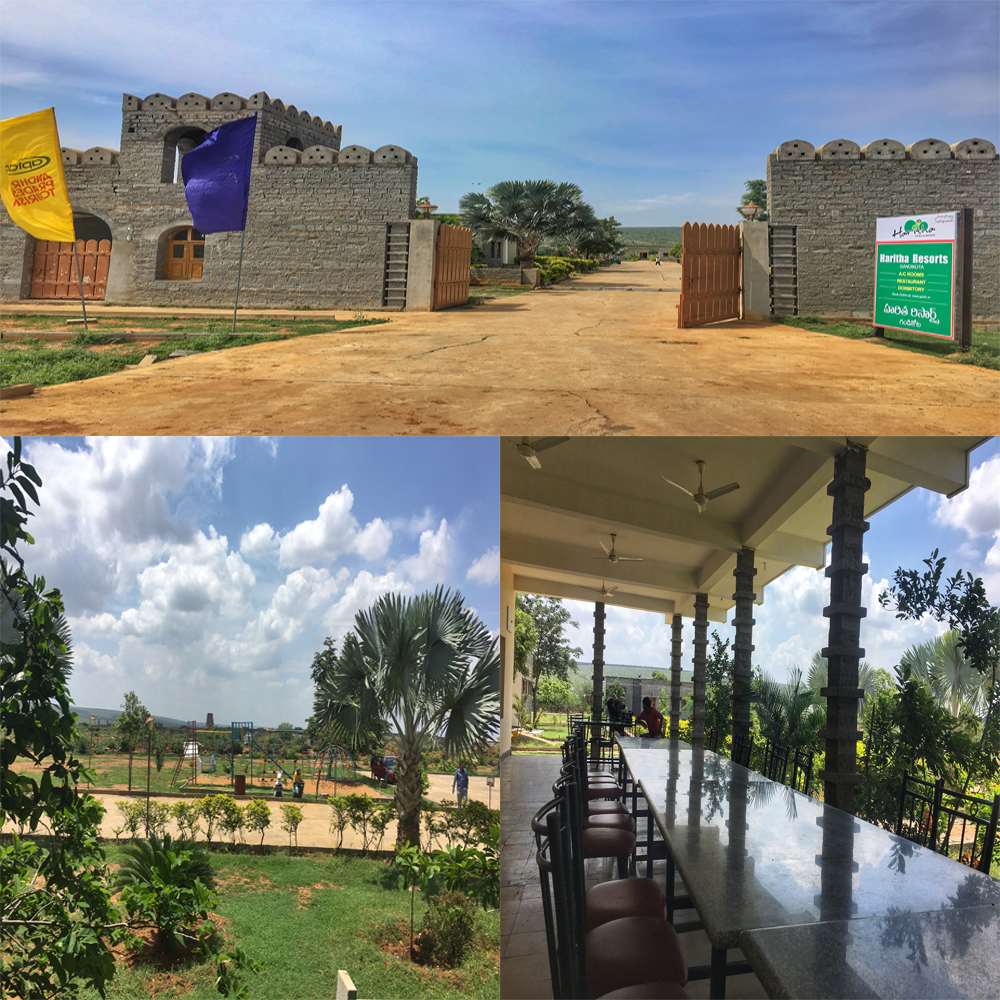 The fort inspired Harita resorts….the lone hotel in Gandikota!
You can book your accommodation online
A lot of companies from Bangalore, Hyderabad and Chennai provide camping options. We came across Freak out adventure offering camping with other activities like rappelling and kayaking, though we did not use their services
Where to eat?
At Gantikota, your only option for food is at Harita resorts. The food is basic, tasty but extremely SPICY! The roasted cashews also come with ten fried chilies! The shops around the fort don't serve lunch, but basic snacks like biscuits and chips.
At Belum caves, there is a government run shop, though on weekends most of their stuff is sold out.  But you do have a few food options near the main road.
Best time to visit
The best time to visit is from October to February when the weather is pleasant. Summers can get really harsh in Andhra Pradesh. If you do plan to visit in summer, please use adequate sun protection and carry a hat/cap.
Travel safety/ Solo travel
We found Gandikota extremely safe to travel. A lot of people camp near the mosque and canyon area and at Harita resorts too.
Things to see
Harita resorts are in close proximity to all the places of interest. So fret not, if you don't have a car.
As soon as you exit the resort, take a left and start walking. You'll soon notice the dilapidated fort walls at a distance. In another 5-10 minutes you'll cross small shops selling water, cold drinks, tea and snacks. The road starts forking out. Keep to your right, a rusty sign board and dilapidated fort walls greet you. The board at the entrance gate mentions that a French travele,r Tavernier had called Gandikota as second Hampi.
If you have your own vehicle you can drive right up to the Masjid.
I'm listing the things to see in order of how they appear –
Fort entrance – a zig zag maze. I felt the architecture has an Islamic influence. As you walk your way through the winding path of the fort, you come across a small tower in the middle of the road.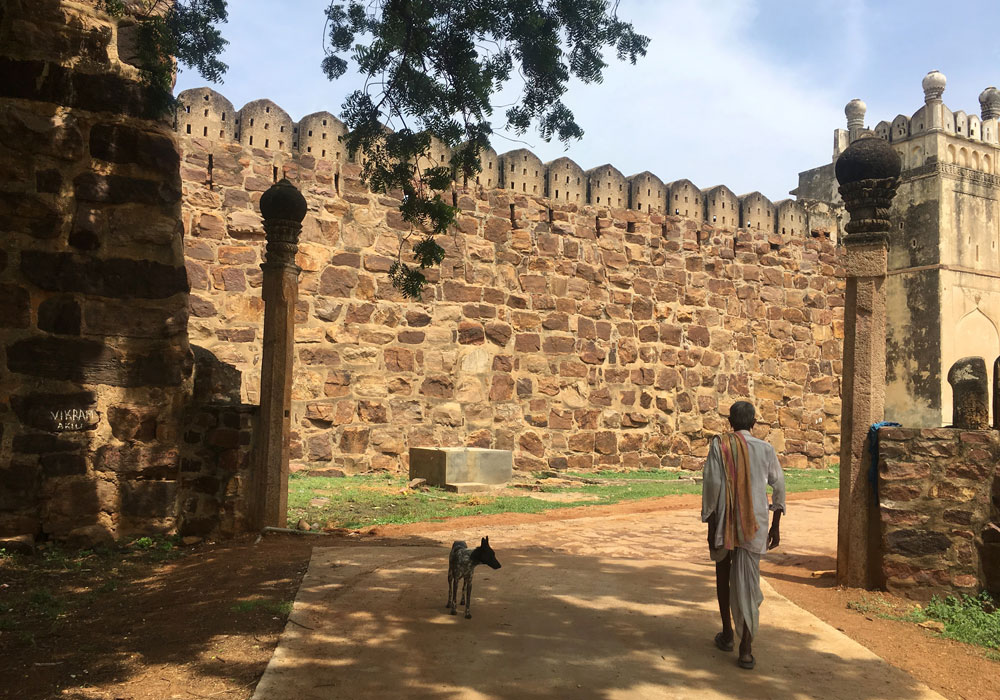 Walk back in time
2. Charminar – The tower is named as "Charminar" though it no where resembles the grand Charminar of                     Hyderabad. It was meant to be a structure to house pigeons.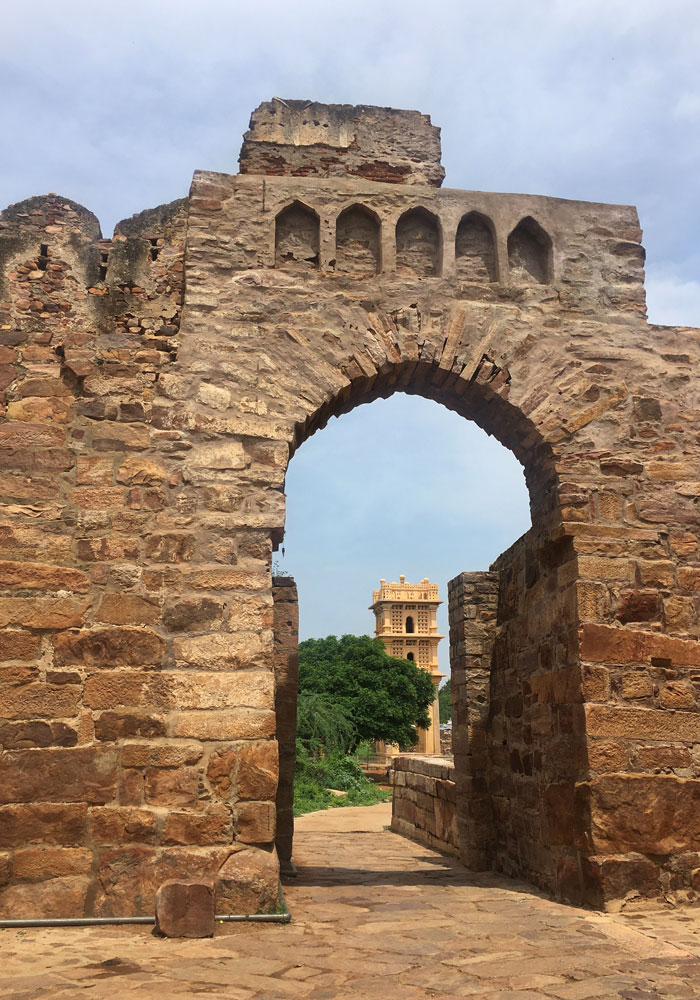 We love exploring forts. It feels each and every part has a story to tell.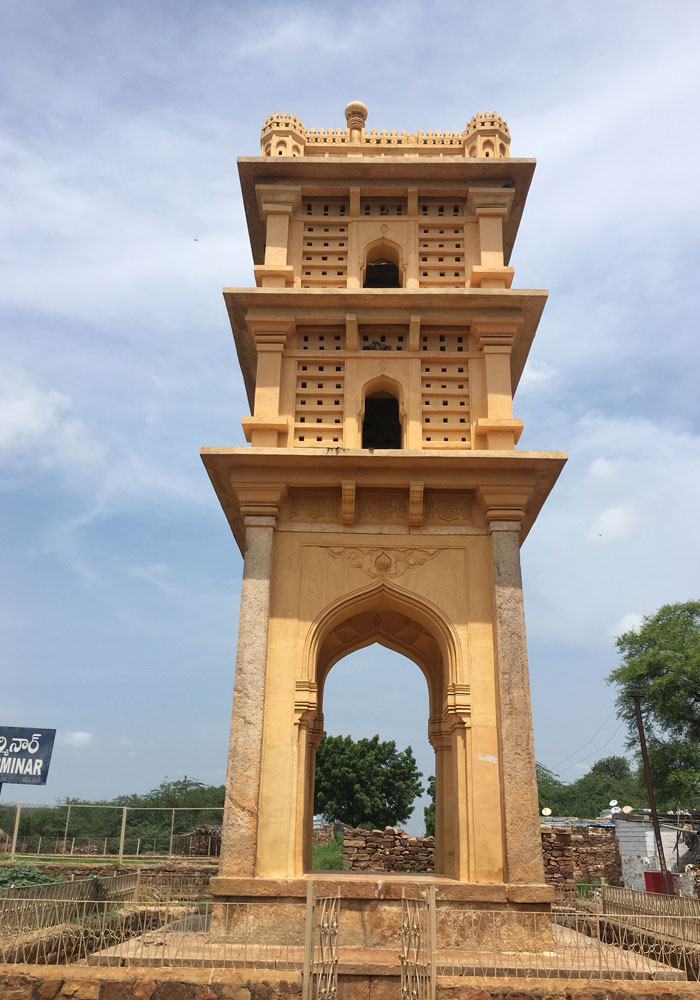 3. Jail – On the left is a building named Jail. It gives me a creepy feeling, to think how many people would have               spent jail terms. It is an all brick structure with no windows. As you walk further, within the fort premises is a small village. It feels that time has stood still.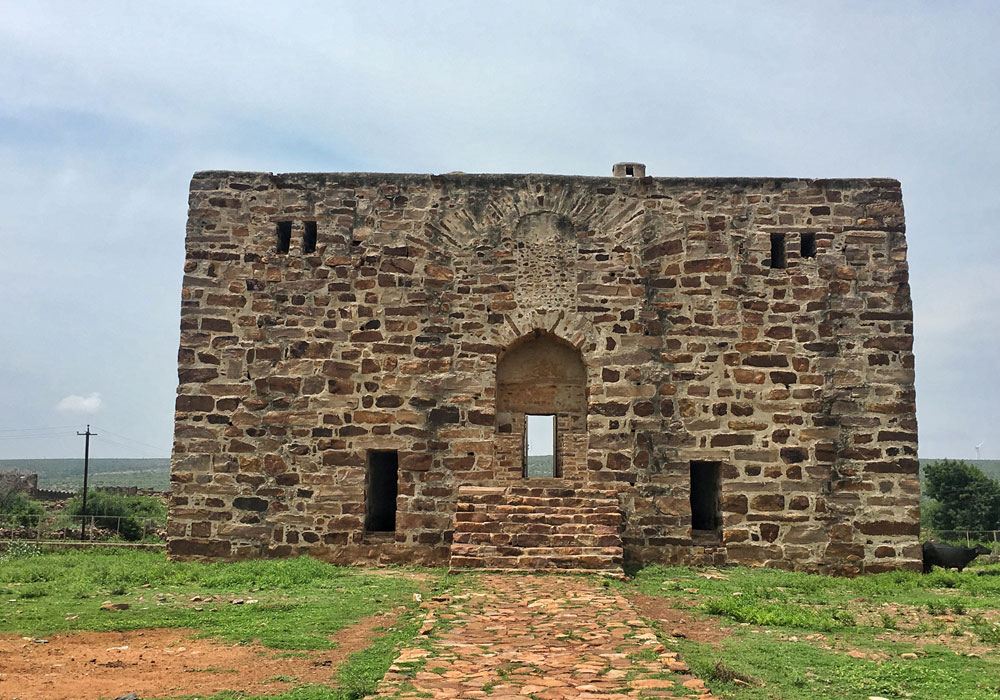 4. Madhavarya Temple -The Madhavarya Temple gopuram is hard to miss. You can spot the gopuram from              anywhere in the small town of Gandikota. A tiny mud path on the left from the village leads to the temple. The          temple architecture has stark similarity to the temples of Hampi – grand and magnificent. While in Hampi it is difficult to capture without the selfie crowd, it feels like to have the entire temple to you in Gandikota. There is no idol worshipped in this temple.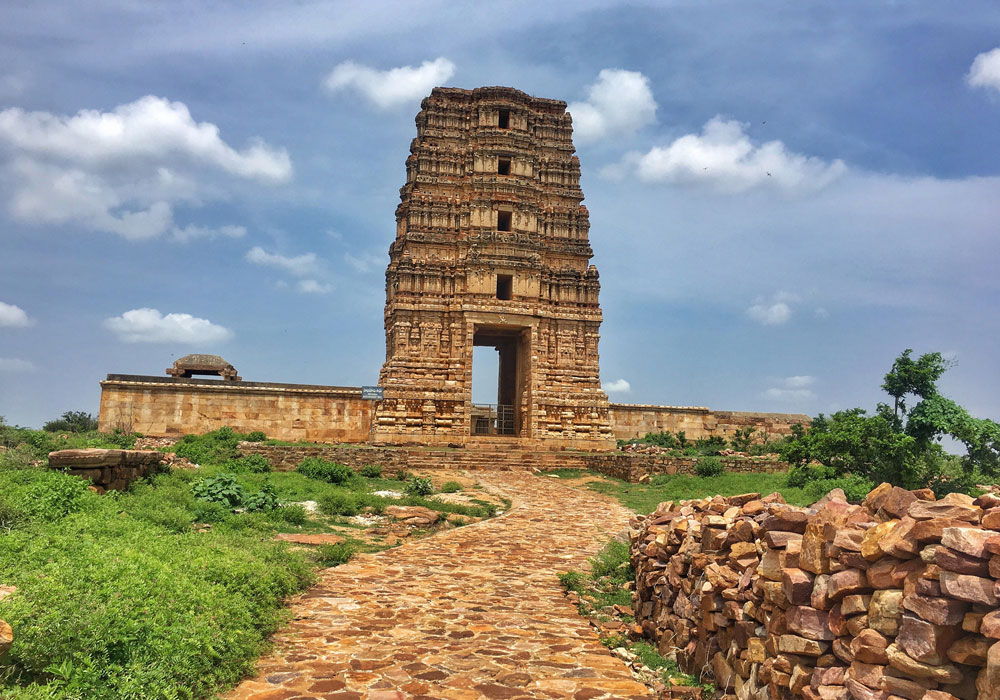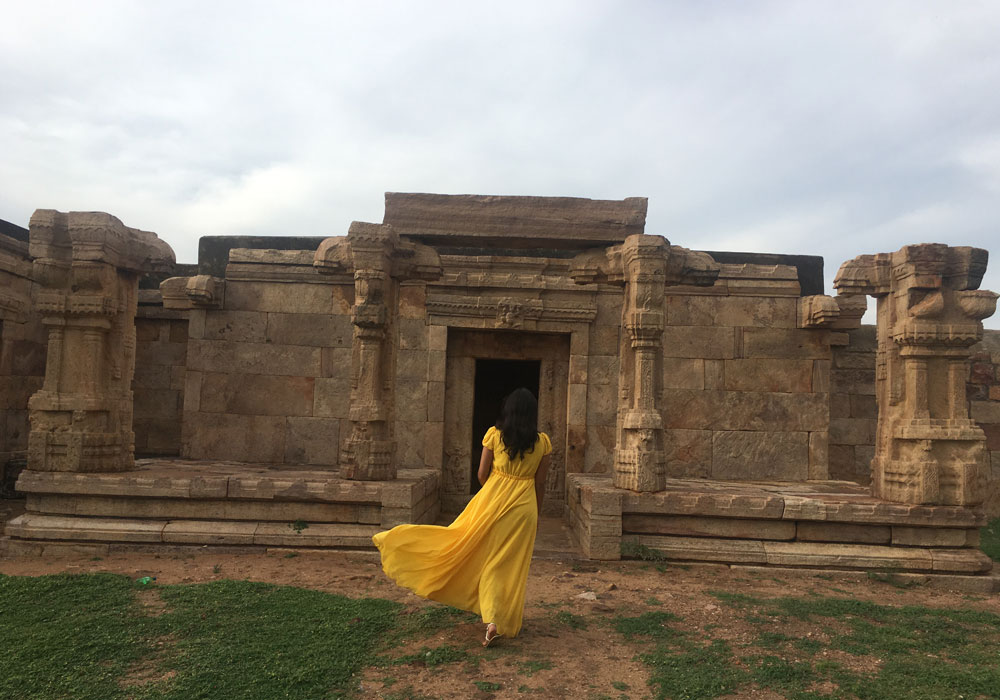 5. Sanpur Lake – this is a bit tricky to find. We were lost and walked aimlessly for 10 minutes, only to be helped by a local, who was kind enough to guide us right to the lake. The time we visited (September) the lake hardly had water and there was no one around. 6. Jamia masjid – Get back to the village road and walk for another five minutes, you'll see the grand mosque. The entire walk in this town takes you back in time. The masjid is fairly well preserved structure with three arches and two big minarets. People mostly camp around the masjid.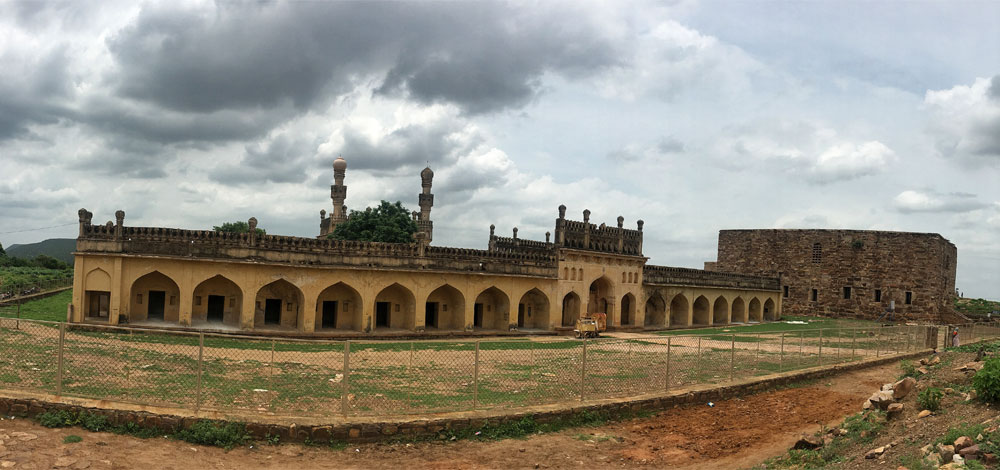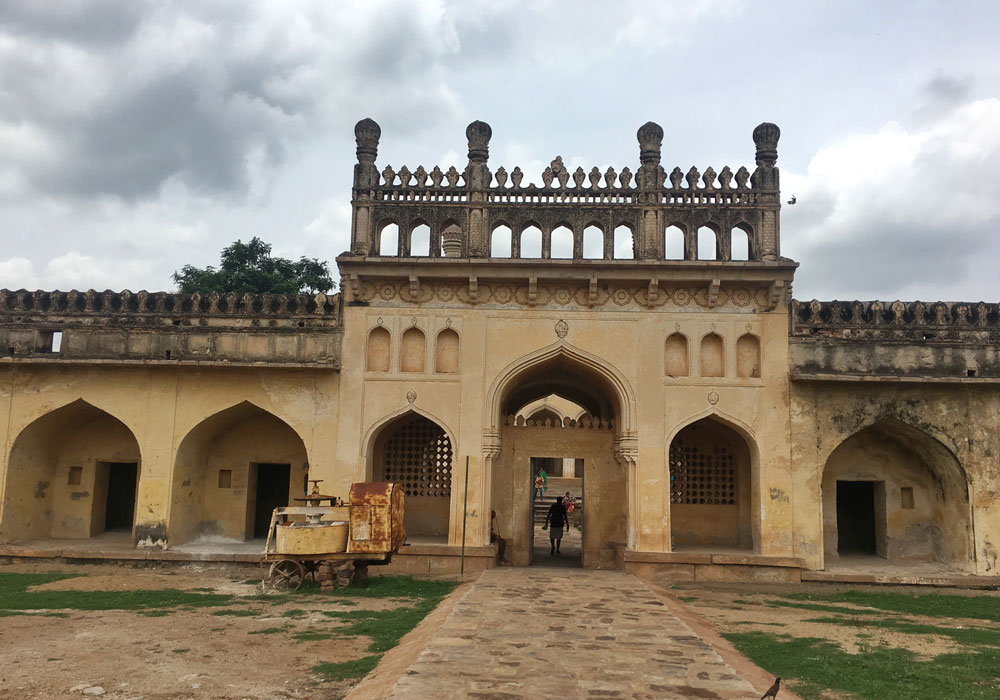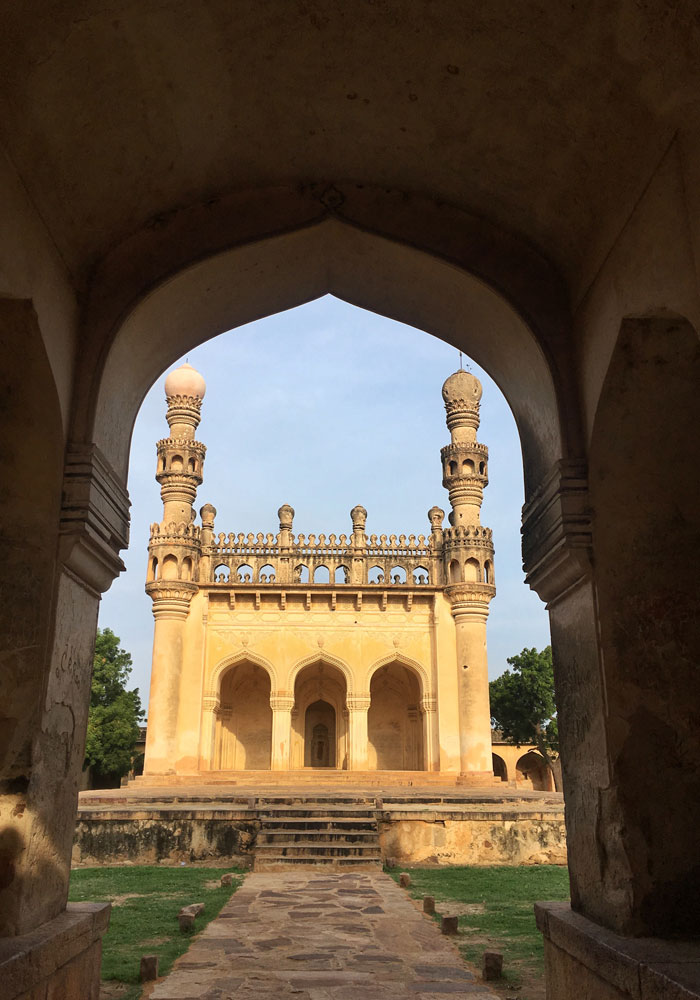 7. Granary – Adjacent to the mosque is the granary. If it is locked asked the guard for the key. It is a huge room which has recently been restored.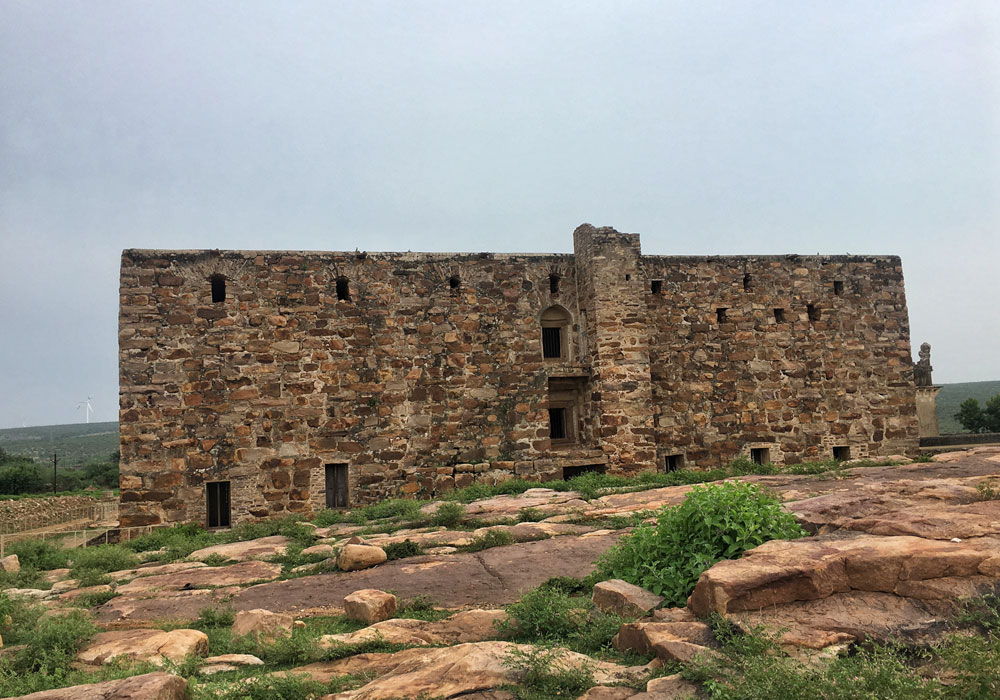 8.Royal tank – Opposite to the granary is the royal/ temple tank, square in shape with step pattern. Since ancient times, the design of water storage has been important in India's temple architecture.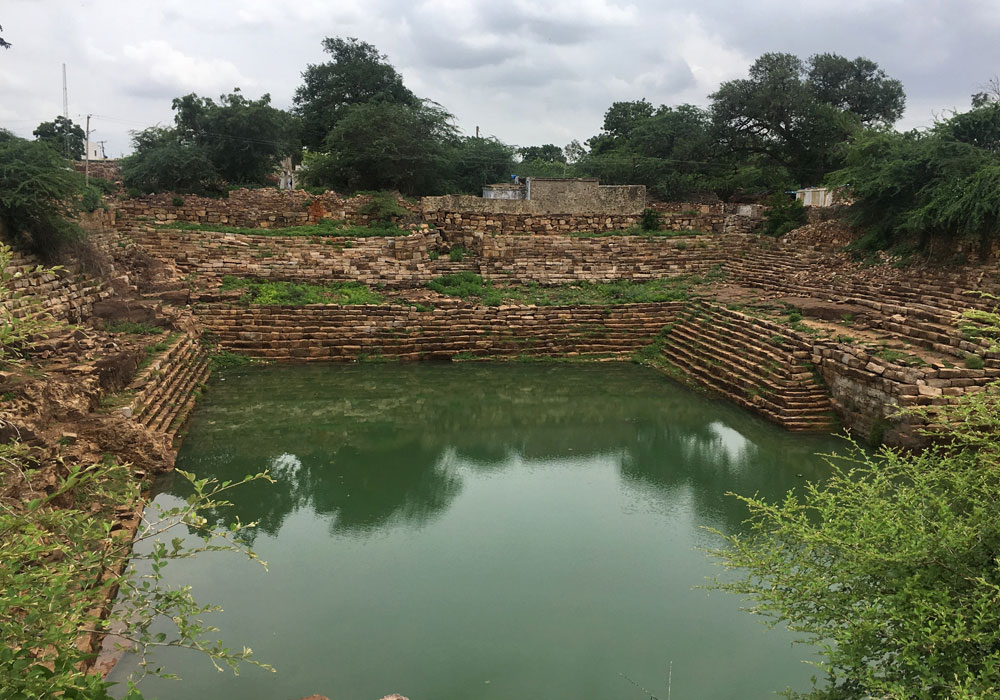 9.Ragunatha Temple –  As you walk further you'll come across another temple. This one is in a dilapidated state. The temple is not as grand as Madhavarya Temple ,and there's no idol worship in both the temples.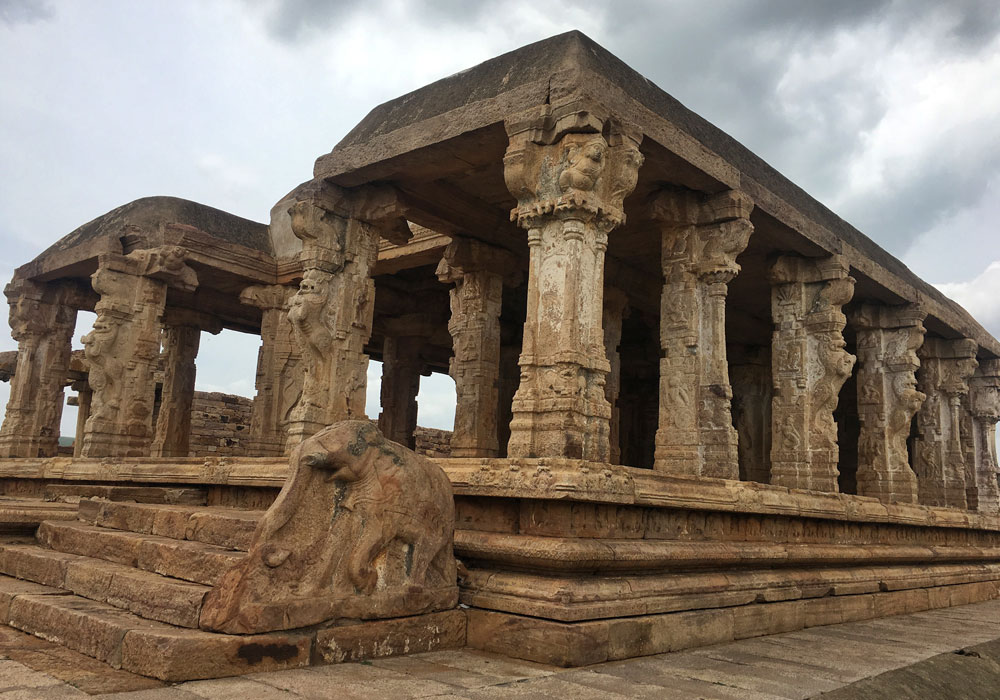 The architecture is very similar to Vithalla complex in Hampi
10. Grand Canyon – Last but not the least, the place that gives Gandikota the entire fame. A pathway strewn with boulders, you carefully have to make your way to reach a vantage point. You can see the entire horse shoe shaped canyon. Absolutely mesmerizing ! We couldn't believe something as grand as this existed so close to Chennai and we never knew about it!
Make sure to visit early morning or late afternoons, as the rocks radiate heat once the sun is out.
We all like some shades of drama 😉
On day 2, we woke up early to see the sunrise at the gorge. It was pitch dark at 5:30 am in the morning, and we were lucky to get a ride till the mosque by fellow travelers. You need to be a little careful while climbing up the boulders. I perched myself on one of the boulders jutting out at a corner and waited patiently for the sun to create its magic.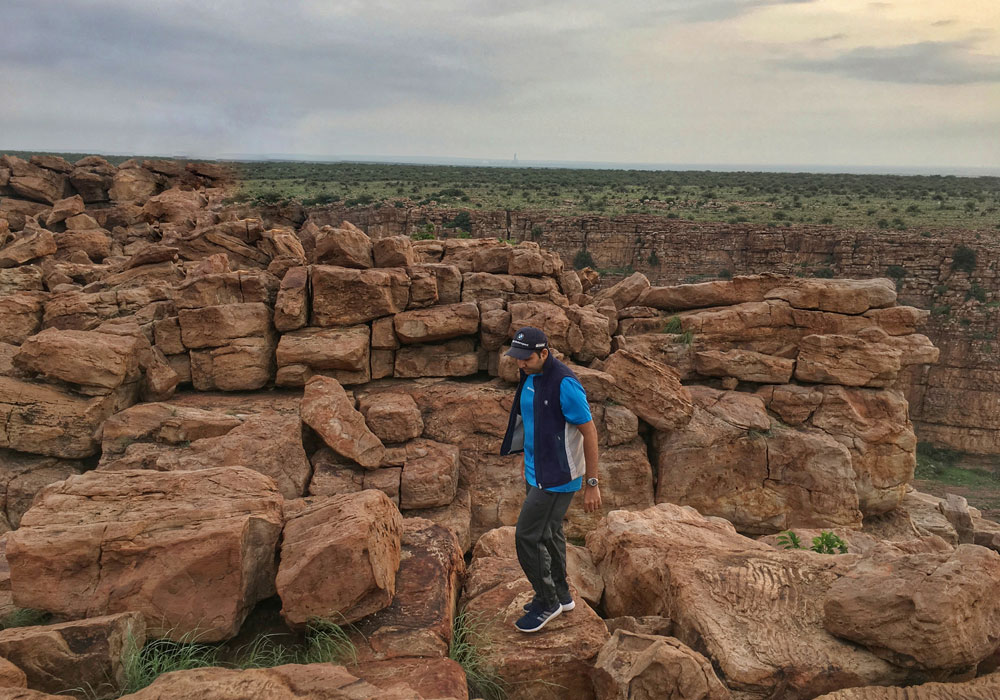 Boulder hoppin'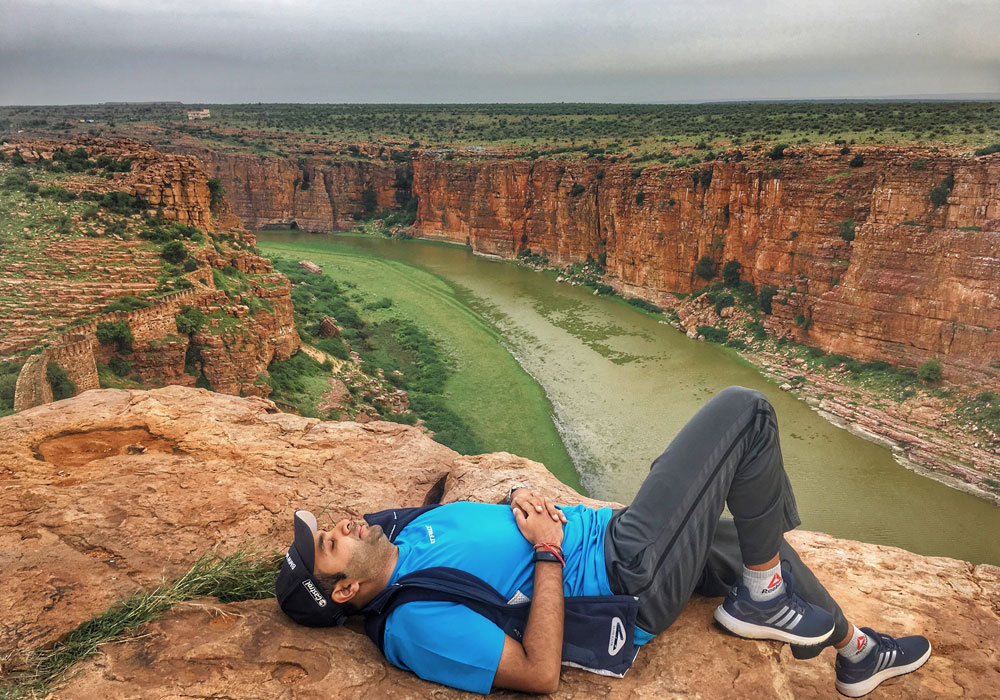 When he refused to move and wanted to camp right next to the gorge! Tantrums, i tell you! Btw, don't miss the fort walls in the background
There is something about waking up early (disclaimer: only when I travel)
The nip in the air, calmness in the surroundings and only a handful of people around. Simply spectacular.  This is what I miss the most in a city. There is always a buzz, hustle bustle at any given time.
Slowly a ball of fire peeped out from the horizon. It was a cloudy day, and the clouds and sky added a dramatic effect to the sunrise. Soon we saw a big gang of college children approaching the canyon and we decided it was time for us to visit the next destination.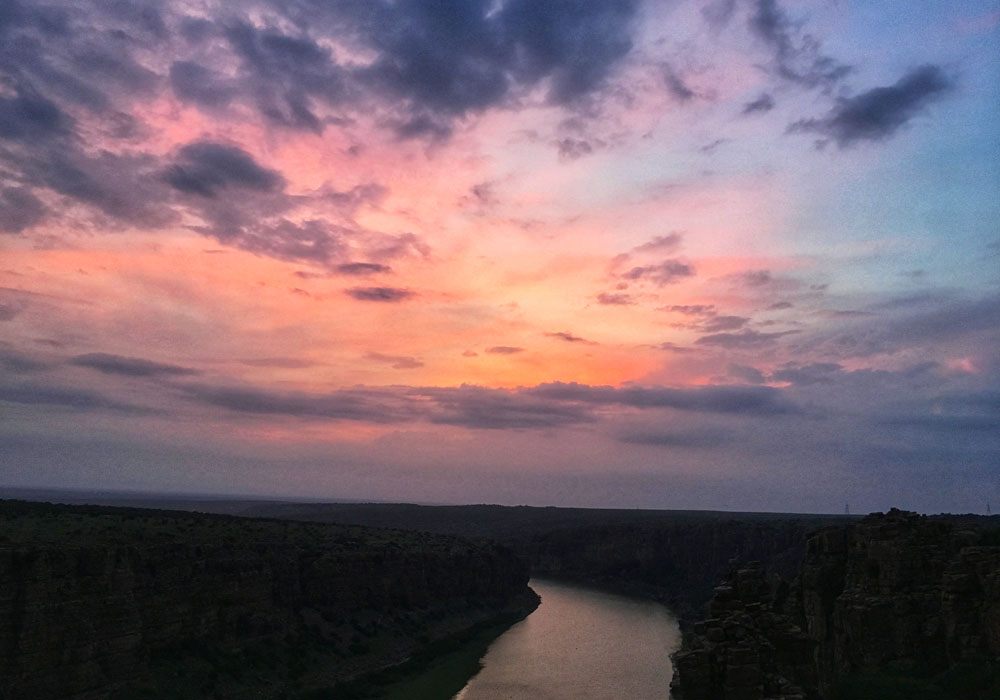 Surreal sunrise over the Pennar gorge
We started for Belum caves after an early lunch. It is easy to drive if you have your own vehicle. We couldn't find a taxi and ended up taking an auto as suggested by the hotel reception.  I really don't remember the last time I took an auto for a long distance journey.
Belum caves
50 kms further from Gandikota are the Belum Caves. Indian's longest cave and second largest cave opened to public.  There is something mysterious and adventurous about exploring caves! The caves are well maintained by the Andhra Pradesh, tourism department and guides provided free of cost. The caves are well lit; as you enter there is an artificial fall and a photo booth for instant pictures. As you further walk down, you see some great stalactite and stalagmite formations. Our guide, to make it more interesting took us through a path was you had to crawl your way out.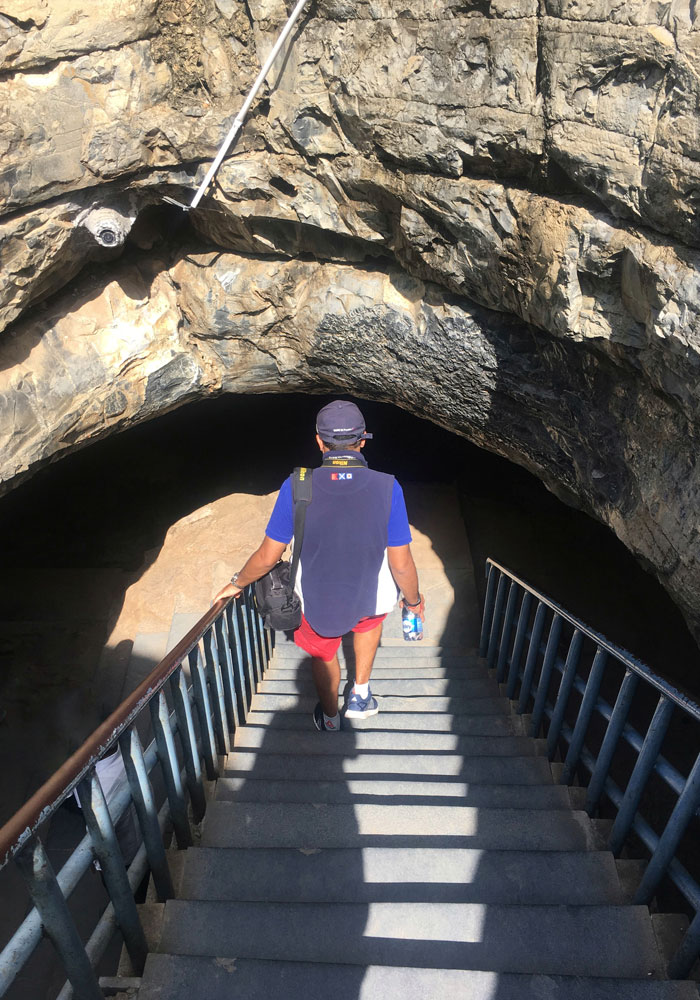 The name, Belum Caves is derived  from the Sanskrit word 'bilum' , which translates to hole,  formed by the action of water flowing on limestone deposits over millions of years, leading to  stalactites, stalagmite formations.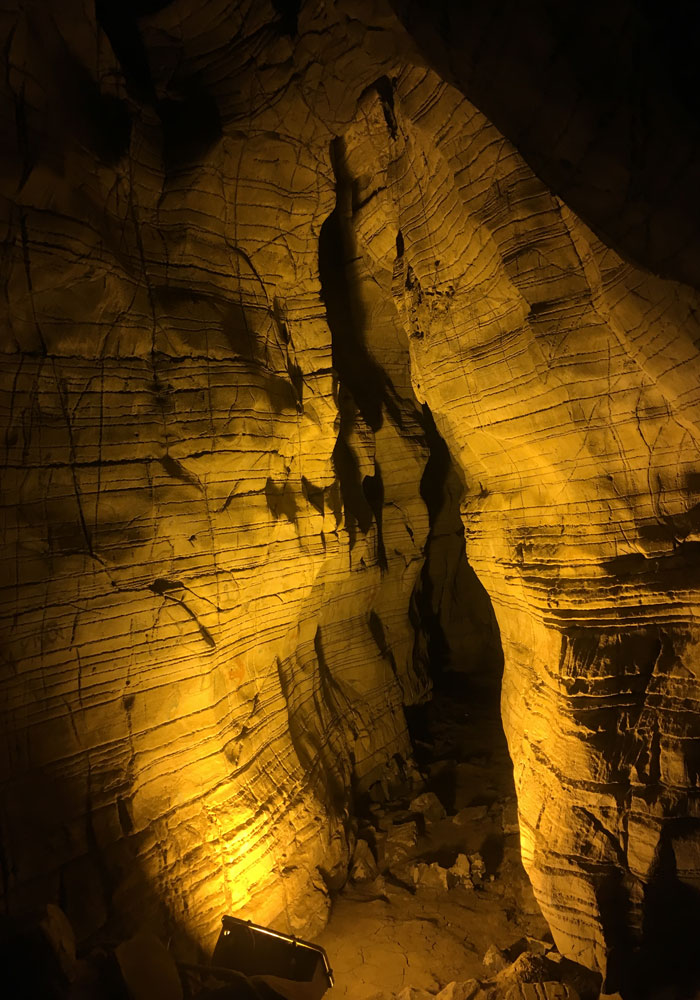 This reminds us  of the Siq at Petra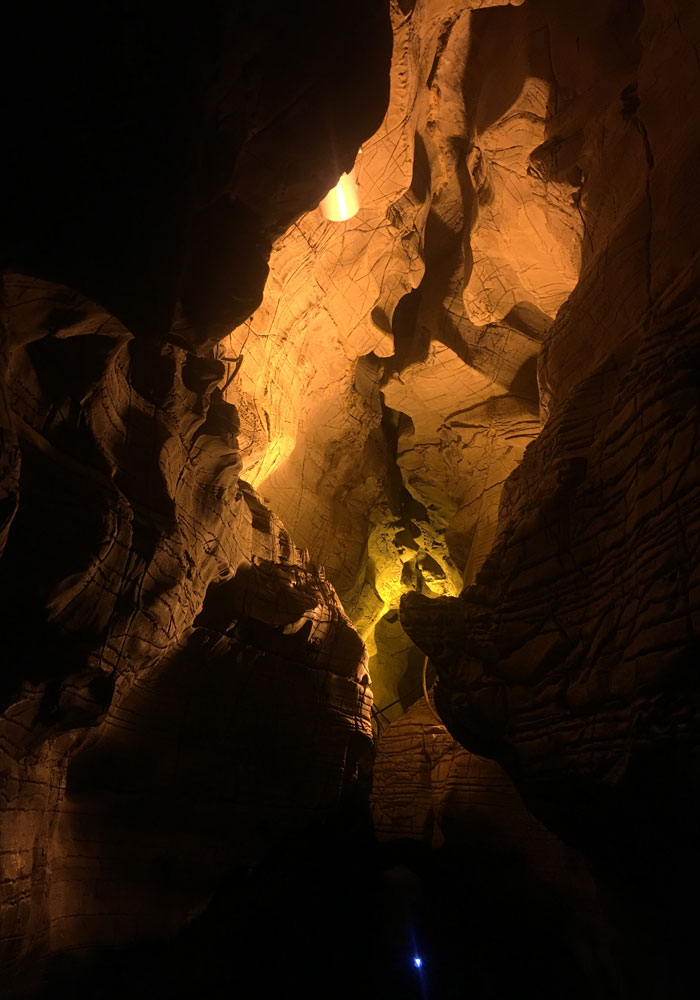 Stalactite and stalagmite formations
There is the deepest point- 150 m from the entrance also known as Patalganga. A mysterious underground stream can be seen at this point.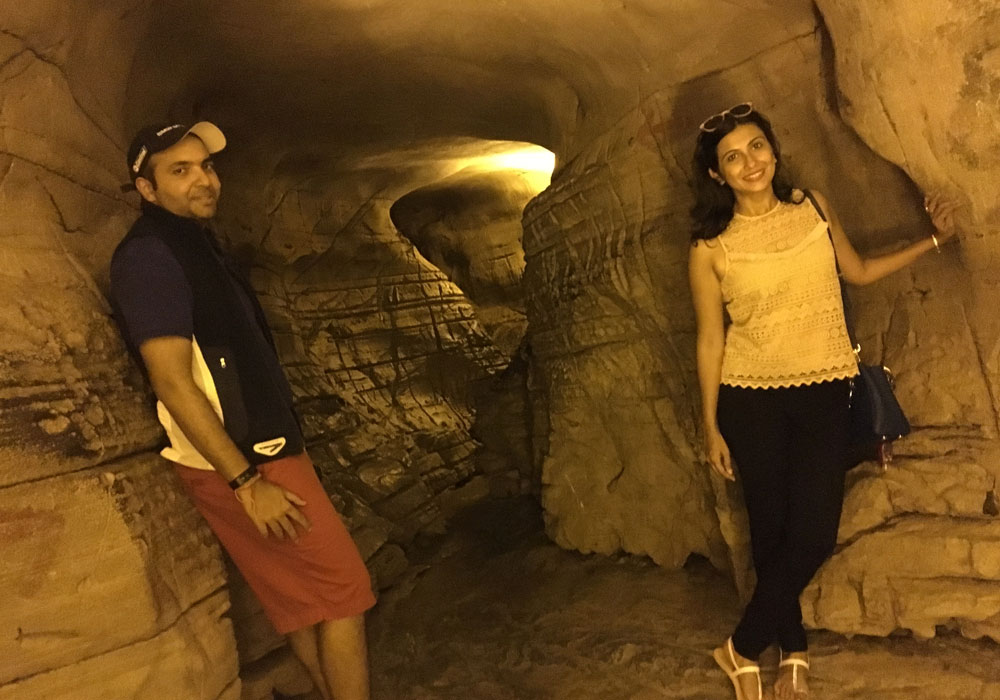 No, we are not glowing! it's how hot and humid it is inside the caves!
It is an extremely touristy place so expect loads of crowds, especially on a weekends and public holidays. Also, avoid visiting during summers. It gets extremely hot and humid inside the caves.
Timings: 10 AM – 5 PM
Entrance fees: INR 50 for Indians and INR 300 for foreign nationals.
Guide: Free
COST FOR THE TRIP – One night two days
| | |
| --- | --- |
| Round trip train tickets for two | 2400 |
| Hotel cost for one night | 1300 |
| Food bills (included breakfast lunch and dinner on day one and breakfast and dinner on day 2) | 1000 |
| Auto from railway station to resort | 300 |
| Auto from Gandikota to belum caves and drop to muddanur railway station | 2500 (We felt this was overpriced, but language being a barrier, we couldn't bargain and we found no taxis) |
| Snacks | 200 |
| Belum caves entry ticket | 100 |
| Guide tip | 200 |
| Total cost | 8000 |
Responsible tourism: It saddens me that there are no restrictions, from entry tickets, camping to parking. We did come across few people misuse and damage the buildings. We on our part can at least keep the surrounding litter free and not damage our ancestral heritage.
I hope we've inspired you to travel to Gandikota!  We would love to hear from you! Do share your experiences!
Love
Saaks Viv