THE LAKSHADWEEP ITINERARY – WHAT TO DO IN 5 DAYS
THE LAKSHADWEEP ITINERARY – WHAT TO DO IN 5 DAYS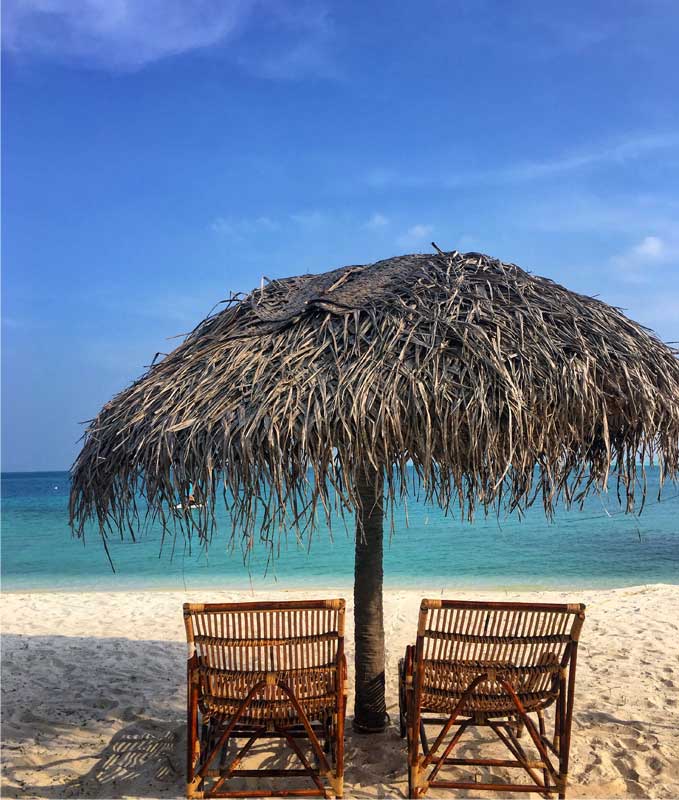 Decided to visit Lakhadweep islands? Confused about the costing and itinerary? Here is our itinerary of five days, which took us days to plan. Hope this helps you in planning your trip. If you have more days in hand, we highly recommend you cover some other islands as well.
This is a part of our Laskadweep series. To read the other posts, click on the links below.
READ: 21 ISLANDS THAT WILL MAKE YOU WANT TO VISIT LAKSHADWEEP ISLANDS
READ : ULTIMATE BEACH GUIDE TO LAKSHADWEEP ISLANDS
We had five days in hand and wanted to visit the uninhabited islands – Thinnakara and Bangaram. We decided on these two based on the proximity to Agatti airport, frequent ferry and the beautiful coral reef. You could pick any of the islands and trust us you won't be disappointed!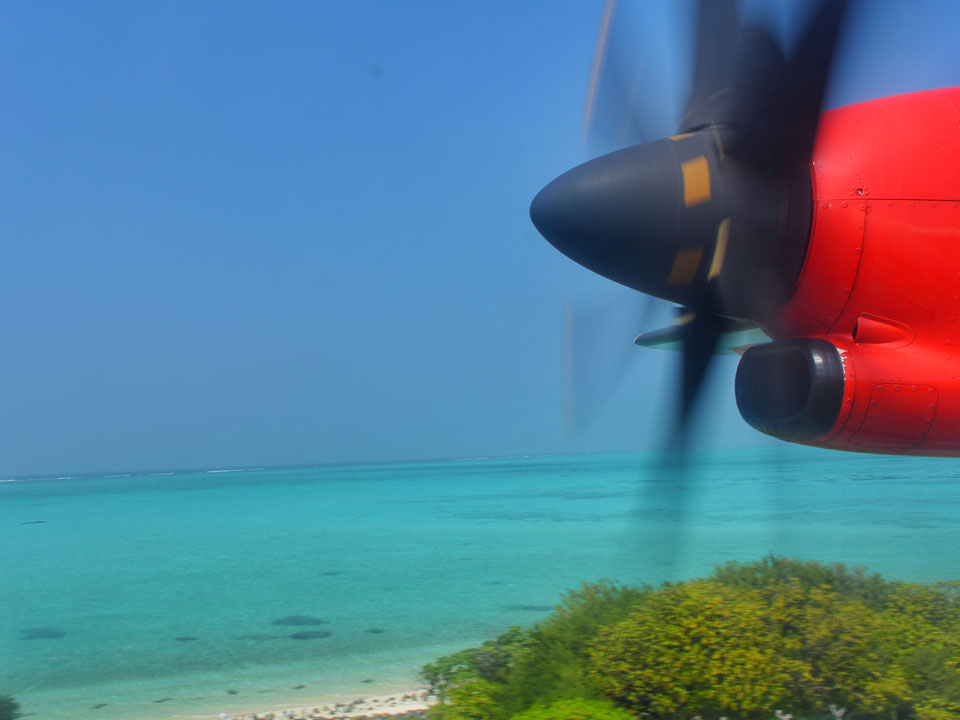 Landing at Agatti airport
Day 1 – Flight from Chennai to Kochi and then Kochi to Agatti.
The flight from Cochin to Agatti is like a sneak-peak to what your holiday is going to be! The landing is absolutely spectacular. Tiny islands surrounded by azure blue sea for miles. We met the SPORTS Lakhadweep tourism in-charge. A car was ready to pick us up from the airport and drop to the ferry terminal. I have never seen a ferry terminal as gorgeous as this! I was excited to say the least! I was trying to soak it all in….i was in PARADISE!
A short ferry ride with locals and fellow passengers, we reached Thinnakara. I was floored by the different colors of blue, ranging from a to bright teal,  turquoise to a deep, royal blue in the water. The boat ride was comfortable, the breeze soothing, salt in the air and sand in my hair. I wondered what took me so long to visit this Paradise.
Day 1, 2 and 3 at Thinnakara.
The first impression on reaching Thinnakara was WOW! A tiny island surrounded by azure blue water and  picture-perfect white sand beaches, providing you a real Robinson Crusoe experience. But, let us warn you, the accommodation is extremely basic tent styled with no frills and  the tap water has a pungent sulfur odor, having said that the views are mesmerizing.
There are enough activities going on here to keep people of all ages busy like kayaking, snorkeling, scuba diving, sailing etc. Once the sun sets, the sky is lit by a million of stars. Lie on the beach and gaze at the sky! Life is felt in silence, in that moment when what you see before you can no longer be conveyed with words…
We highly recommend ship wreck site snorkeling and scuba diving. I would definitely come back to do a PADI course.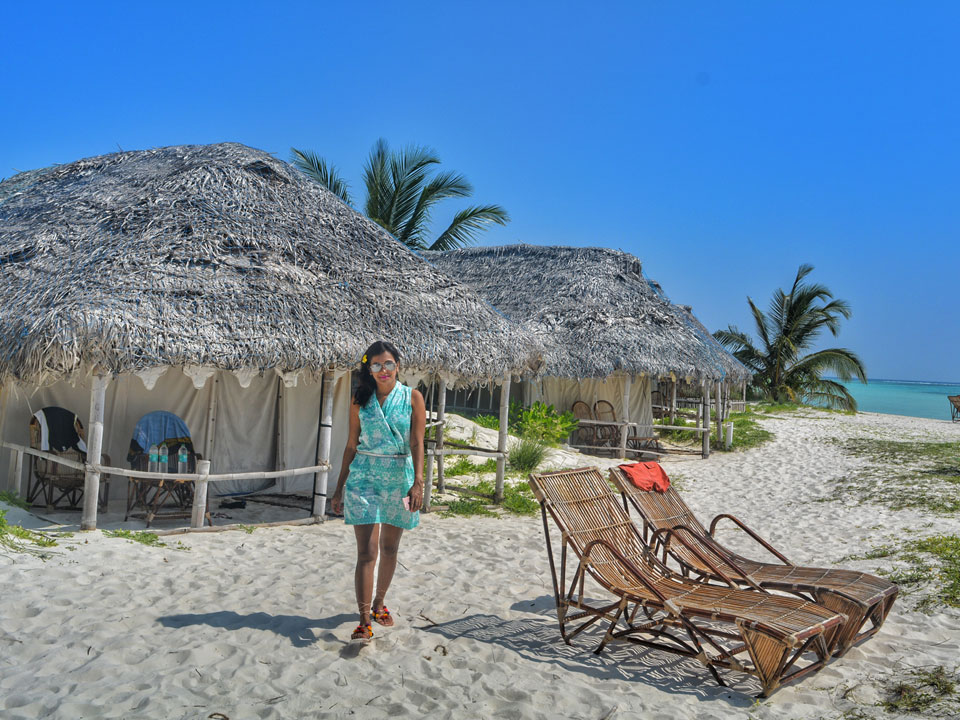 Home for the next few days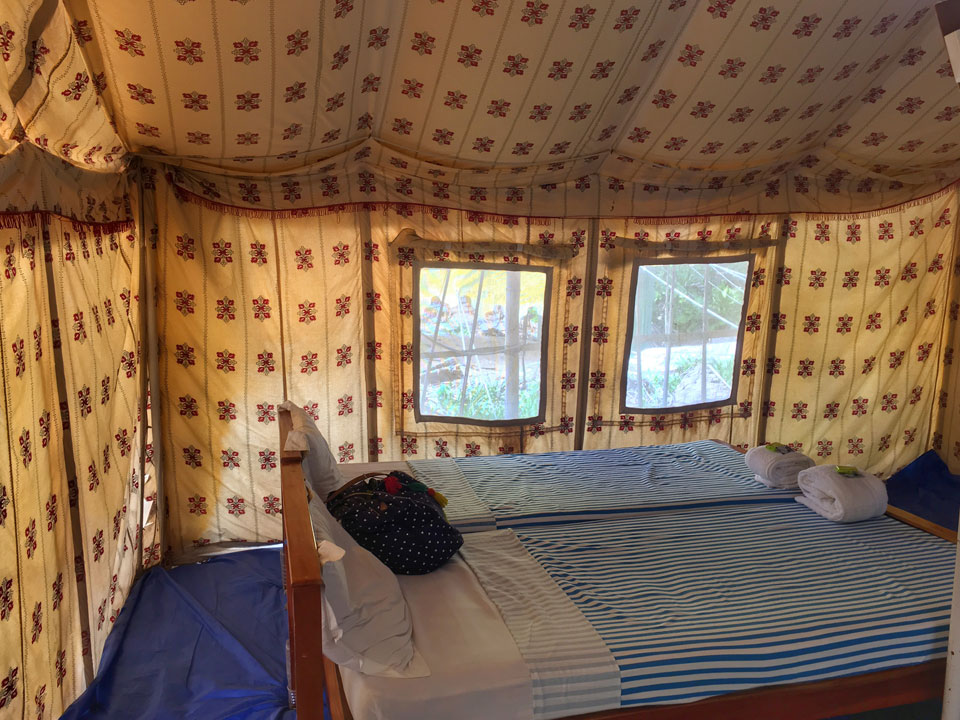 Tented room – with basic essentials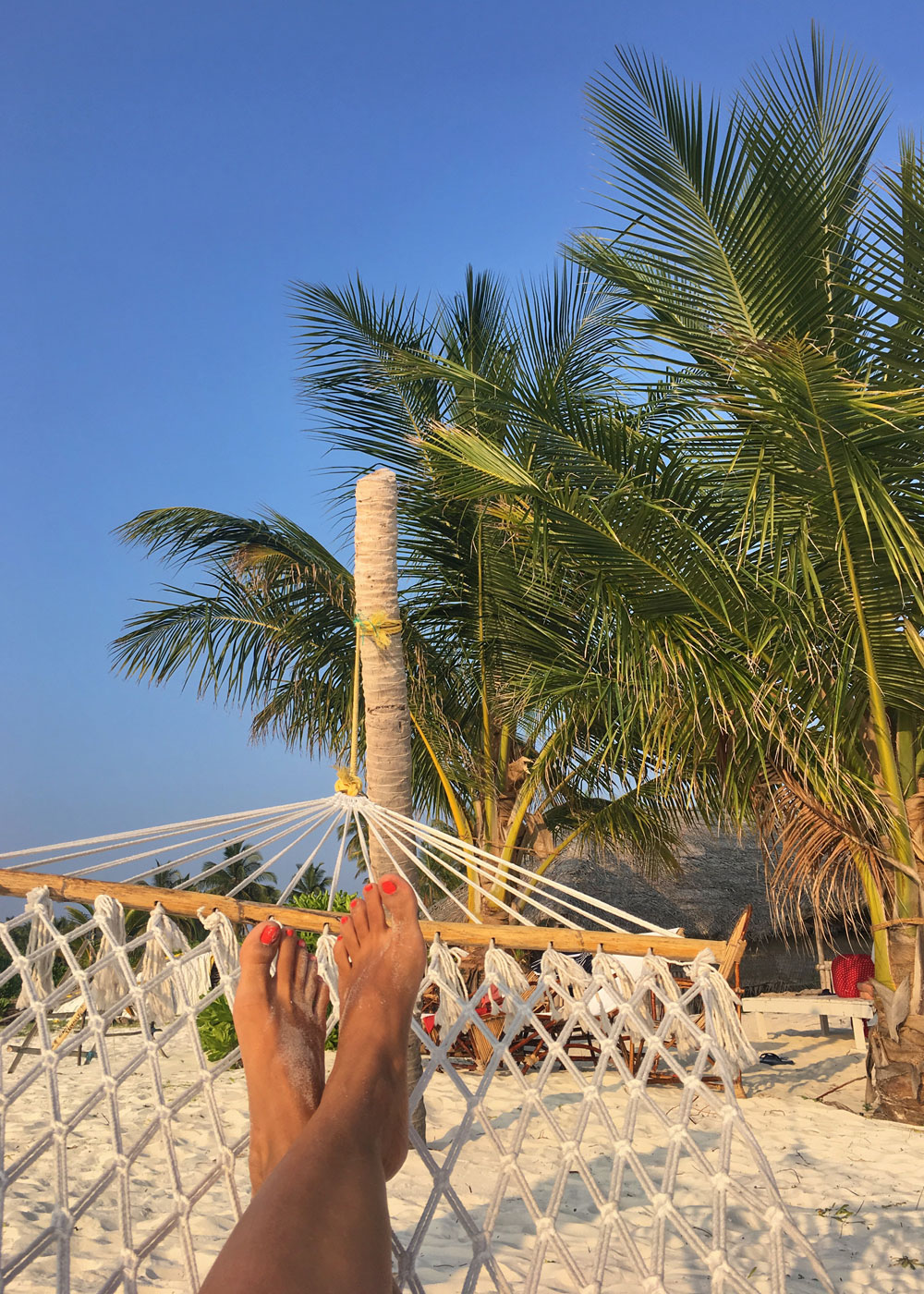 Hammock life!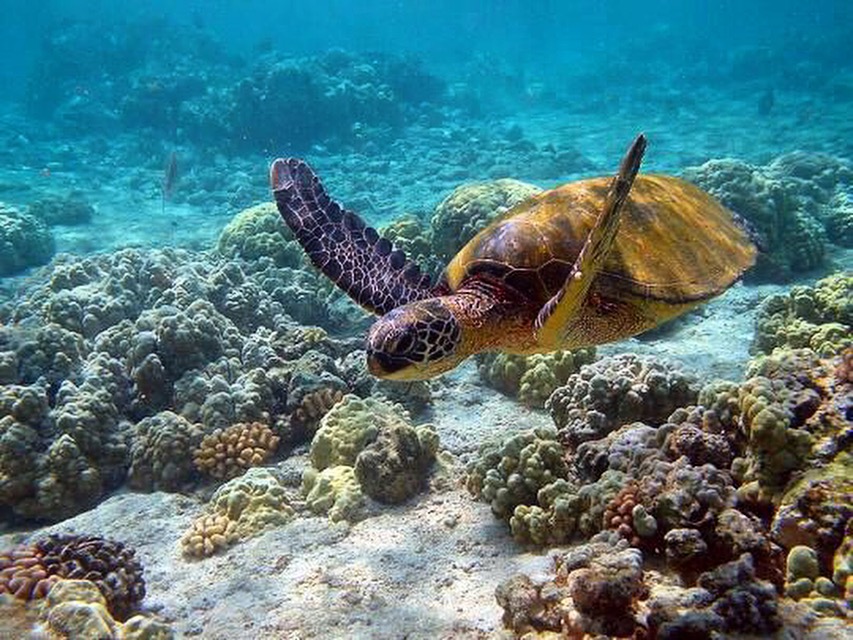 Rewards of scuba diving.
We decided to skip the island hopping by boat and instead walk to the neighboring island, Parali I and II when the tide was low. It was a beautiful experience, the receded sea bed looked like a vast desert, and we saw a lot of marine life, like sea anemones, crabs, and sea cucumber all along the way.  We kept a close check on the time and tides, to be sure we were back to Thinnakara before the high tide sets in! As romantic as it sounds, we didn't want to be stuck on a deserted island!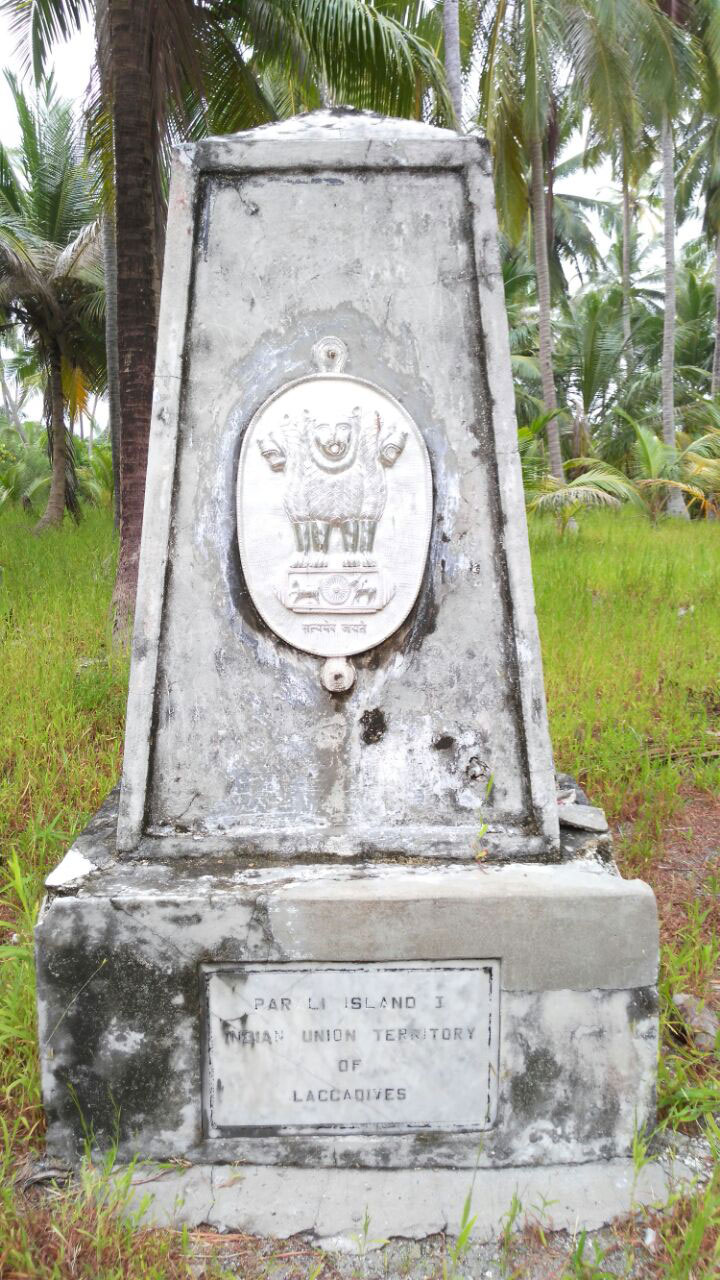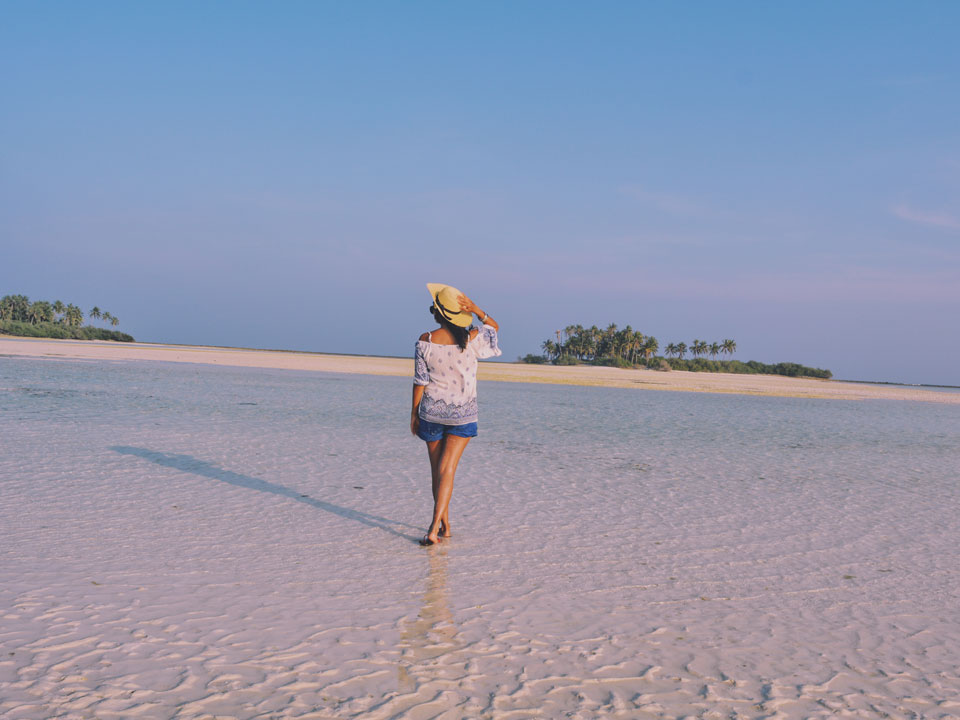 Parali I and II on either side.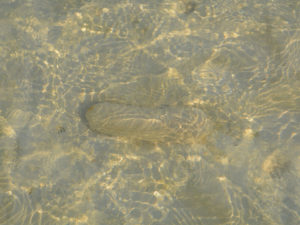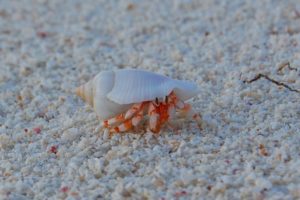 Sea cucumber and hermit crabs to give us company on our long walks!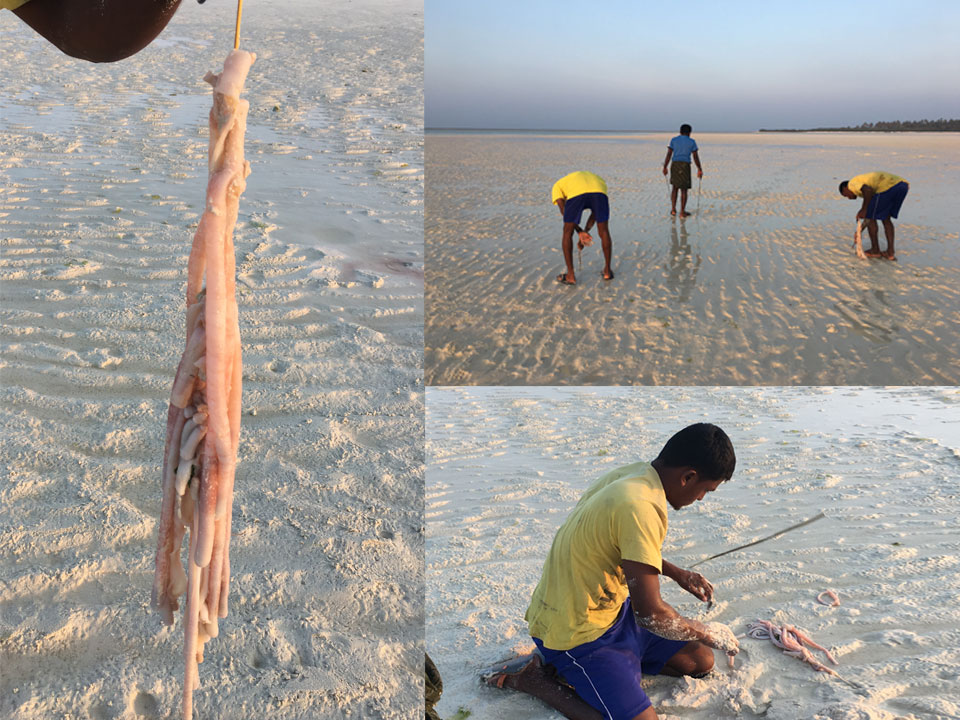 We saw something interesting on our walk to Parali I, some fishermen were hunting for some worms. On asking them, they mentioned, they used it as a bait to catch fishes!
People who know us, know about our love for sunsets. We'll walk an extra mile to catch a sunset. Well, in Thinnakra we could just sit back on the beach and watch the sun go down!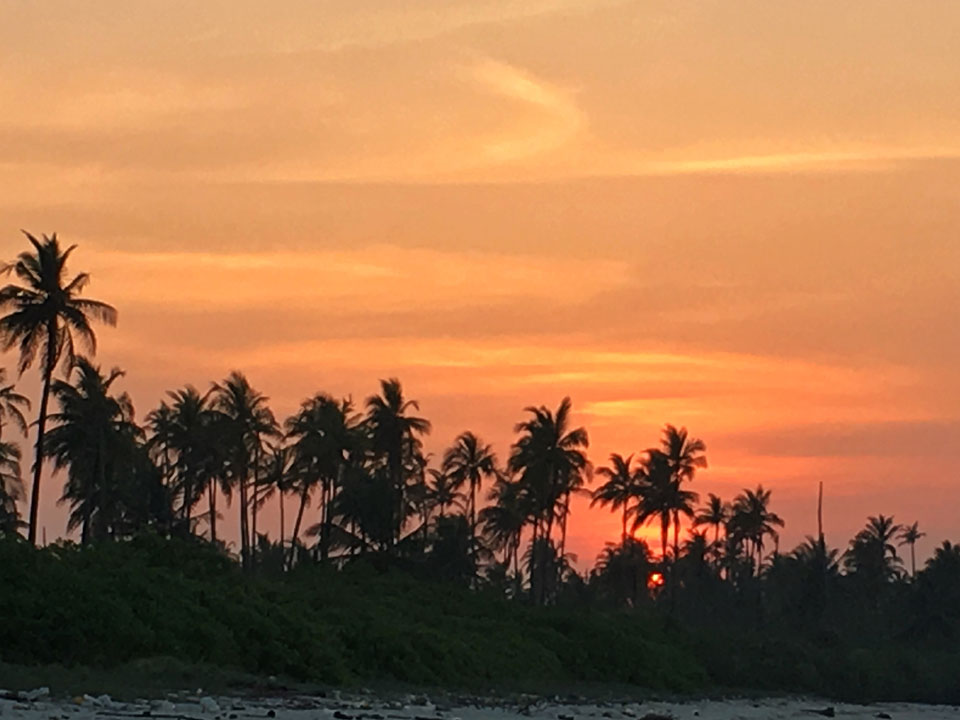 Paradise
The food is simple but delicious! If you're a non-vegetarian you'll love the fresh catch of the day.  I used to look forward to our  candle light dinners on the beach,  sand between our toes , the star- lit sky above and the sound of sound waves. Bliss!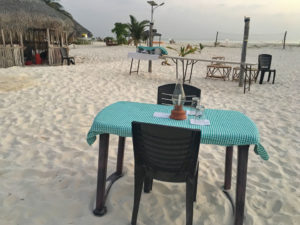 Day 4 & 5 – Ferry from Thinnakara to Bangaram island.(10 minutes ferry ride). Two nights at Bangaram
We had booked only two nights in Bangaram, but if we had our way we could spend weeks on the island! The rooms and facilities are much better than Thinnakara. We had a cottage facing the sea. The rooms are aircooled and have a sit out. Helicopter services are available at Bangaram and it is frequented by a lot of VIP and foreign tourists.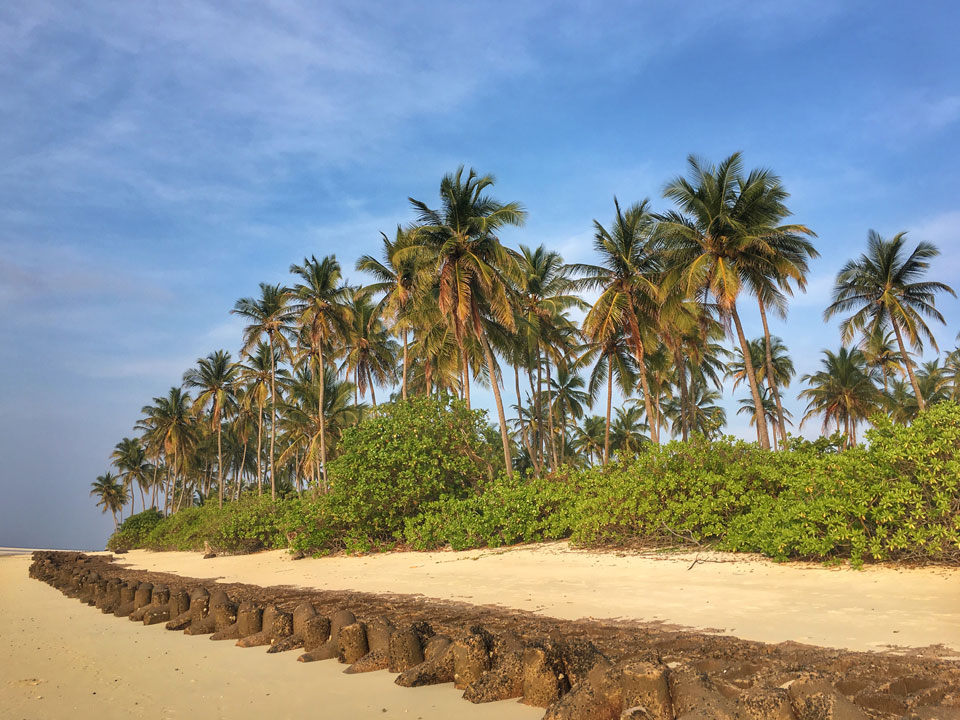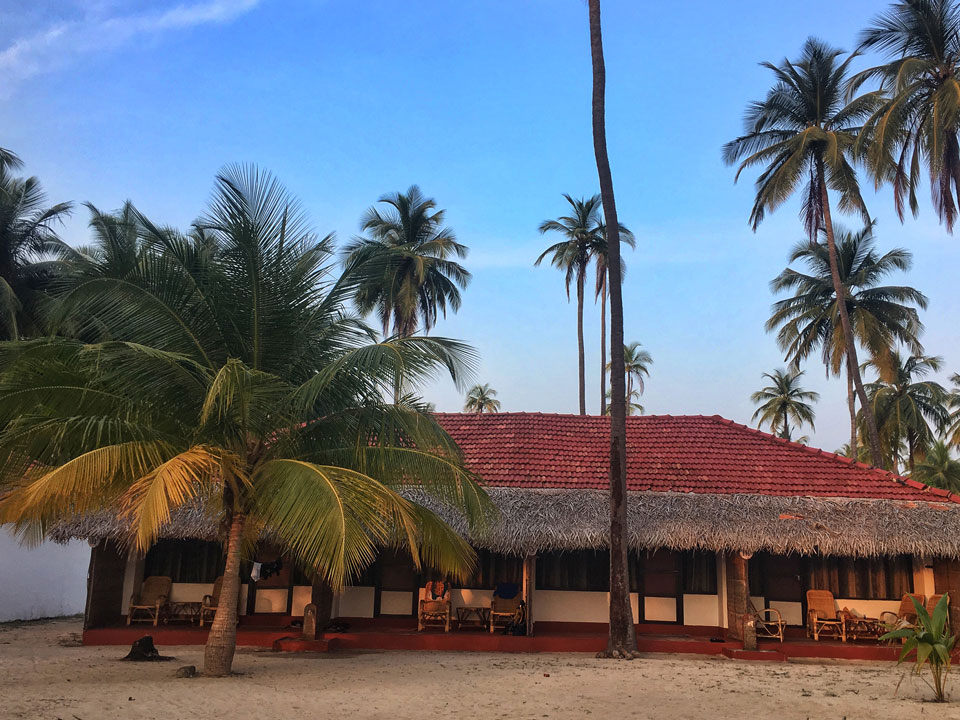 Our beautiful cottage and sit out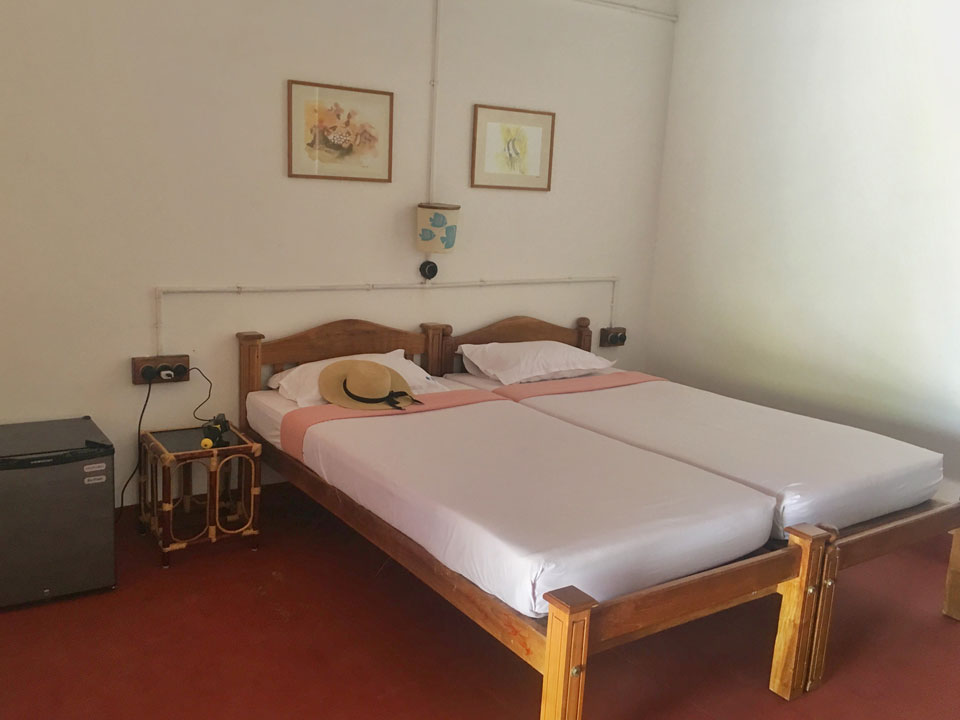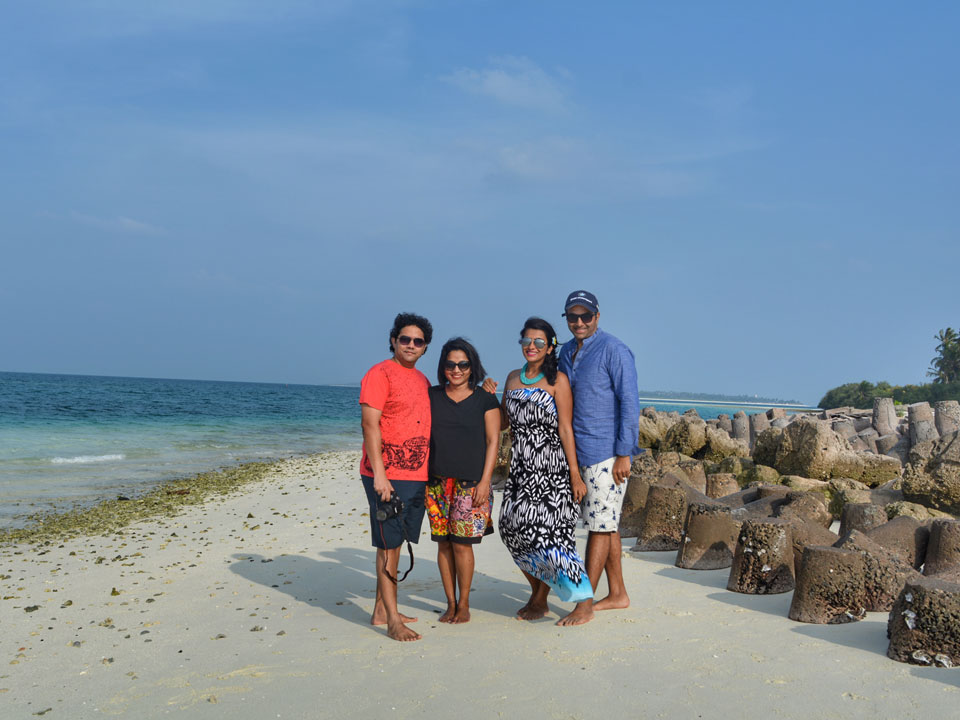 We relaxed on most of the days in Bangaram, made some amazing friends, walked around the island, and tried the local brew – Mira which is made from coconut flowers being tapped.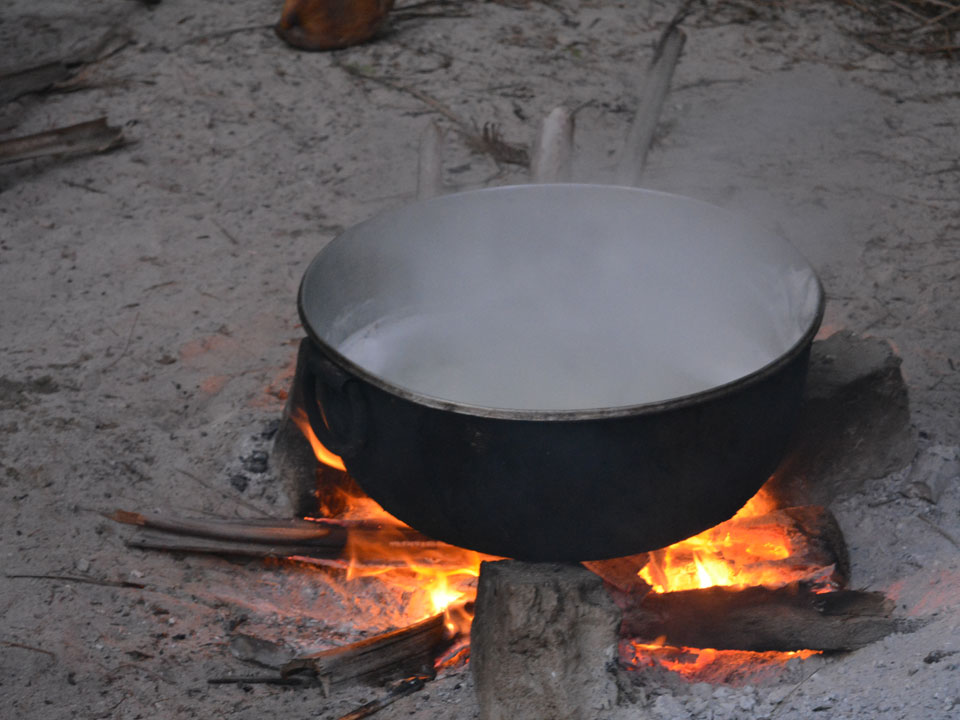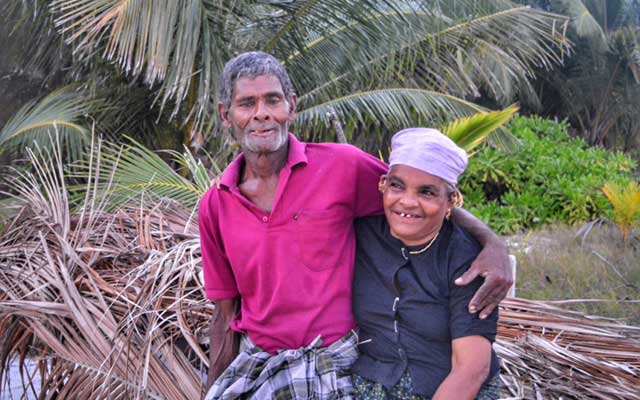 When you walk around the island and you can find fishermen up the tree, tapping and collecting Mira. Mira is milky and tastes sweet. Toddy is an alcoholic variant which is fermented for around 24 – 48 hours and is essentially sour and pungent.
Apart from toddy we tasted a local variant of peanut butter, made with jaggery  and happily packed two bottles to take back home! There are no souvenir shops on both the islands – shopping enthusiasts i understand it will be difficult for you 😉
We celebrated New year eve at Bangaram and it was a cultural and gastronomic affair.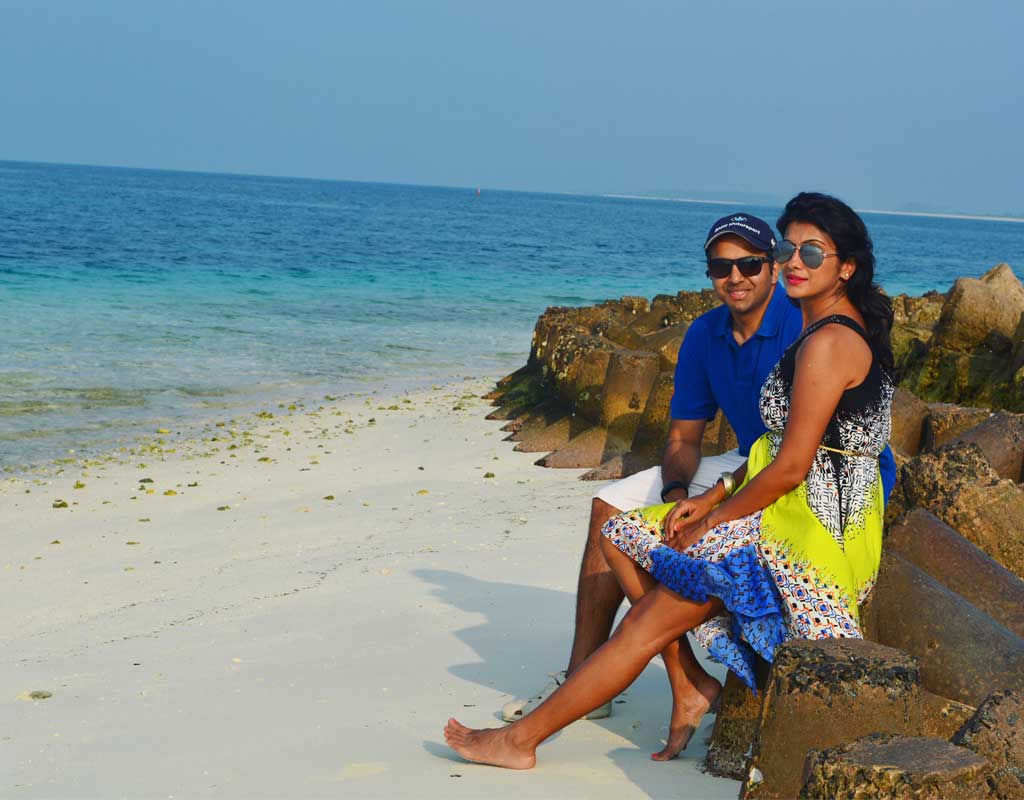 Day 6-  Ferry from Bangaram to Agatti airport jetty. Transfers to the Airport for our flight back to Cochin.
During our five day stay we engaged ourselves in various activities like –
Scuba
Snorkeling
Island hopping
Kayak
Sailing
Turtle watch
COST IN RUPEES
| | | |
| --- | --- | --- |
| Pick up and  Drop to Agatti ( Day  1 and 5) | 500 x 2 | 1000 |
| Three nights in Thinnakara(10% hike for December) | 11,000 x 3 | 33000 |
| Boat from Agatti to Thinnakara | 2500(p.p) x 2 | 5000 |
| Boat From Thinnakara to Bangaram | 1000(p.p) x 2 | 2000 |
| One night in Bangaram (10% hike for December) | 16500 x 1 | 16500 |
| One night in Bangram (January rates) | 15000x 1 | 15000 |
| Boat from Bangaram to Agatti | 2000x 2 | 4000 |
| Total | | 76500 |
| Govt. Service Tax 4.50 % | |  3060 |
| Heritage Fee 2 x 2 | 200 x 2 | 400 |
| Grand total | | 79960 |
The tariff includes accommodation and all three meals.Apart from this we spent another ten thousand rupees that included snorkeling trips, scuba diving, turtle watch and New Year gala dinner.
Flight tickets from Cochin to agatti roughly cost 9000 INR.
THINGS TO PACK
Sunscreen – we used SPF 100 and still came back tanned
Sunglasses, hats and scarves
Snorkeling set – Though you can hire it, we always pack our own!
Snacks- food available between meals
Go pro – if you want to capture the underwater world
Toiletries – the toiletries provided are very basic, so it's better to pack your own. Also the water for bathing is slightly brown and has a strong sulphur smell.
Medicines- Carry the essential medicines. There are no shops at the uninhabited islands.
SOME ESSENTIAL INFORMATION
A permit is required to visit Lakshadweep islands. This is arranged by the SPORTS officials along with your booking.
Alcohol is prohibited on all the islands of Lakshadweep.
Carry cash as ATM facility is not readily available. Payment at the resorts is also by cash.
Dress modestly on the inhabited islands respecting the local culture.
Do not pick up corals as souvenirs. It is a punishable offence
There is only one AIR INDIA flight from Cochin to Agatti that operatessix days a week, Monday to Saturday.
During monsoons there is a helicopter service from Agatti to Bangaram.
Specific scuba dive packages are also available.
Always book through the government SPORTS site or government approved agents.
Most of the activities are outdoor, beach activities,
Only BSNL and airtel network work on the islands. Don't expect 3G network.
I hope you're convinced to visit the Lakshadweep islands. Have you been there before? Planning a trip? Do let us know and we would be happy to help you.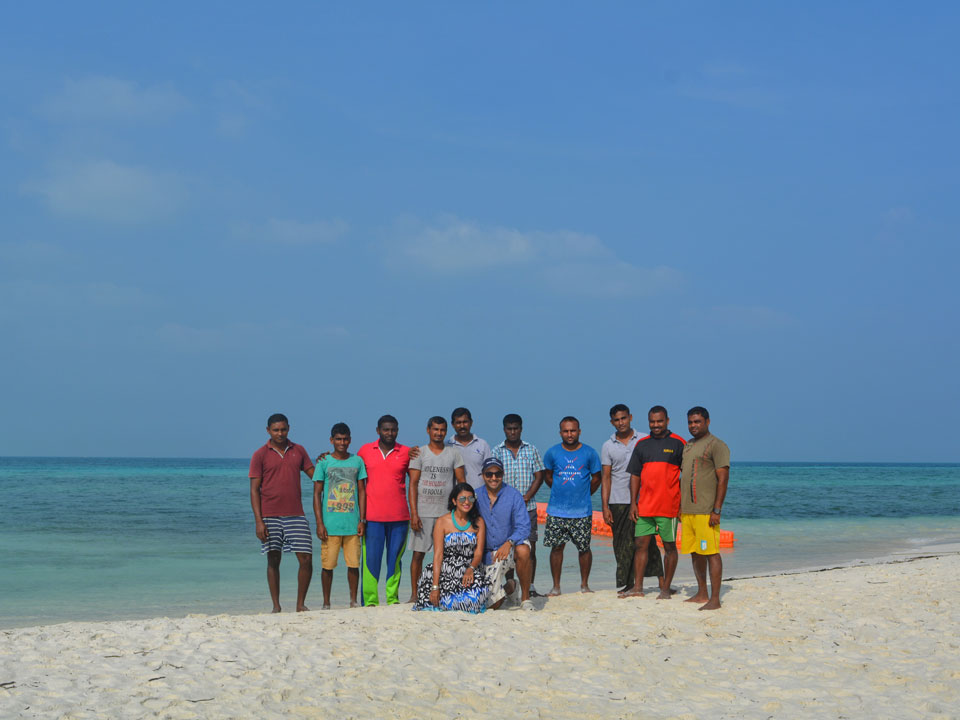 Happy travles
Saaks & Viv
[bws_google_captcha]