SKYLOFT – DINING UNDER THE STARS!
SKYLOFT – DINING UNDER THE STARS!
The feathers hotel is the latest addition to the Chennai hospitality scene, nestled in the heart of the busy Manapakkam area right next to the DLF IT Park and the L&T headquarters. The hotel is in close proximity to the big banks, IT companies and Chennai trade center making it an ideal location for get-togethers and MICE events.
The hotel interiors have very artistically been designed by Meagan Jacobi from Cobico Interior Design Firm. The lobby is adorned with beautiful paintings and chandeliers. We were invited for a round of food tasting at their roof top restaurant, Skyloft!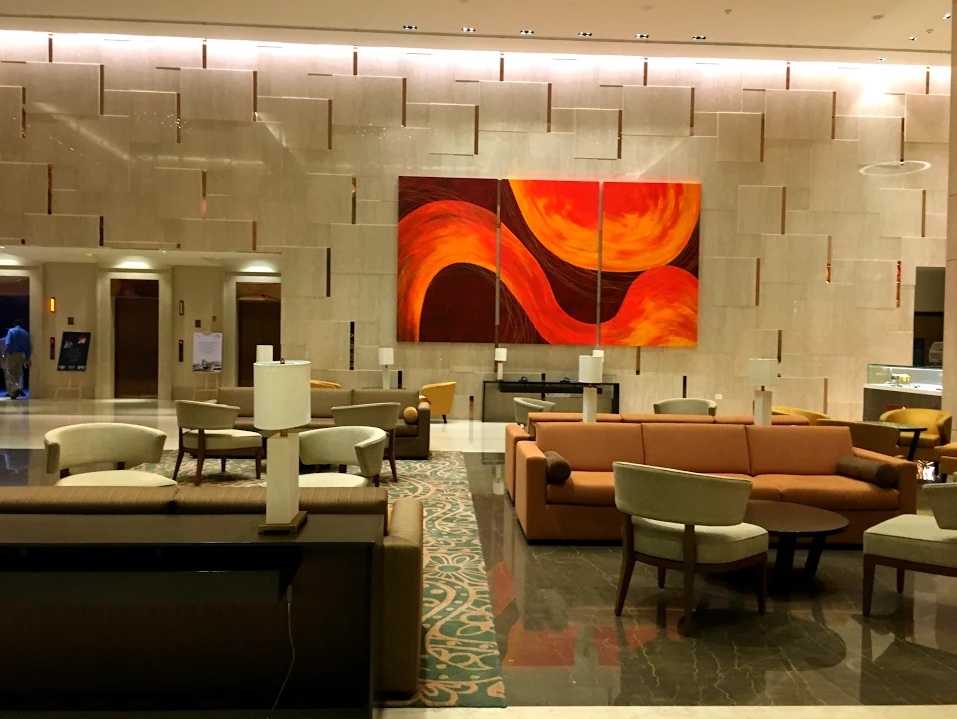 The lobby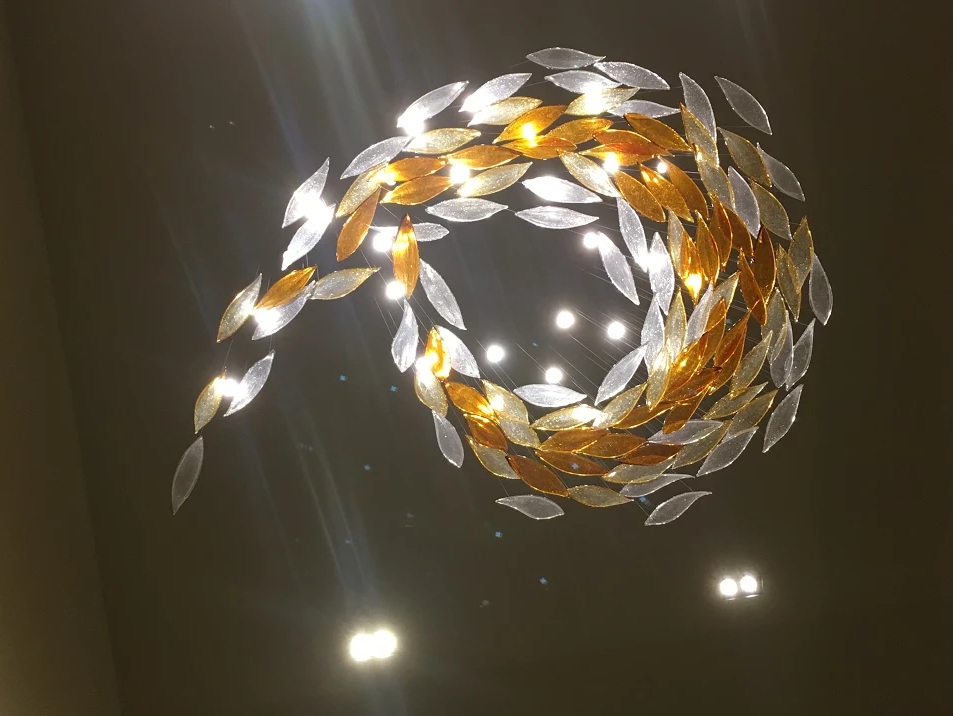 Beautiful chandeliers 
Ambience: Skyloft, perched atop the hotel building, offers a panoramic view of the city skyline and peaks of St. Thomas Mount.  From one side you can see aircraft take off every few minutes and from the other end ant-like lines of slowly moving traffic winding through the city. Dining under the stars with live band playing is always magical! The visiting British musicians Elliot and Georgie enchanted us with soulful music.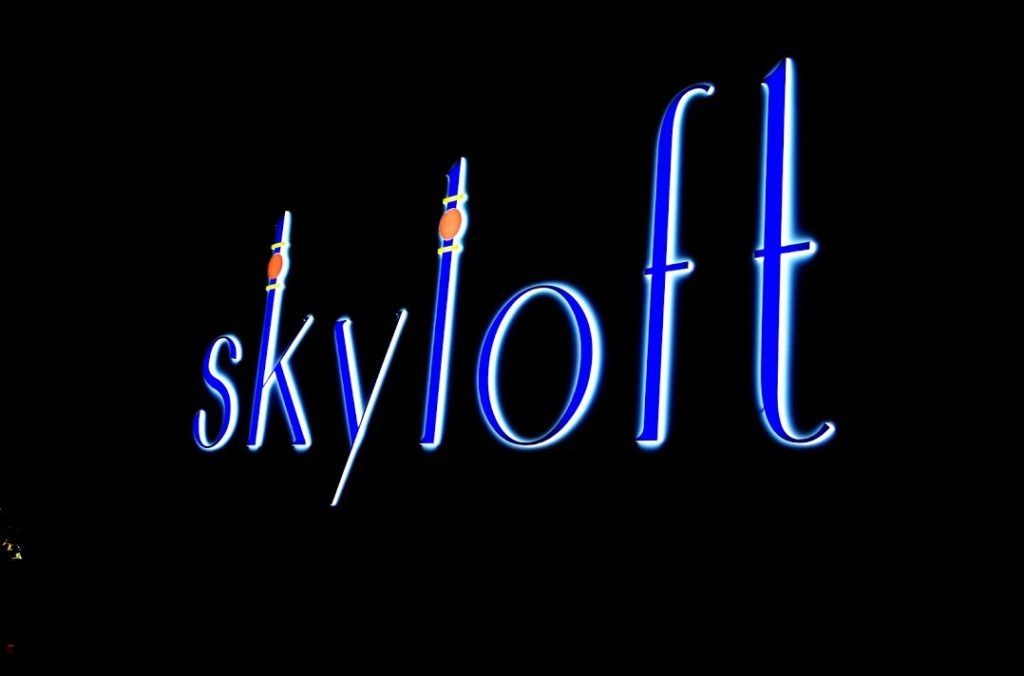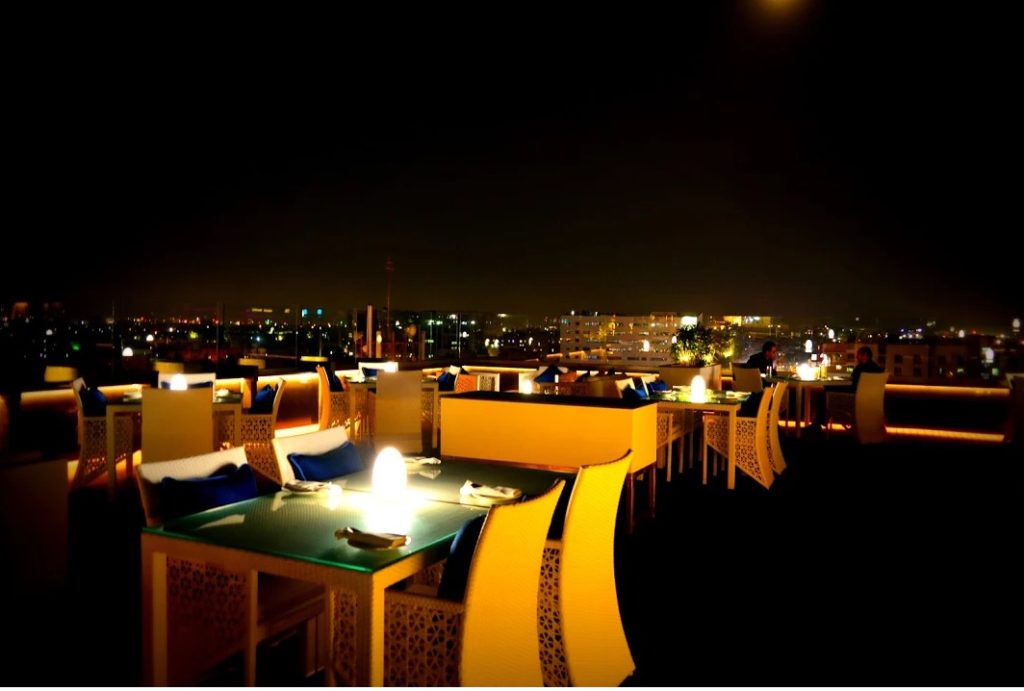 Rooftop dining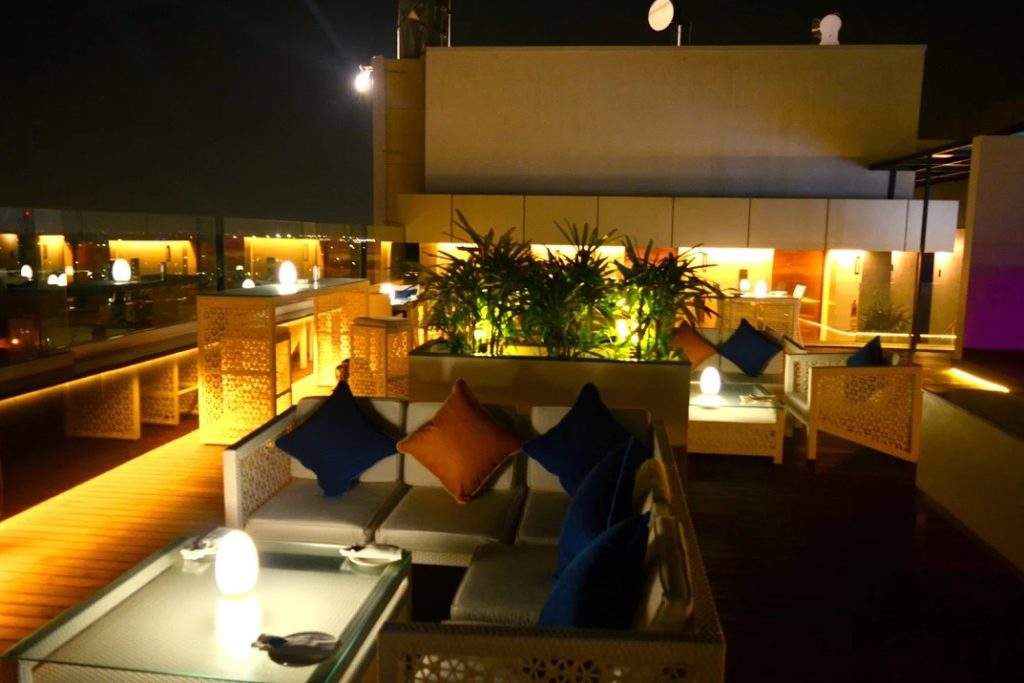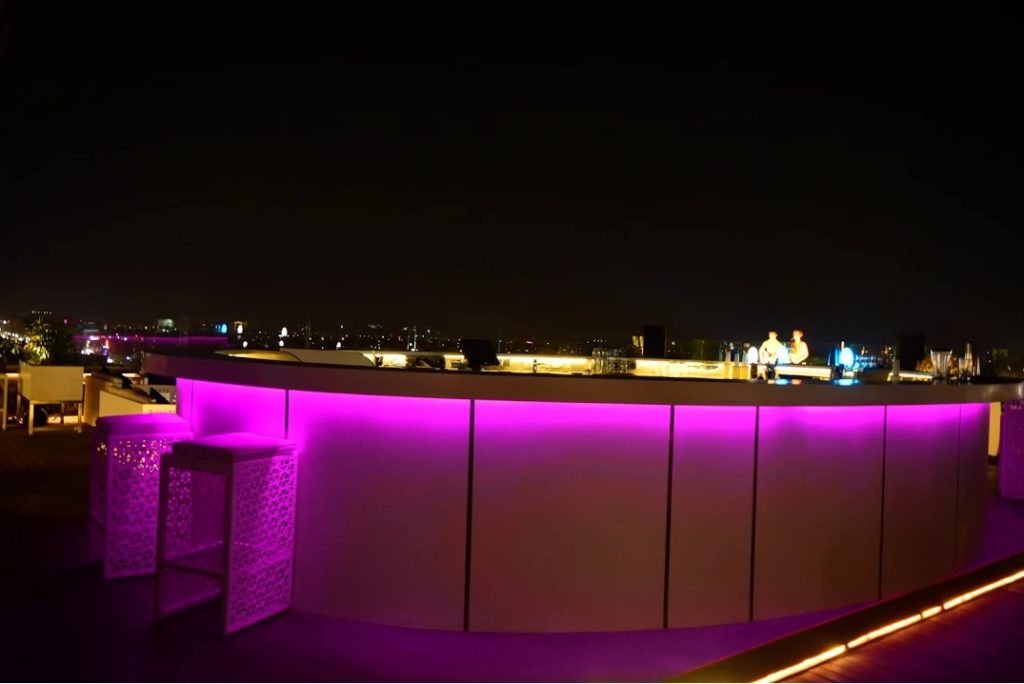 The décor is chic and modern with white theme and LED lights.  The plush white sofas and dim LED lights give a relaxed and a balanced sense of a cozy intimacy.
Skyloft is a perfect setting for romantic dinners to family outings or even for a solo traveler to sit back and soak in the beauty of namma Chennai.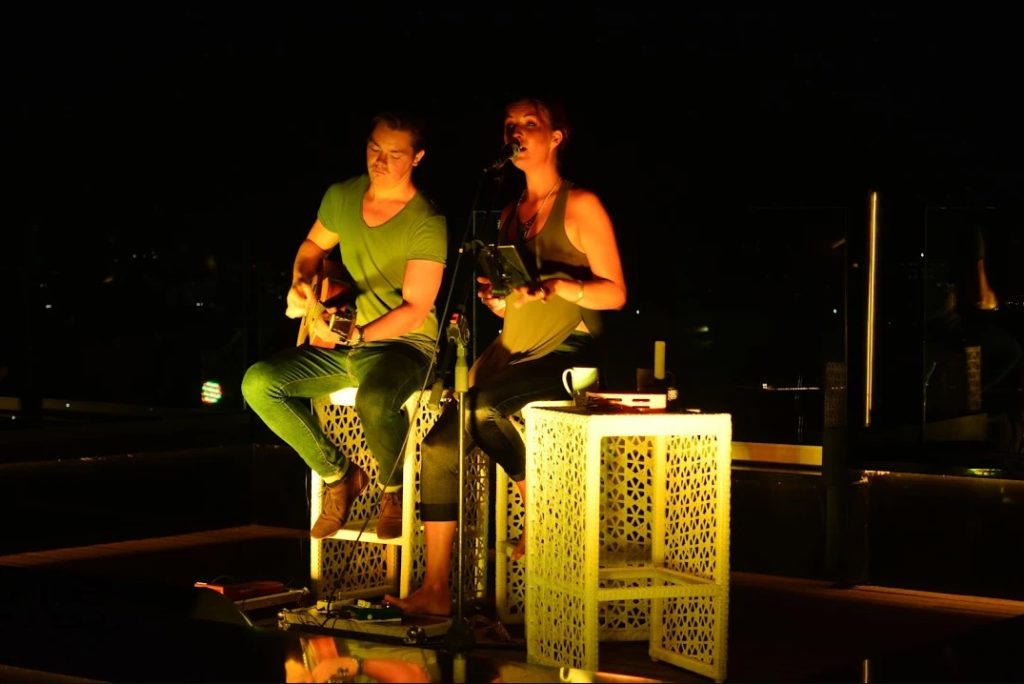 Live band performance 
About the Chef: Executive Chef KR Ganesh and the team have put in a lot of effort to curate the menu of Skyloft. The restaurant presents a select menu of tastes from the world stage, including flavors of North India. His passion and love for food clearly reflected in his cooking.
We'll take you through the highlights of our tasting menu
Skyloft offers an extensive ala- carte menu which consists of a lot of finger food with Indian and international flavors. They also have a wide range of mocktails, juices, and smoothies as well.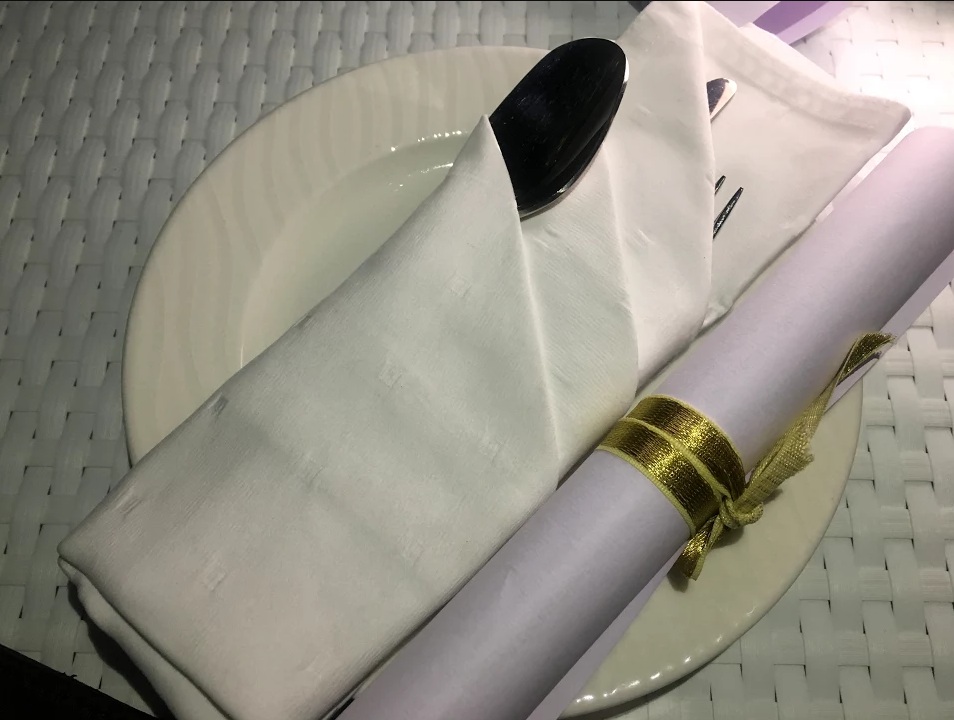 A gastronomic night waits to unfold
Welcome drink 
We started off with a mint cooler served stylishly in a cutting chai glass holder. It was a refreshing start to the evening.
Mocktails:
Grilled Pineapple Cuba Cabana
A refreshing mocktail made with grilled pineapples and mint leaves. I was never a fan of pineapples but I have to admit that this mocktail turned out to be my favorite. The mixologist Naveen churns out new and innovative drinks.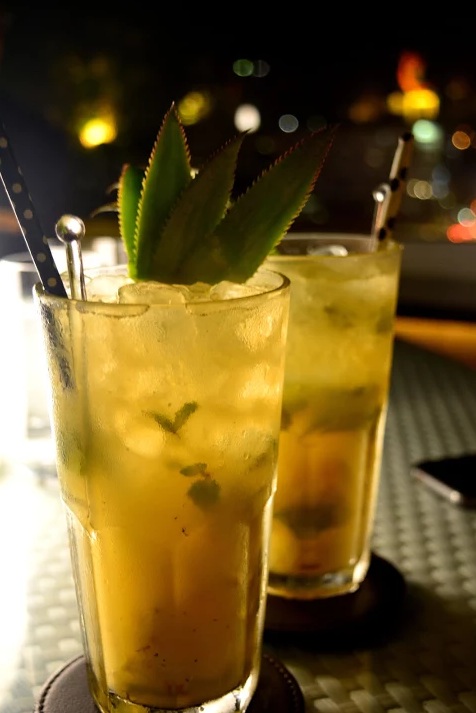 Mango and jalapenos margarita
Raw mango margarita with a dash of jalapenos. It gave it a tangy flavor.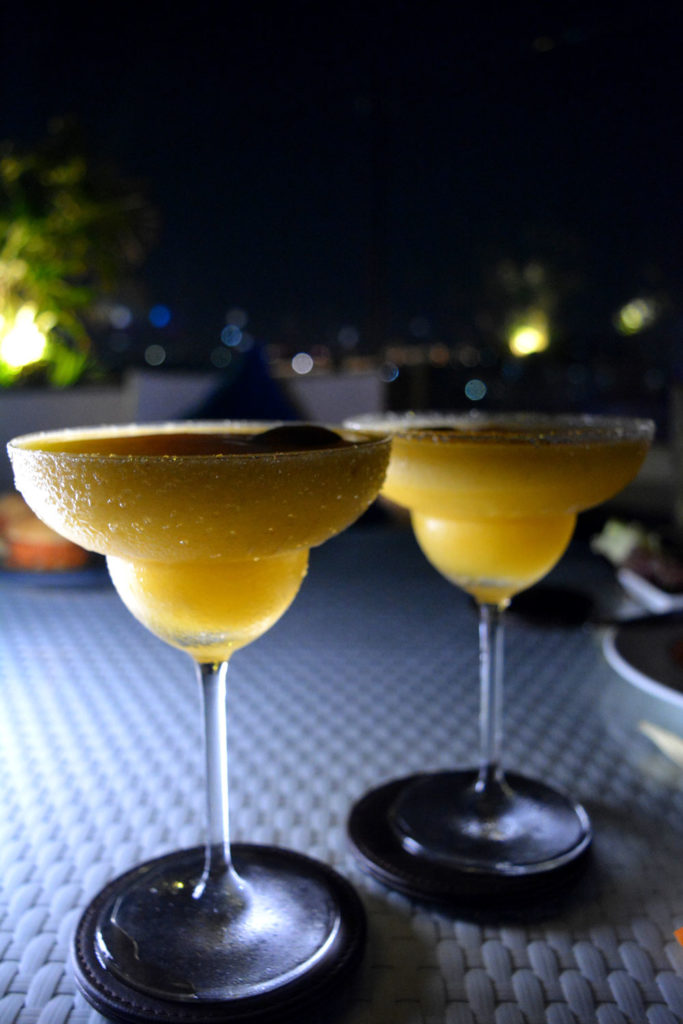 Blue curacao with a fizzy beverage and grated coconut. It was refreshing but I found it too sweet for my taste.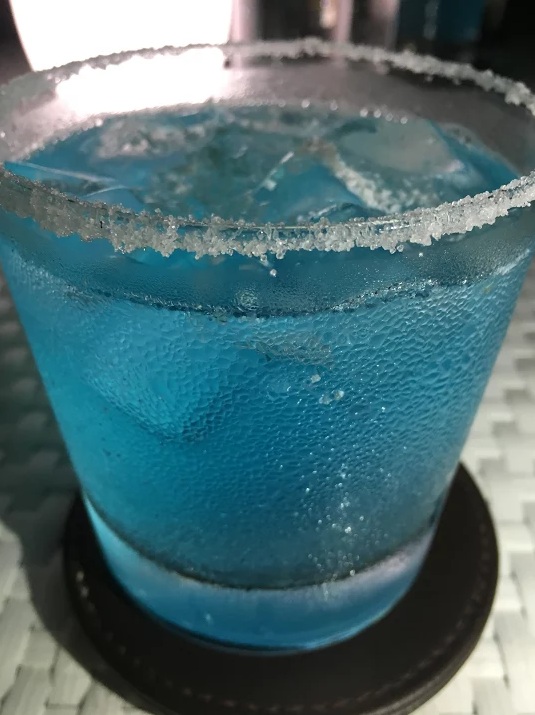 Cream of chicken potato soup
Creamy chicken soup with subtle flavors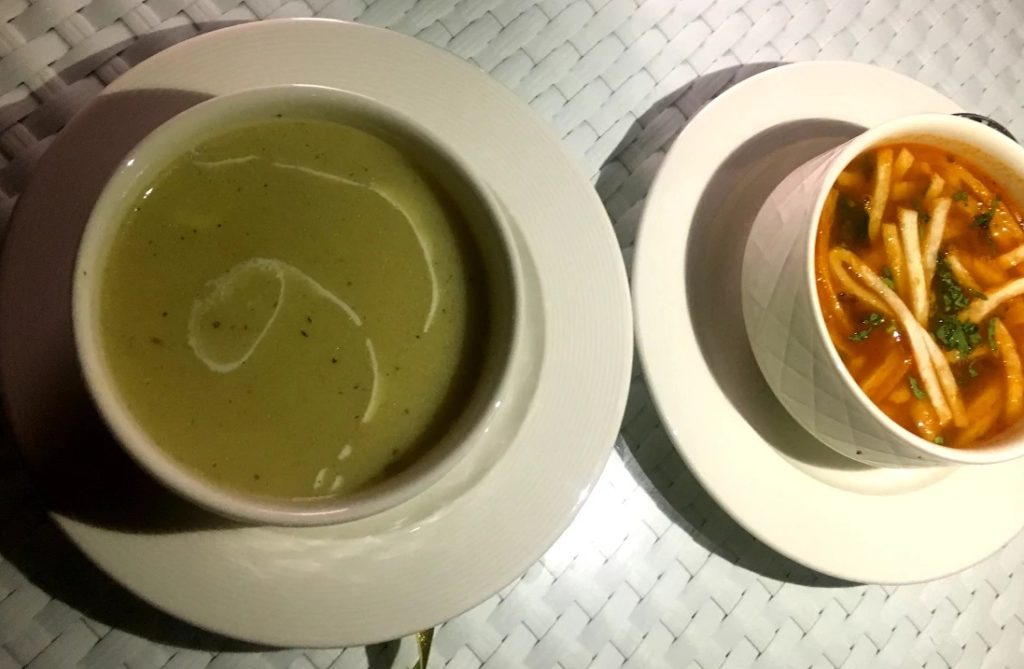 Mexican veg tortilla soup
Hola Mexicana!It is a spicy soup fresh and flavorful. A healthy alternative for people who would like to watch their waistline.
Mexican veg Chimichanga
This is one tongue twister! Chimichanga for Mexicans is like what samosa is to Indians!  It is a pan-fried tortilla sheet with onions, bell peppers, zucchini, carrots and beans.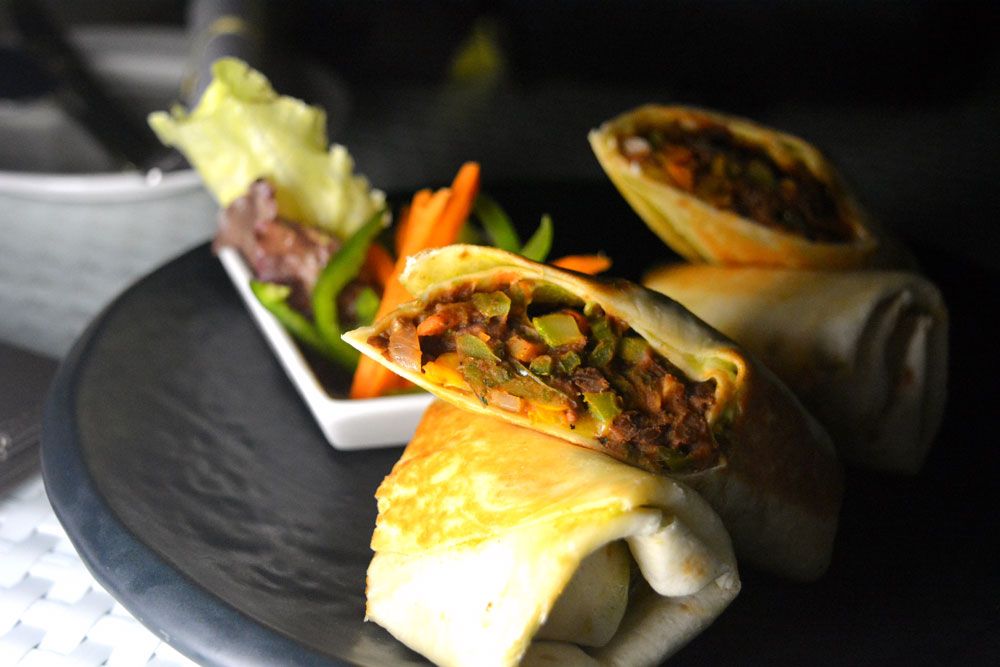 Veg Tacos
A taco is a traditional Mexican dish composed of a corn or wheat tortilla folded or rolled around a filling. The ones we were served were filled with smoked vegetables tossed with beans, chilies, and cheese.  A staple favorite of Mexican cuisine.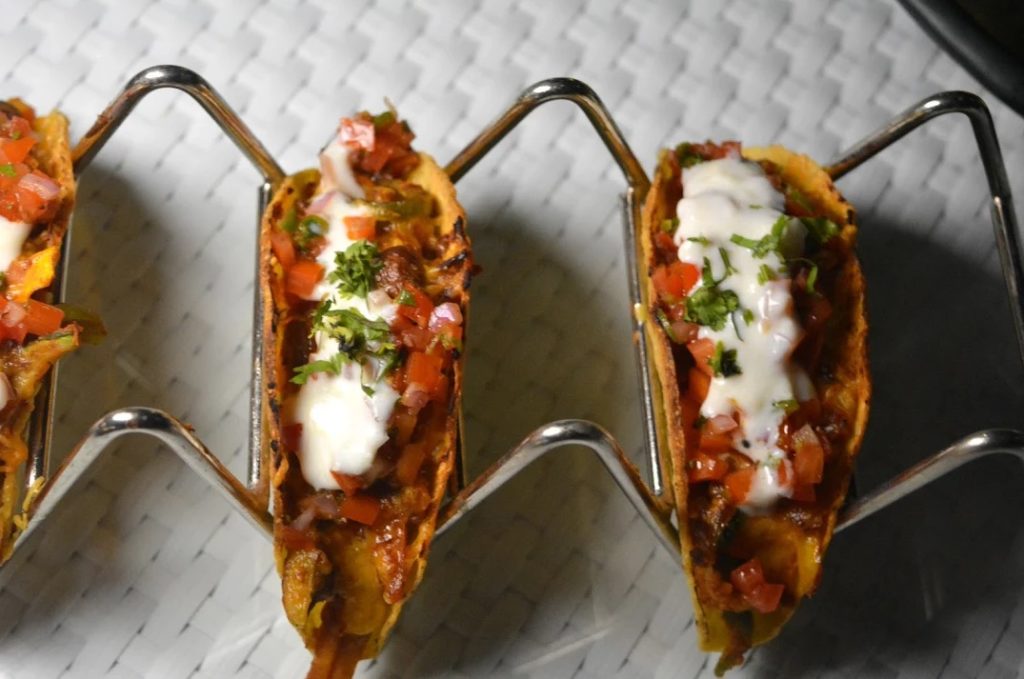 Khasta Tacos
Tacos with a twist!  Grilled chicken tikka salad in khasta roti. We liked the amalgamation of khasta roti and chiken. So delicious and super filling dish!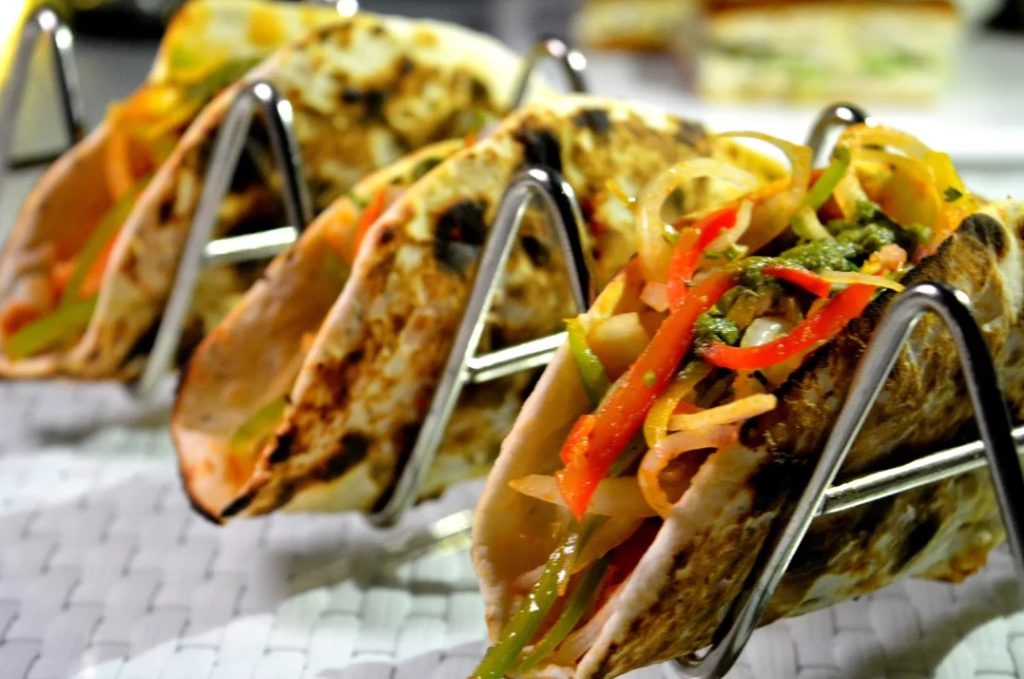 Paneer Ashrafyan
A refreshing change from the usual paneer tikka. This was grated paneer mixed with cheese, herbs and Indian spices. It was absolutely delicious and just melted in the mouth. Perfect for people who cannot handle spicy food.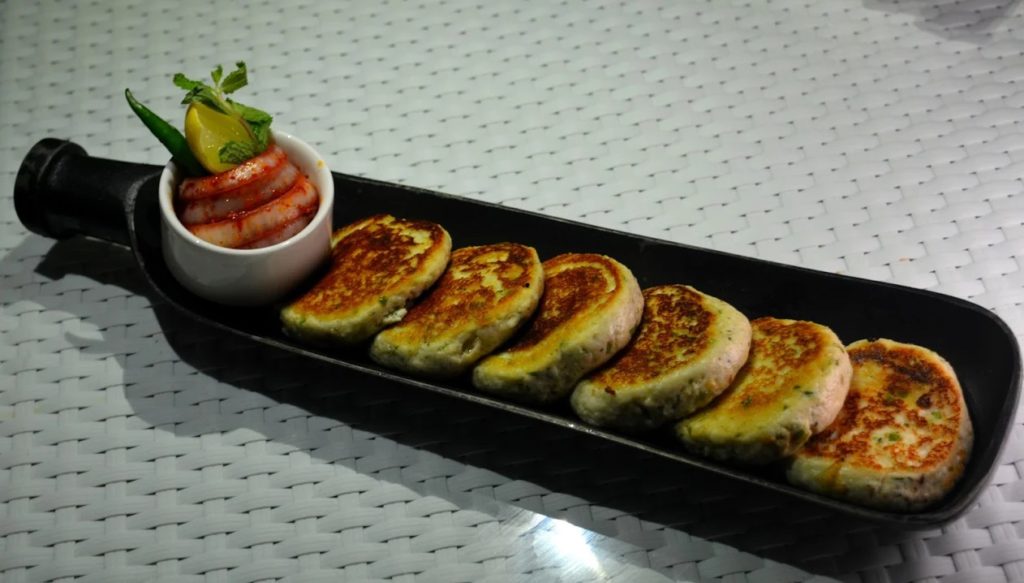 Chermoula Prawns
Chermoula is a Moroccan sauce made with fresh herbs, garlic, lemon, and warm spices. It is used mostly to marinate seafood. The prawns were cooked to perfection and the sauce gave a unique taste.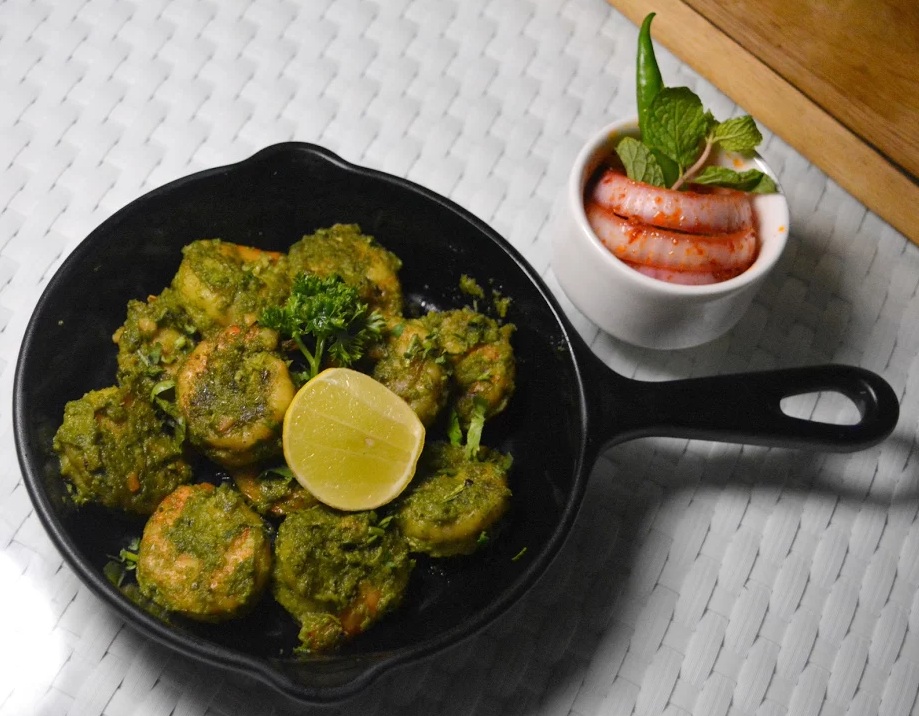 Malaysian chicken Satay
The chicken satay came with a decadent twist. It was served in a food engine, sizzling and making a grand entry.  The chef mentioned that instead of chicken breast they use chicken leg strips so that the chicken is tender.The satay was juicy and soft and went well with the peanut sauce.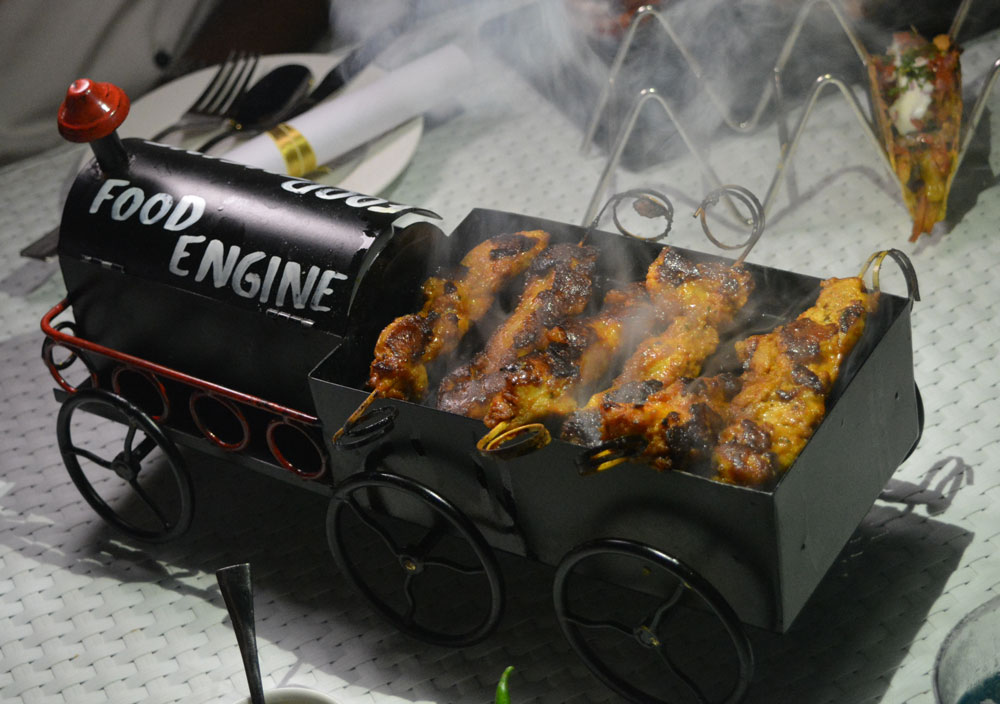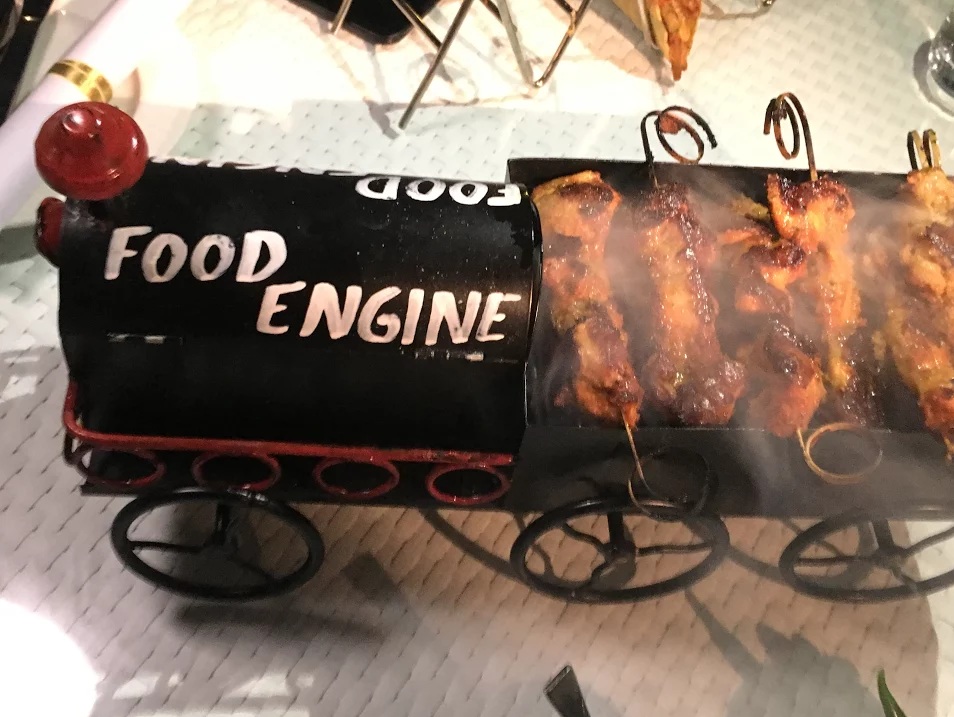 Murg Goli Mirch Kebab
Yet another well-presented dish, this came in an iron box, the kind you can see at your local ironing shop. We totally loved the props used at Skyloft. We were thrilled as each one of them made a grand entry! The chicken was grilled with pepper spices and had a spicy flavor. The meat was tender and flavorful.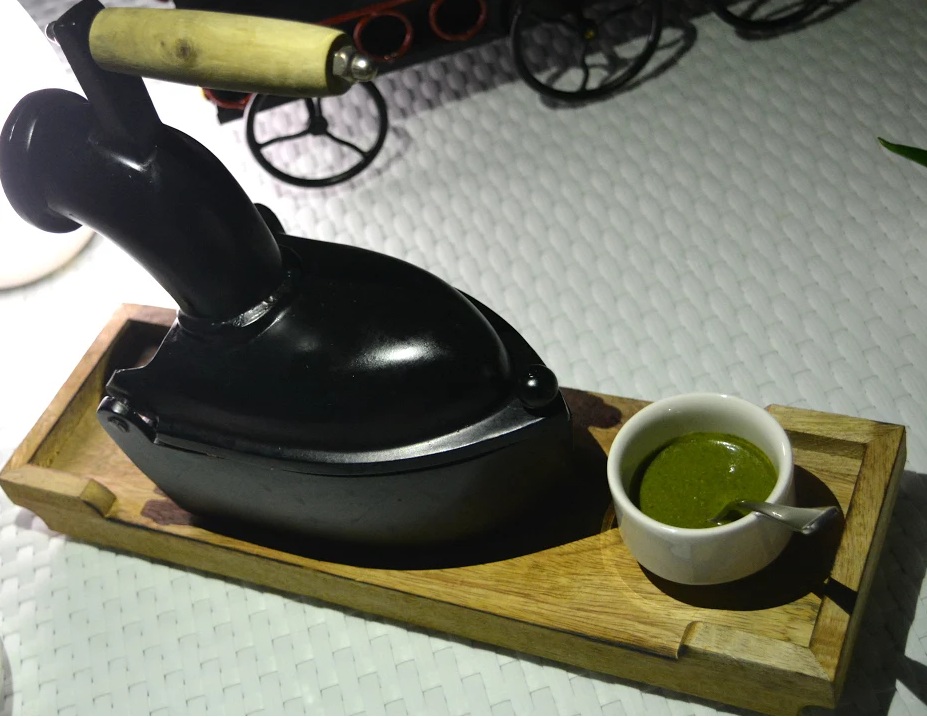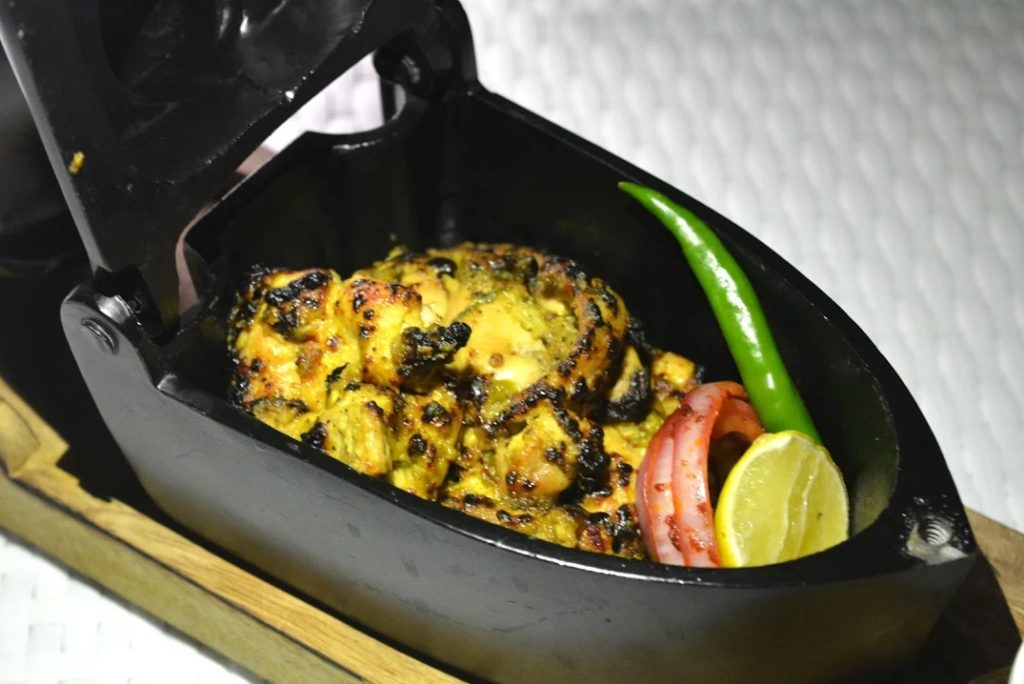 Gilafi seekh kebab
Lamb minced with tandoori spices and cooked in a seekh style inside a tandoor. Seekh kebabs are our favorite and we loved them.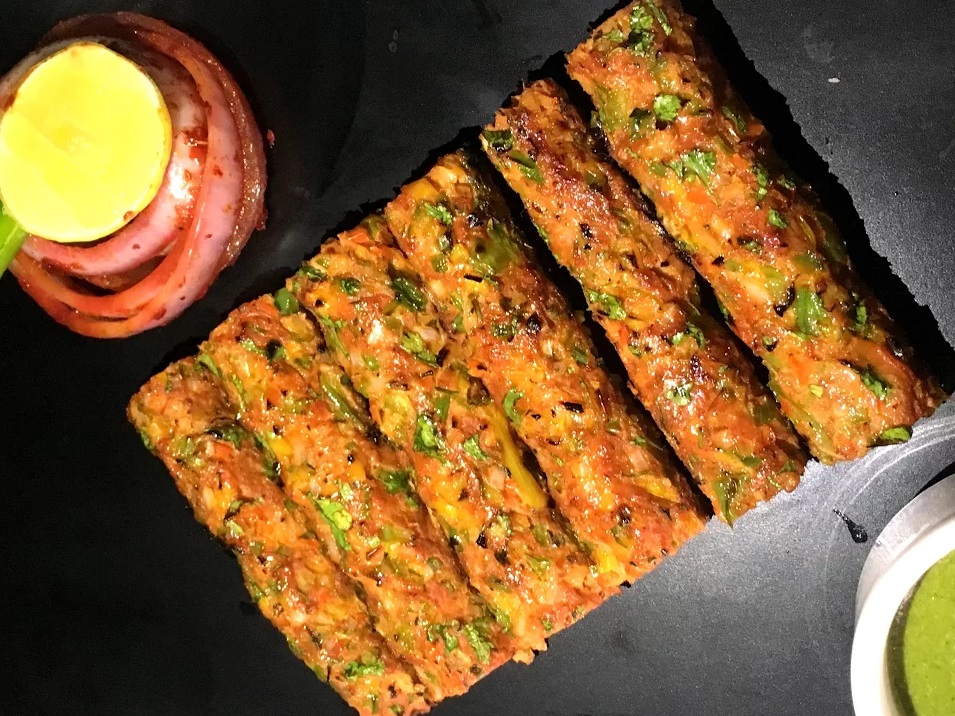 Lamb Galouti Bhakarkani slider
Chef's take on the ubiquitous fried burger was spot on. The kebab was tender and it absolutely melted in the mouth. Bhakarkani bread is a flaky multilayered bread made from saffron scented dough, which is layered with ghee and nuts and baked in the oven. The bread used here was slightly different from the bhakarkani we get in Lucknow.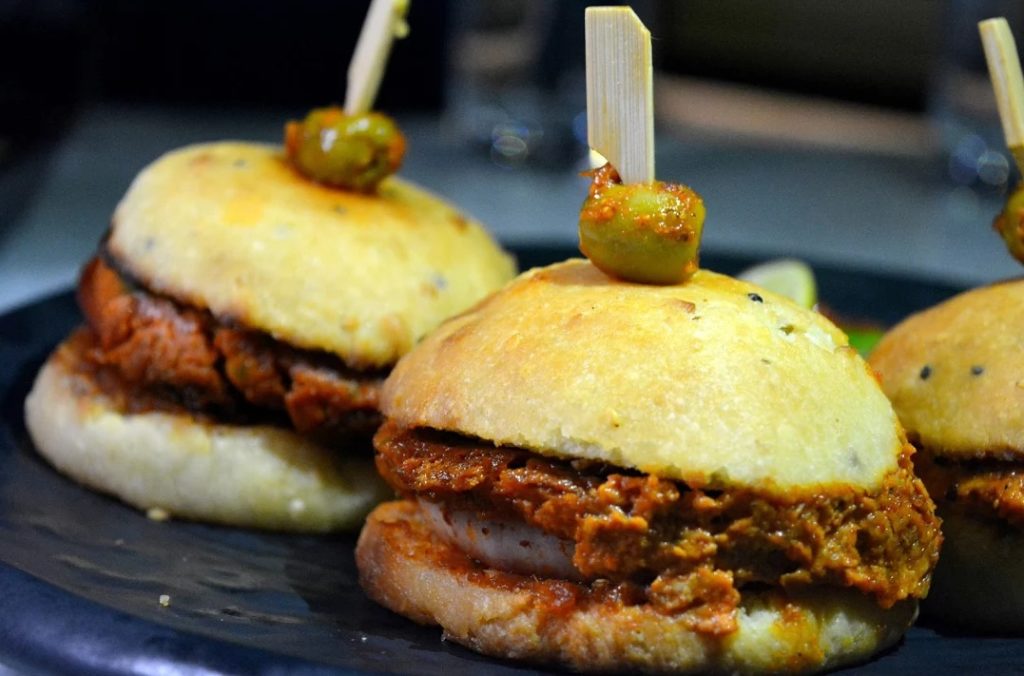 Seafood sausage
This is one of the signature dishes at Skyloft. It is the first time we ever had a seafood sausage. (Mix of prawns, scallops and Norwegian salmon in right proportions to bind) served with hollandaise sauce.. I believe that the seafood sausage served at the skyloft is the first of its kind in Chennai. Perfect for sea food lovers!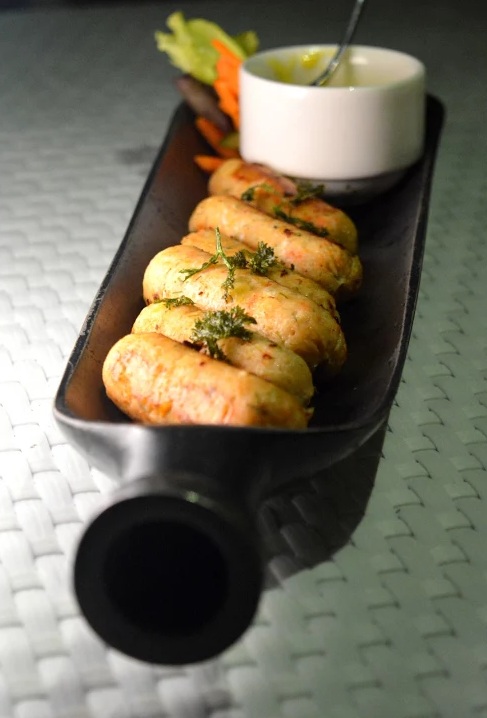 Creamy spinach and artichoke
A grilled French loaf filled with creamy spinach and artichoke mixed with romaine lettuce and parmesan cheese. If you are a sandwich lover, you MUST try this! Comfort food for the soul!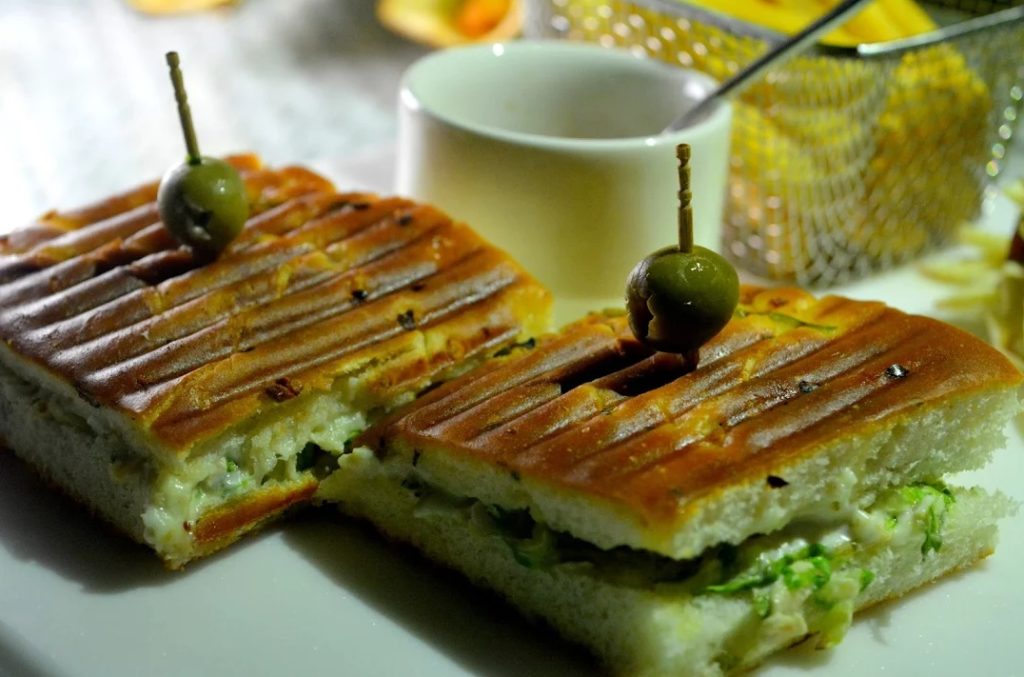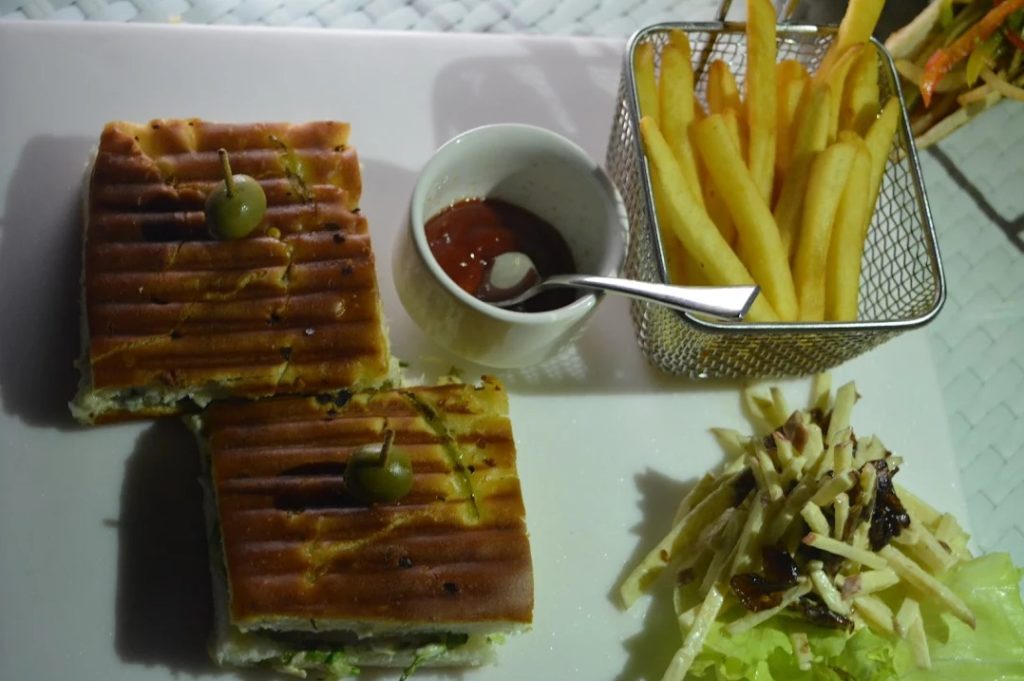 Japanese berry mousse
The mousse was delicate and spongy, and beautifully elevated the sweetness of berry. Pure decadence!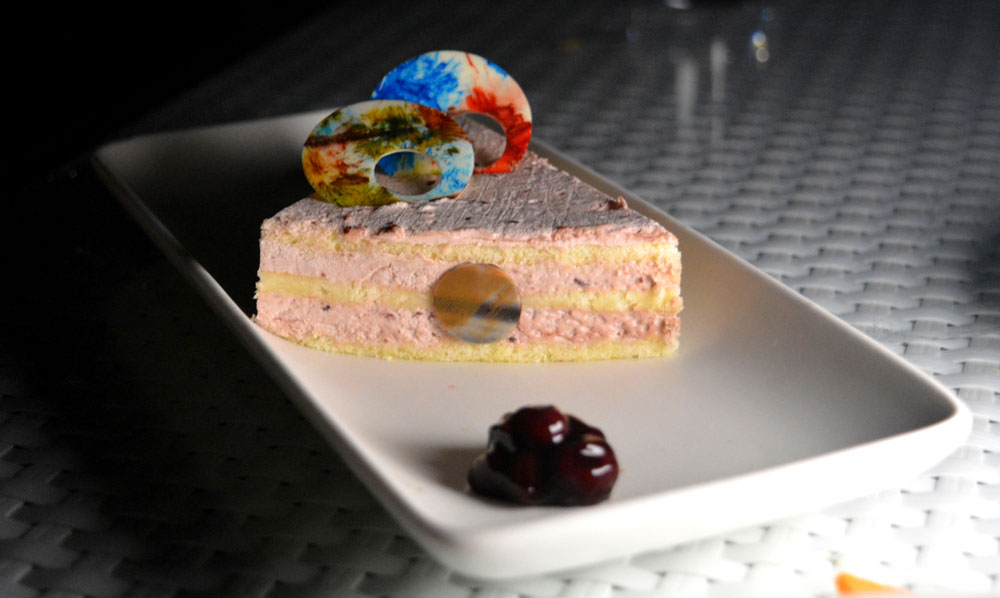 American red velvet slice
You can't go wrong with berry sponge, mascarpone cream, red velvet crumbs and strawberry coulis!The layering and sweetness were perfect.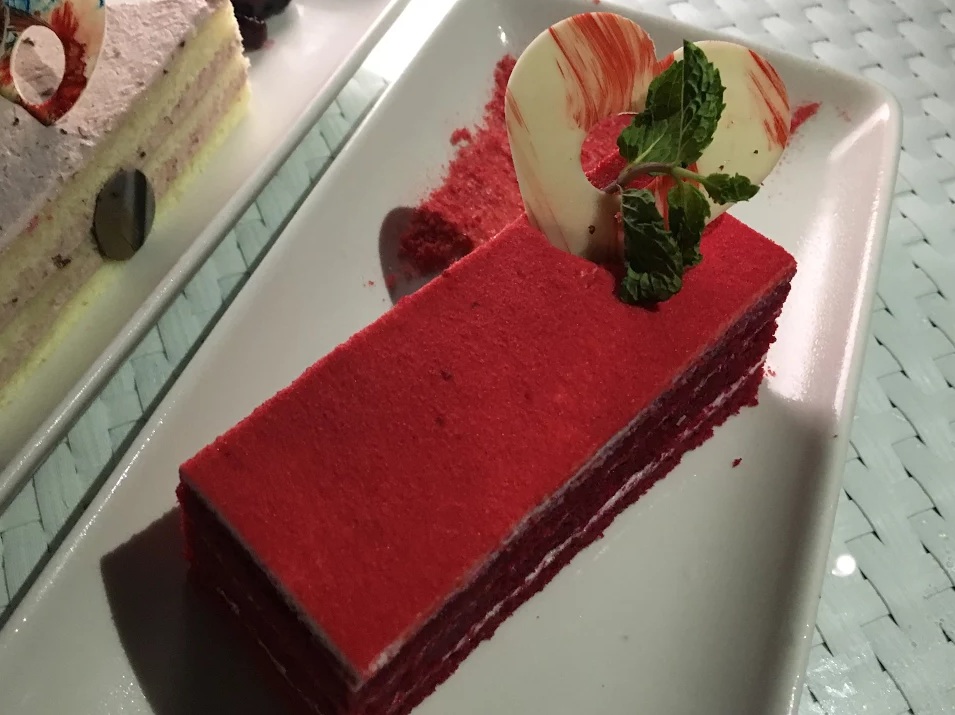 A perfect end to our gastronomic meal at SKYLOFT!
Bon appétit
Seatback upright's favorites:
Grilled pineapple Cuba Cabana
Seafood sausage
Chermoula Prawns
Gilafi seekh kebab
Opening Hours – 7 PM – 11 PM
Location:  Feathers – A Radha Hotel, 4/129, Mount Poonamallee Road, Manapakkam, Chennai – 600089; Contact: 044-66776969.
Dinner for two: Approx. Rs. 2000
Seatback upright scale
Ambience – 8/10
Service – 9/10
Quality & Taste – 8/10
Presentation– 9/10
Beverages – 9/10
VFM – 8/10
Overall 8.5/10
Reservations – Recommended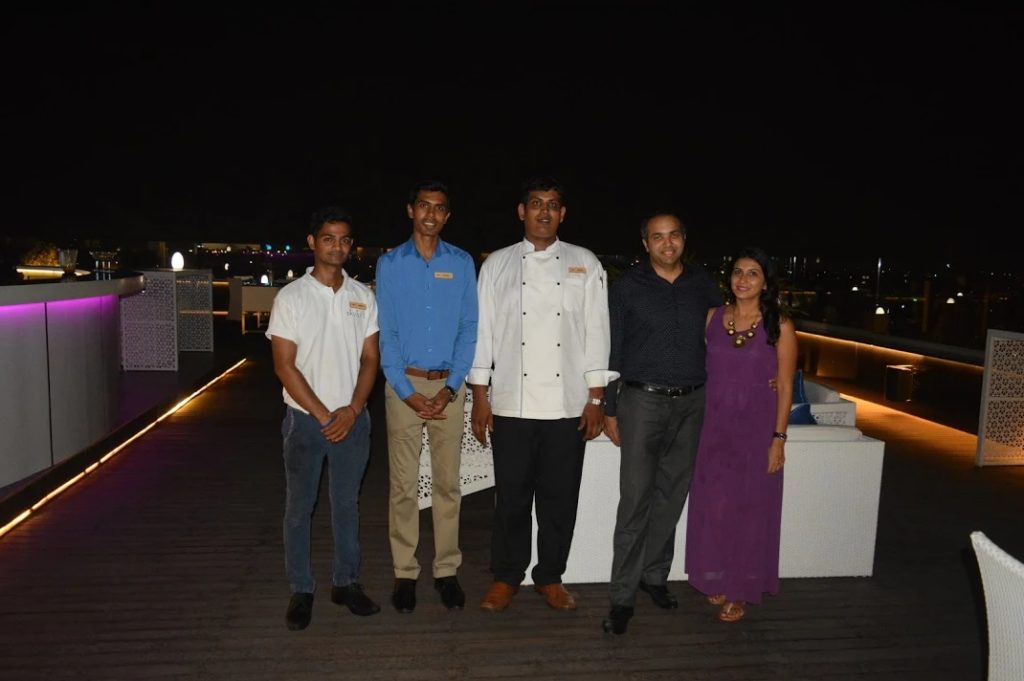 Disclaimer: We were invited for a food review by Feathers Hotel, however, the experience and opinions are our own.