Of misty mountains and misconceptions – KASHMIR
Of misty mountains and misconceptions – KASHMIR
Gar firdaus bar-rue zamin ast, hami asto, hamin asto, hamin ast."  Amir-e-Khusru Dehluvi "If there is a heaven on earth, it's here, it's here, it's here."
The land of misunderstood beliefs, preconceived notions and a general consensus of jitteriness is also one of the most beautiful places to see on planet Earth. Yes, you guessed right, we are talking about Kashmir, our very own Jammu and Kashmir. Ah! How Kashmir has solicited the beauty of paradise is beyond a human's cerebral capacity.
Lakes as big as the sea, mountains, rocky, rugged and beast-like, meadows adorned with flowers like a child's first smile and the warmth of the people in such cold climates makes Kashmir one of THE best travel destinations in India.
Across our trip to Kashmir, we stayed in 3 places, Srinagar, Pahalgam and Gulmarg. The beauty of each place is on par with one another and they offer interesting experiences across avenues for you to explore and enjoy.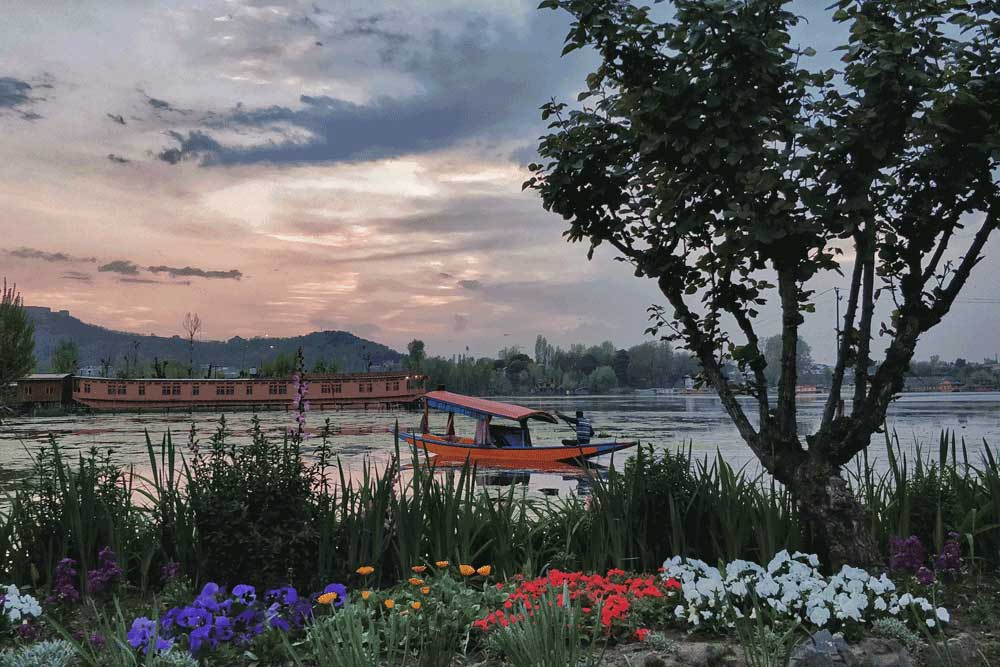 Sunset over Nigeen lake
 Day 1-
As we landed in Srinagar, the air was crisp and clear, the smell of the mist had us captivated and the smell of fresh chai, more so. As it was 7am in the morning, we were starving and hence made our way to a Kandur waan or local bakery to try our hand, or should i say, tongue tasting the local breads. Kashmir has different breads for every season and time of the day! We tried the Girida, made by finger indentations and then places in the tandoor till they turn golden brown.  It complements their noon chai(a highly steeped pink coloured, salty tea that takes forever to make) like colours on a painting. What was more surprising and pleasant was the fact that the owner of the tea stall offered us tea and breads for free and even invited us home for a wazwan. 'Athithi Devo Bhava' so many feet above the sea level, boy! Isn't it wonderful?
Conversations over Noon Chai
As we made our way to our place of stay in Srinagar, Dar Es Salam, a beautiful, picturesque, British styled boutique heritage hotel right on the banks of Nigeen Lake was the perfect welcome to Kashmir. After another session of chai, this time it was Kawah, by the law, overlooking the Nigeen Lake, we set forth, exploring Srinagar, inch by inch.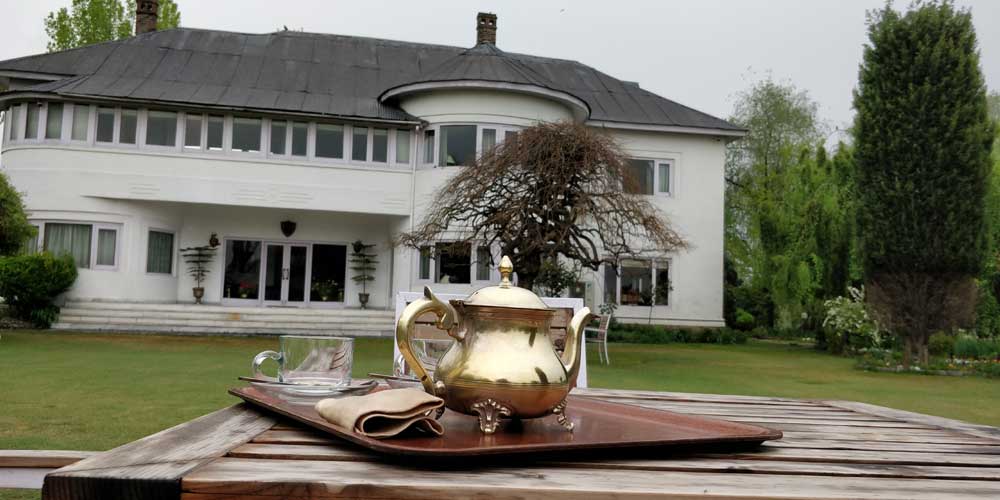 Kahwa ob the lawns of Dar-es-Salam overlooking Nigeen Lake
A garden full of badami(almond) flowers, blooming at every nook and corner, the badamwari was our first pit stop and my oh my, what a magnificent sight it was. Have you always wanted to see the cherry blossom festival at Washington DC? Well, trust us! The almond blossoms give the cherries a run for their money, such is the beauty. And in the vicinity, is Akbar Fort, an old fort built by the great mughal emperor Akbar on top of the Hari Parbat is a short yet adventurous trek uphill only to get an aerial view of the almond blossoms.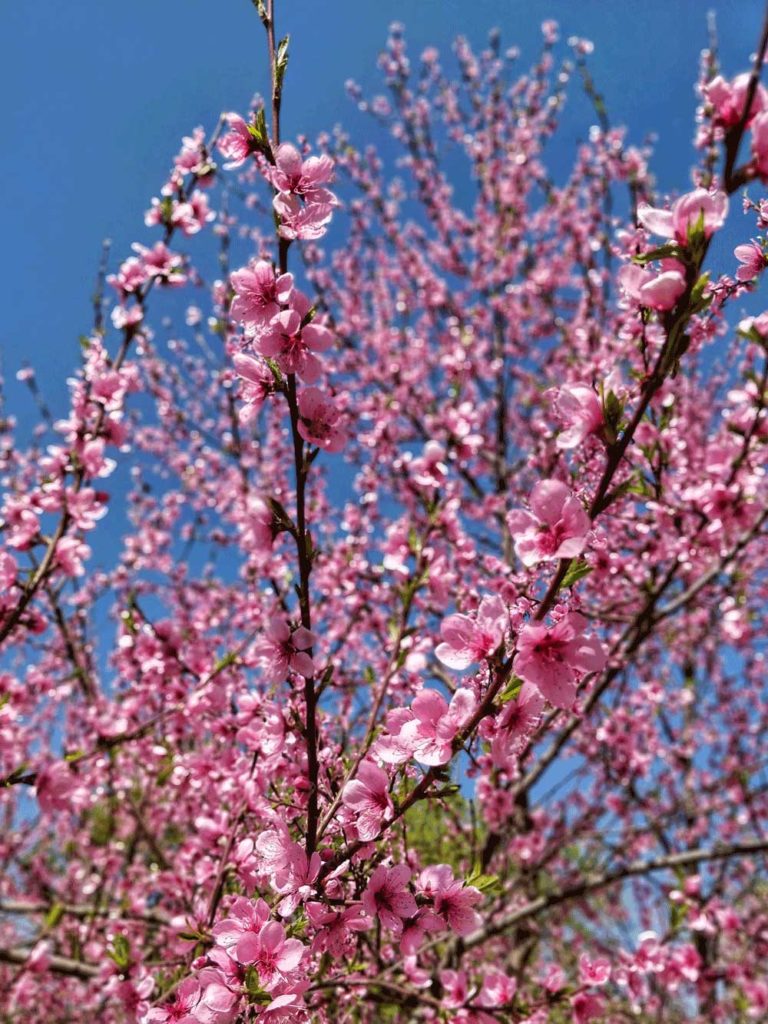 India's very own Almond Blossom
How can you visit Srinagar and not visit the mughal gardens. We visited the Shalimar garden, built by Mughal Emperor Jehangir for his beloved wife Nur Jahan. The garden has beautiful lawns, fountain pools and beautiful flowers and we spent time strolling around the royal gardens. Srinagar, the city of gardens, lakes and delicious food. As lunch was upon us already, we made our way to the prominent Adhoos at Srinagar to try the ever popular, Kashmiri Wazwan. Wazwan is neither a drink nor a dish but, it is a set of spectacular dishes that reflect the essence of the kashmiri cuisine. Tender meat, flavourful rice and oh so amazing hospitality had us flabbergasted. And as they say, make sure you drink water after a sumptuous meal, which is exactly what we had in mind, the Chasma Shahi Garden, a source of pure spring water that tastes like paradise descended upon Earth. Interestingly so, water from Chasma Shahi Garden was sent to Pandit Nehru everyday, lucky man!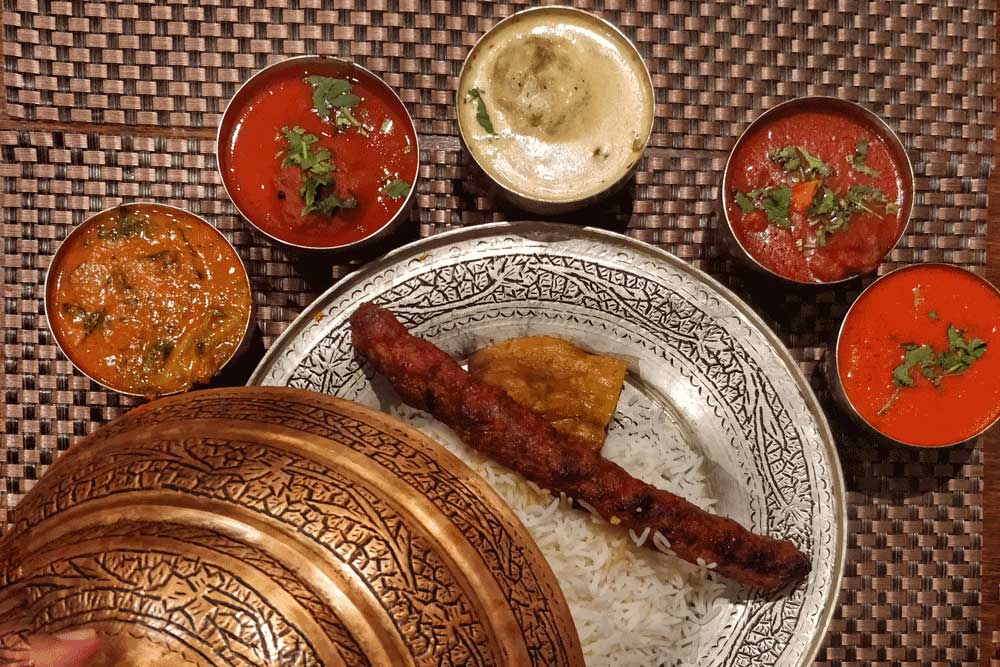 Kashmiri wazwan
And it was time. Time to go where every man, woman and child has gone. Time to explore what every bollywood movie ever made in Kashmir featured. The Dal Lake. And suffice it to say, no matter how commonplace Dal lake might be, it is still magnificent. Shimmering like a pearl on the whitest neck of mother India.
The Shikara in the Dal Lake is an experience altogether, while it might seem like you are playing bumping cars, you actually will not even touch another boat, such is the precision. A wonderful view of mountains and the town make Dal Lake a must try! What's more, every  morning at a the crack of dawn, traders from different parts of Srinagar meet at the dal lake and engage in barter transactions which would be an amazing sight to watch. Boats full of  flowers and fruits flock the market everyday. The dal, is colourful. The dal is an ecosystem on its own. The dal is beauty.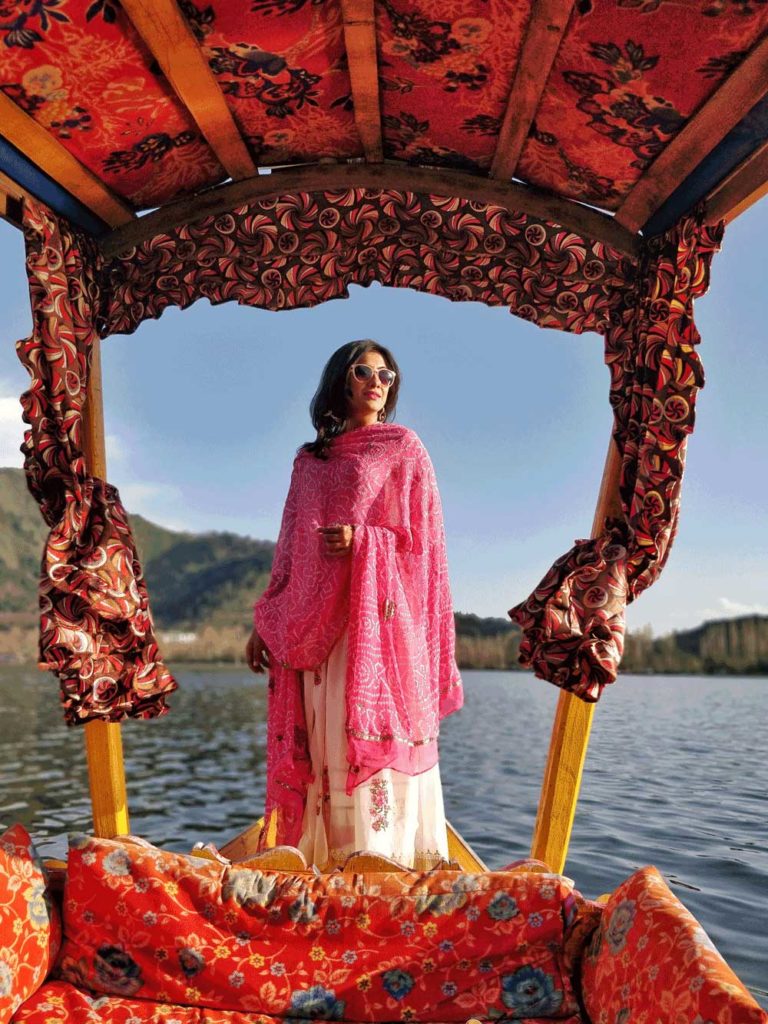 An evening at Dal. 'Dal' in Kashmiri means Lake.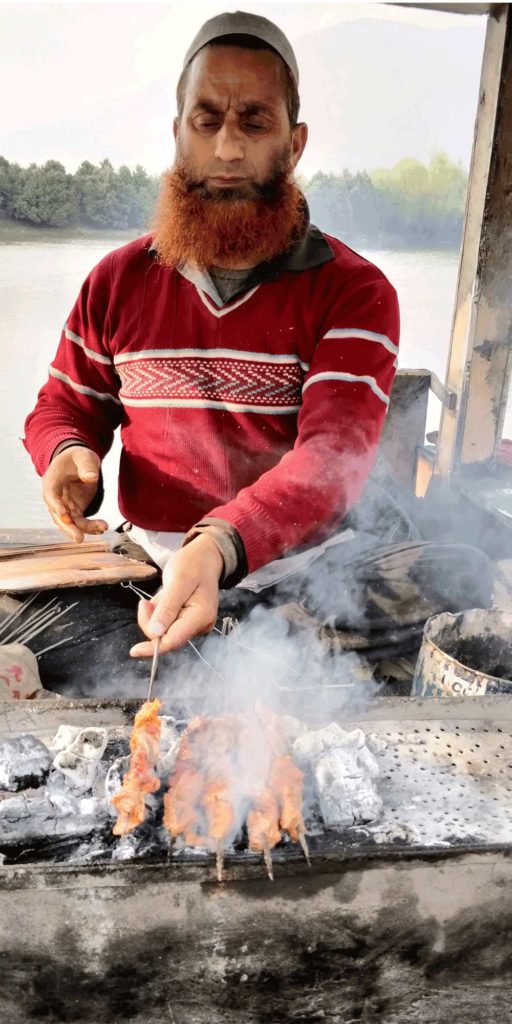 Lip smacking street food
With that we ended our Srinagar exploration, headed back to the hotel and slept for what comes next day was too good to be tired for.
Day 2- The drive to Pahalgam
Srinagar to Pahalgam is one of the most scenic and picturesque drives in India. Adorned by mustard fields on either sides and patches of Saffron make the road journey worthwhile. On the way to Pahalgam, there exists Temples dedicated to Shiva and Vishnu  temple, the ruins of Awantipura where there exists a blue turbanned tourist guide who was an urban legend, Trilok Singh guided us through the ruins of Awantipura and as we explored, we felt like Indiana Jones and the Tomb Raider. T built by King Avantivarman who founded the Utpala dynasty in the ninth century .Built in sandstone, the temple has a heavy influence of Greek architecture. A natural disaster buried the town under rubble and the temples were  later discovered during British excavations. As we walked down the steps, we could figure out a sanctum surrounded by a courtyard and dilapidated sculptures.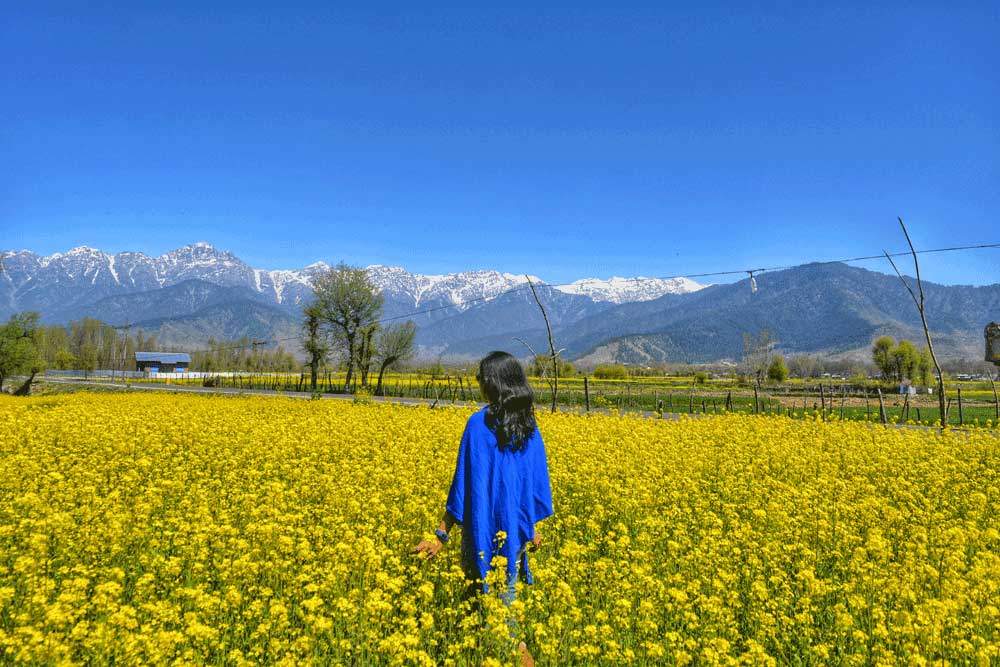 As we reached our cottage, Travellers Inn,  we were dumbstruck because there was no road to our cottage and to reach our cottage we had  to park our car, cross a green wooden bridge and walk for 5 minutes to reach the cottage. With the cottage all for ourselves and the gushing Lidder river flowing beside, it was magic. After a while of lazing and rest, we rented a cab to go visit, chandanwari, the genesis of the Amarnath trek, a once in a lifetime trip. With fresh snow everywhere, as we tried to sledge, the snow had a hearty laugh as we kept falling flat on our bellies.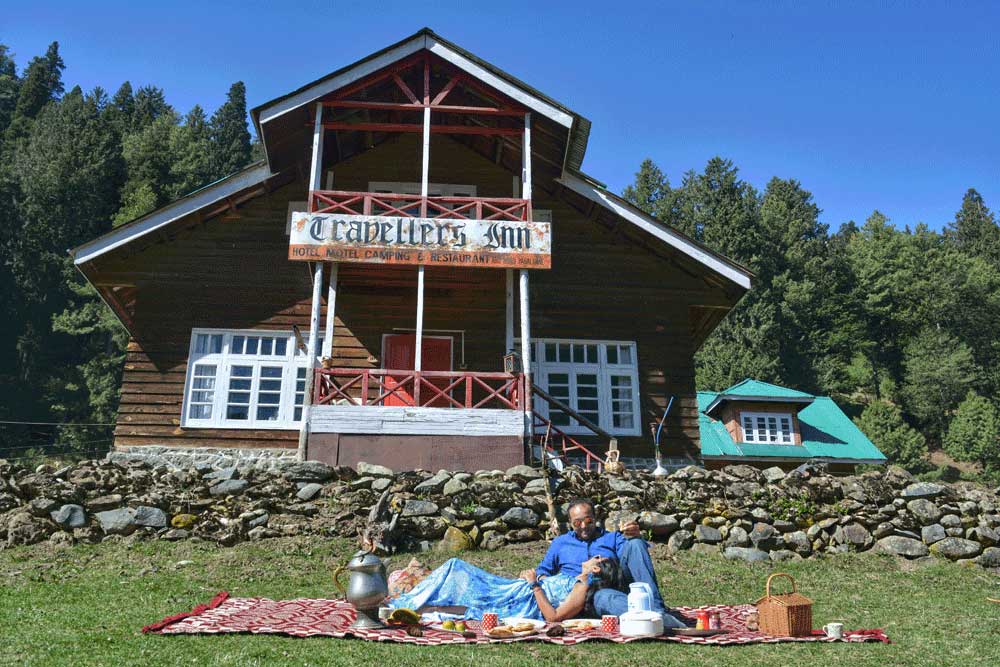 Day 3 – Frolicking around Pahalgam
A lazy start to the day with yummy breakfast, yes that was our idea of bliss that day. After the breakfast, we decided to saddle up on the pony and rode to Bisaran Valley, also called the Mini Switzerland. A one hour ride, to reach Bisaran you have to cross dense forests and it almost made us feel like we are in a fairytale of the stone age. As we got down from our pony, it was an endless barrage of awws and sighs as Bisaran had us captivated entirely. Endless meadows, snow capped mountains, instagram had a tough time handling all the stories, we must say. On our way back we stopped for some delicious Rajma –Chawal and Sarso-ki-roti makke ka saag. Vegetarian food is good in Kashmir as well.  As  the night fell and this meant only one thing, barbeque, bonfire and stargazing. To be able to look up at the sky, at the stars with no sense of stress is a wonderful feeling and that marked the end of our Pahalgam  sojourn and we were enroute…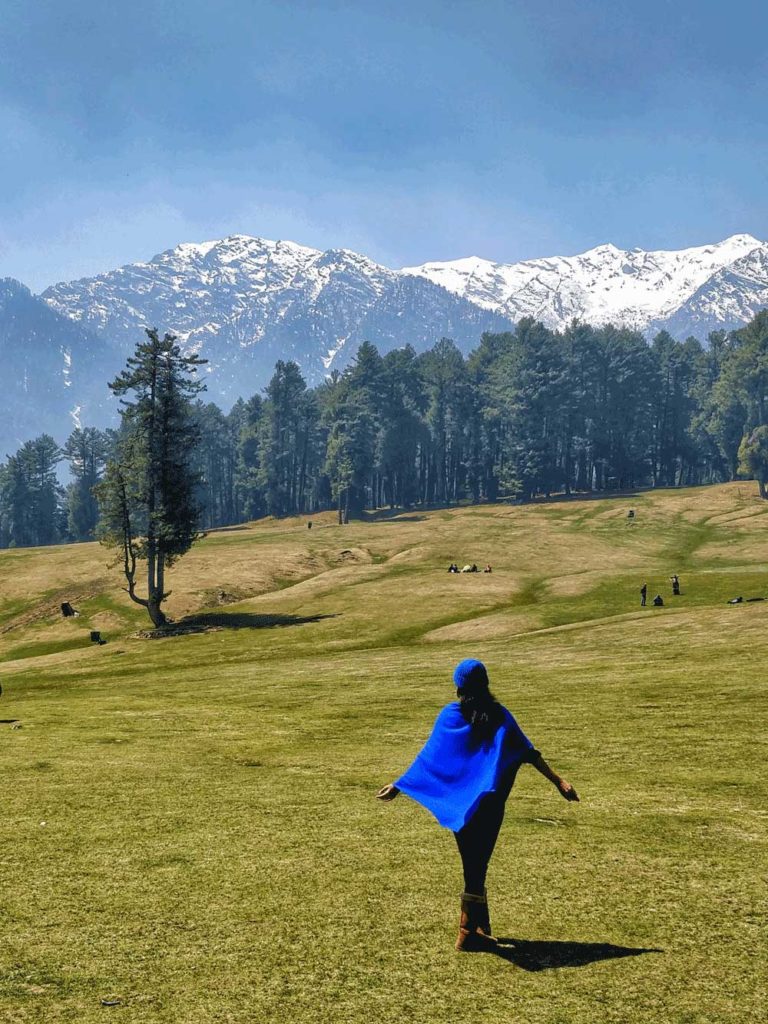 The hills are alive with the sound of music!
Day 4 – Enroute Gulmarg
… Enroute Gulmarg. Yes, the beautiful, lushful, Gulmarg and guess where we stayed? The Khyber! The crown jewel in India's hospitality and my oh my! It was worth every bit of hype. Beautiful Kashmiri architecture, amazing hospitality and elegant luxury welcomed us into its warm embrace. While mornings were meant for Gandola rides, Snowbiking and sledging at 14,000 above sea level, evenings meant lazing at the hotel in the heated pool or jacuzzi followed by a lavish dinner. Ah, the bliss!
And that was the end of Gulmarg for us, unfortunately as we had to head back to Srinagar the next day.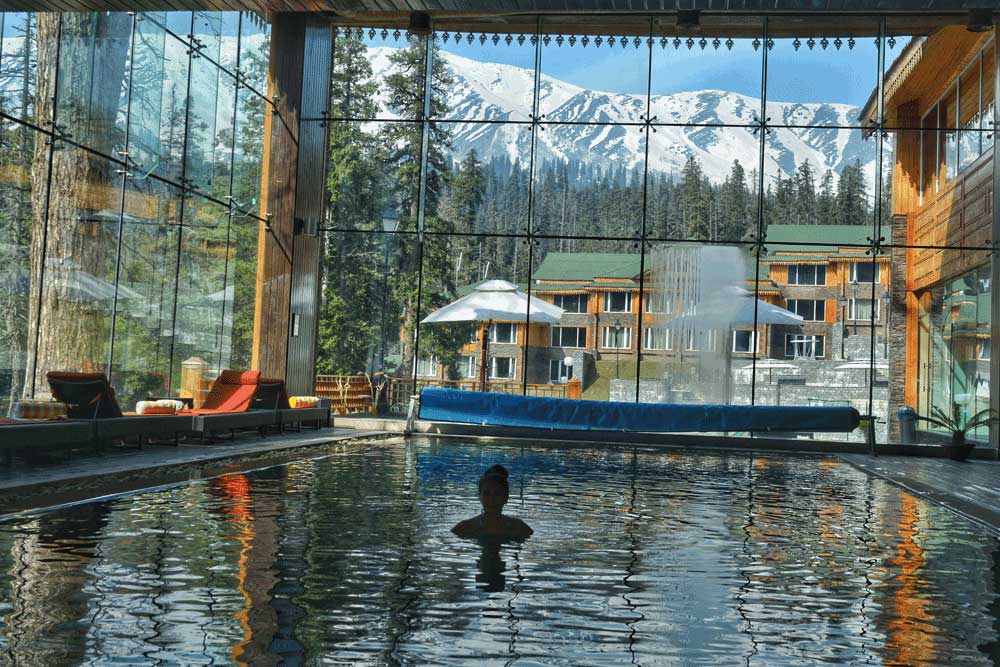 Heated pool with picturesque views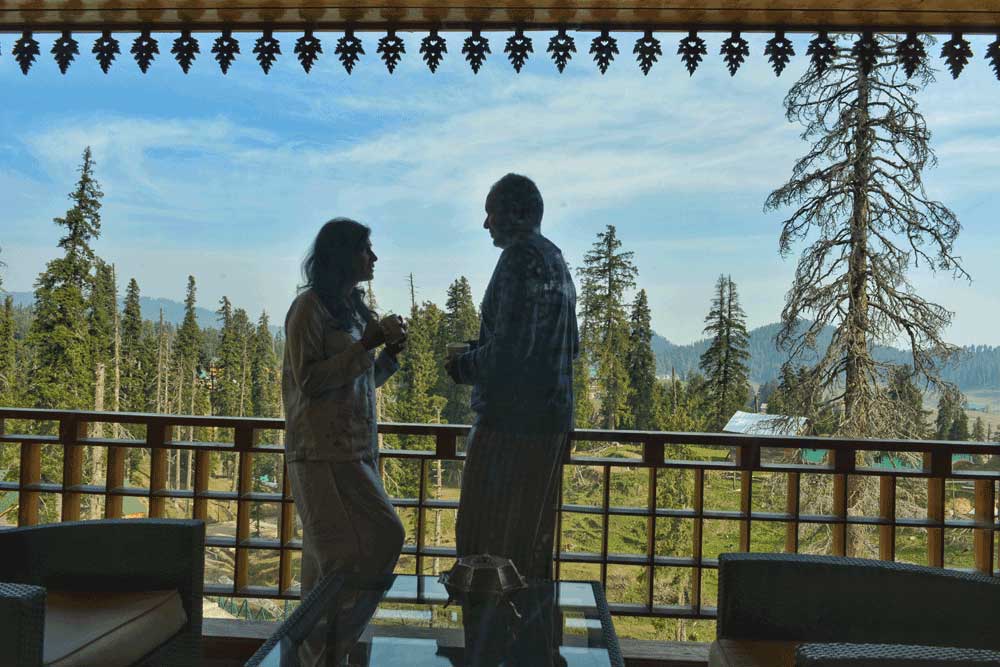 Mornings like these!
Day 5 – Srinagar part 2 
As we headed back to Srinagar,  I had decided to visit Dhoodhpatri and later bankrupt the banker a little by going on a shopping spree but Kashmir had other plans and due to a strike the shops were closed. So, we went to the tulip garden instead to witness one of the most awaited festivals in Kashmir. Come April and the flowers are in full bloom, in a rainbow of colours. They range from whites to baby pinks, from bright reds to golden yellow, and purples to orange. The atmosphere was contagious with excited tourists, locals enjoying a picnic and chirpy kids running around.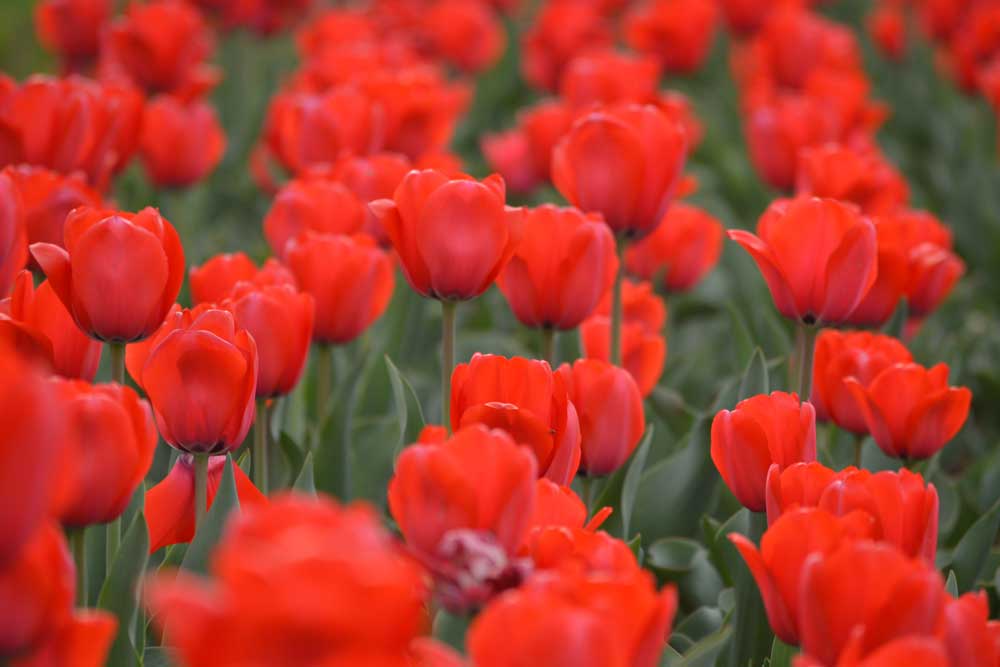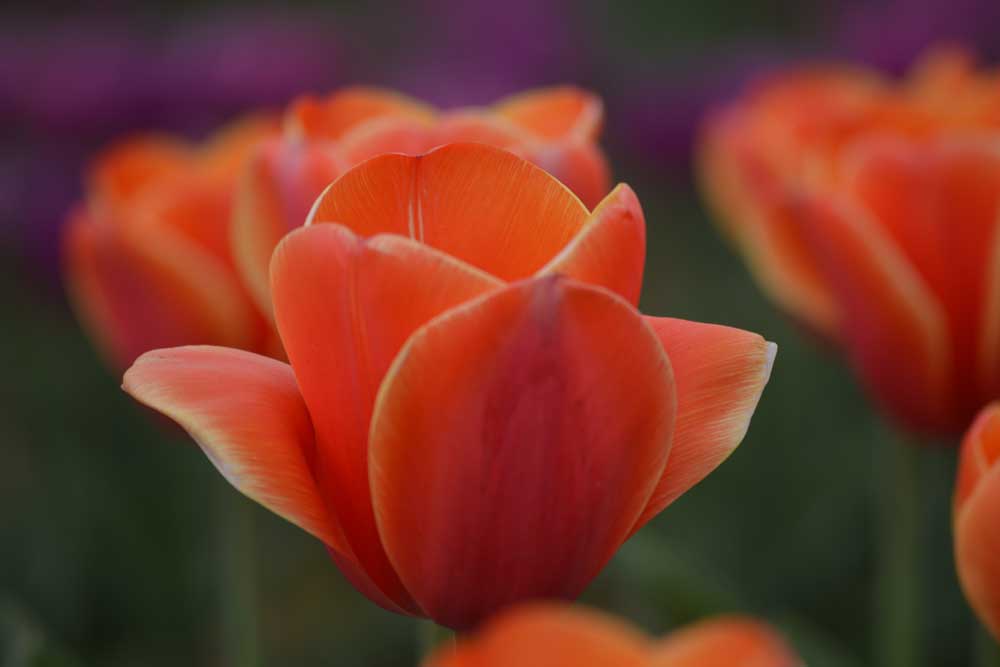 Later we enjoyed a Shikara ride on the Nigeen lake  followed by hot chai at a house boat while enjoying the sunset! The next day, due to inclement weather we couldn't visit the floating markets of the Dal lake, unfortunately.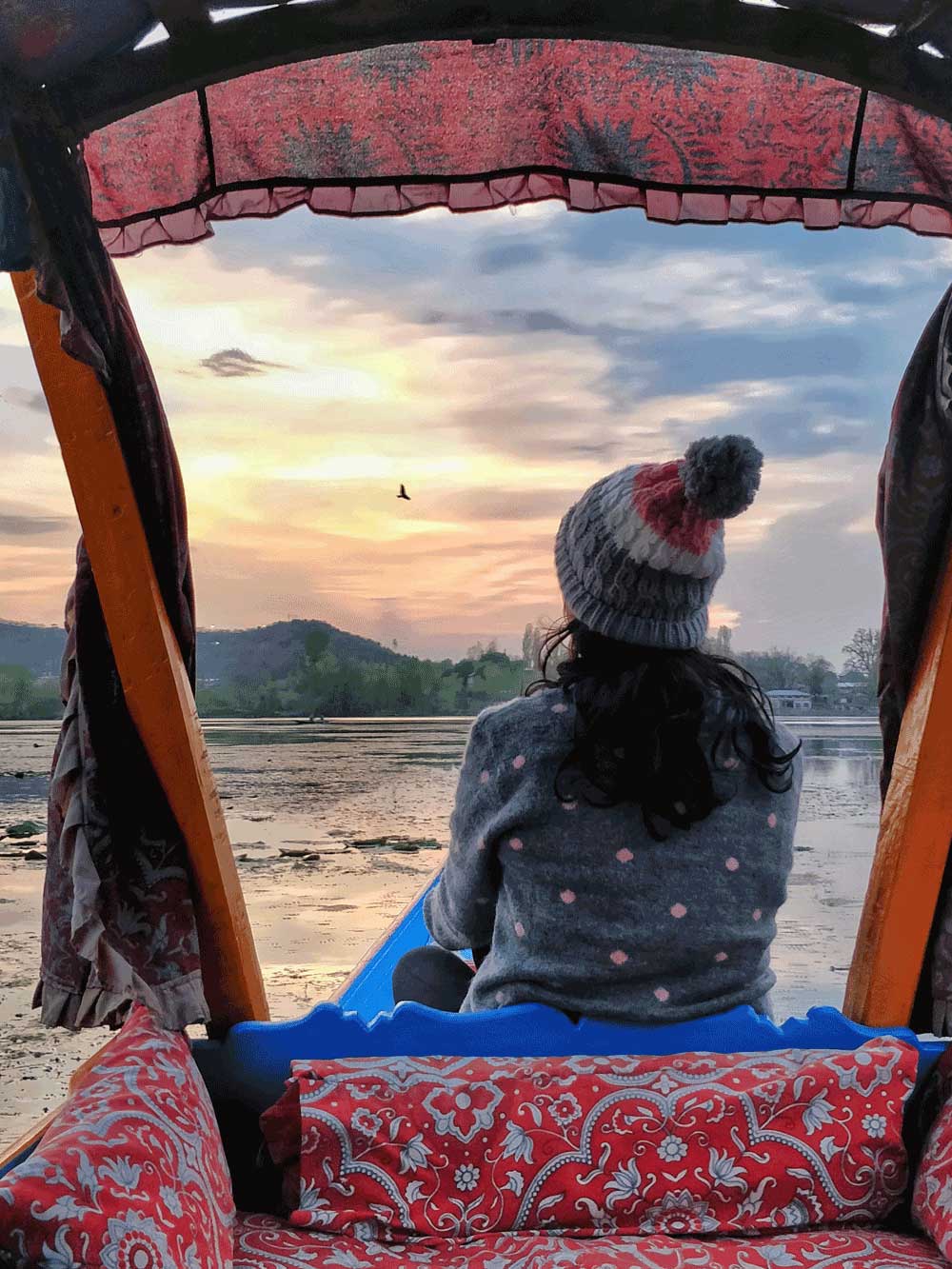 To sum it up, Kashmir is heaven on earth. Literally paradise. The people, the culture, the tradition. Kashmir is amazing and awe striking. All the misconceptions that surround Kashmir and its safety are false. It is perfectly safe to travel and we urge all of you to travel.
Thank you Kashmir for the amazing hospitality and the amazing memories. We love you.
For this trip we did decide to splurge on hotels. Our entire trip cost in INR
| | |
| --- | --- |
| 2 nights hotel in Srinagar with breakfast | 16000 |
| 2 nights hotel in Pahalgam with breakfast and dinner | 11000 |
| 1 night hotel in Gulmarg with breakfast | 14000 |
| Innova taxi for 5 nights 6 days | 14000 |
| Gandola rides  (phase 2) for two | 3400 |
| Snow biking for two | 3000 |
| Shikara rides – twice | 1000 |
| Pony ride to baisaran valley | 3000 |
| Taxi to Chandanwari and Aru | 1600 |
| Boots and jacket for rent | 500 |
| Sledge | 800 |
| Food | 8000 |
| Miscellaneous | 5000 |
| TOTAL | 81,300 |
GOOD TO KNOW
It is safe to travel to Kashmir. On our trip there was a strike due to some disturbances. The schools, shops and restaurants were shut. Tourist spots like gardens remain open.
The people of Kashmir are really warm. Their source of income depends on tourism and horticulture. They eagerly welcome tourists.
ATM's are at many places around Srinagar, Kashmir and Pahalgam
All leading POST PAID mobile networks work in Kashmir.
We hired an Innova for our entire trip. You can contact our driver for taxi bookings. He was really reliable JAVEED – 9906591912
We stayed at Travellers Inn in Pahalgam. You can call Yameen to book the entire cottage. 9906505354
You easily get boots and jackets for rent in Pahlagam and Gulmarg. It costs around 150 Rs.
I had booked Gandola ride tickets online, but I found it of no use. I had to stand in the same queue to collect the tickets. The queue is really long and it easily takes an hour to two to reach the gondola point. Make sure you start early to escape the long queue.
If you do not want to splurge on your trip, you can save up on the costs of hotel. I had spoken to Mr. Gulzar who was giving me a package of 41,000 Rs inclusive of hotels, car, shikara and pony ride. I must admit it was a very good deal! Gulzar ji- 7006249040
Happy travels!