11 BEACH HOLIDAY ESSENTIALS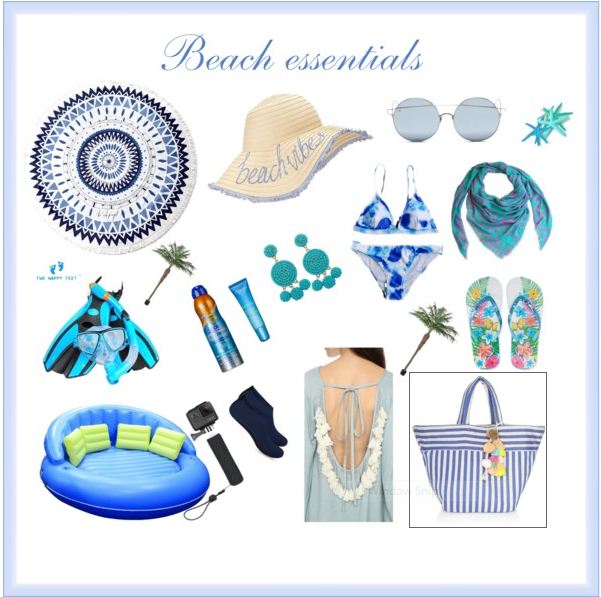 11 BEACH HOLIDAY ESSENTIALS 
Booked tickets for your exotic beach holiday? Sun, sand and sea on your mind? Dreaming about the perfect tan ? Wondering what to pack? Swim wear. Check. Sunnies? Check. What else? Fret not; we have it sorted for you! Packing for a beach getaway is always so much fun!
1.Flip flops –  Enjoy the sand and waves without ruining your footwear in water. My favorites are from  Ipanema – they come in various colors and are super comfy!
If you're heading to a coral beach, I highly  suggest investing in water shoes, which  makes walking much easier. The corals are sharp  and jagged and walking bare foot can give you a sharp cut. Decathlon s a one stop for all sports essentials. 
2. Wide hat – A great way to protect yourself from the sun and be stylish!
3. Beach towel- Carry a nice beach towel and lounge yourself anywhere. The current trends are the mandala towels, brighter the better! Make sure the towels are light weight, so that they are easier to carry.
4. Sunscreen –This is not something new, it is more like a cardinal rule. A  MUST have to protect yourself from the harsh sun and UV rays. Always apply 20 minutes before sun exposure and keep re-applying if you're out in the sun for long. Your lips need sunscreen too! Use a lip balm which hydrates your lips and offers sun protection too! Anything above SPF 50 is good for the beach. My favorites are Banana Boat spray SPF 100 (i love spray more than lotions) and Neutrogena SPF 50 sunscreen.
5. Sunnies
As much as you love the sun, sand ans sea , the UV rays can cause damage to your eyes as well. Invest in a good pair of sunglasses – a wide choice from reflectors to aviators and they look so chic!
6.Beach bag –choose a light weight, waterproof or a straw bag. I love the big ones where you can fit in everything you need.
7. The suit – Swimsuit! This is no brainer, You have so many options from bikinis to one piece. I LOVE the swimsuits from Marks & Spencer's and wait for their sale to stock up my collection!
Tip: If you're out  surfing or snorkelling for long hours it's advisable to wear a UV protection swim gear.
8. Cover up/sarong – once you're done swimming and chilling at the beach, thrown in a cover and you're good to go.
9. Water proof camera and portable chargers –Well, this is not really  an essential for everyone, but if you do like to take pictures, invest in a water-proof camera. Go Pro is the best option. I've seen a lot of people use their cell phones with water proof pouches but I'm too scared to use them!
10. Facial mist –  Pack a bottle of your favorite water facial mist to keep your skin cool and hydrated when the sun is at its peak.
11. Mosquito repellents – Mosquito bites can be annoying, itchy and carry infections. Its always good to carry a mosquito repellent. I prefer the organic ones, used OiOils  and found them really effective!They are ayurvedic repellents  and last up to four hours!
Trend Alert.
Tassel/ wind catcher  theme earrings to khaftan.
Pom- pom – sarongs to foot wear.
Floaters – flamingos to pineapples.
What are your beach essentials?